Hail Malaga manager Manuel Pellegrini.
Why not?
Pellegrini was brave enough to start teenage striker Fabrice Olinga in financially troubled Malaga's 2-0 win over Greek club Panathinaikos in the Champions League play-offs first leg clash at Estadio La Rosaleda this morning (Malaysian time),
Cameroonian Olinga, for those who missed the headlines, was the one who created a record by being the youngest player to have scored in Spanish League at 16 years, three months and six days in their away match against promoted Celta Vigo last Saturday.
His effort broke Athletic Bilbao star attacker Iker Muniain's previous record by 191 days.
The memorable goal by Olinga also proved to be the winner for Malaga who triumphed 1-0. And he was making his debut as well to make this a remarkable story to be told to his children and grandchildren later on.
Olinga, who became the youngest player to play in Primera Liga for Malaga, came in as a substitute and moments after hitting the post he knocked in a rebound of an attempt by Diego Bounanotte with only six minutes left.
Chilean Pellegrini, first of all, should have been hailed earlier for having guts and trust in this boy. Not many managers would do this - even if their teams have lost several key players to other teams.
For the record, Malaga's Qatari owners have sold various players, including playmaker Santi Cazorla to Arsenal, in the pre-season following a financial about-faced after having invested heavily in the team the past two seasons.
Anyway, finding himself in the first 11 against Panathinaikos will surely lift Olinga's confidence. He is now expected to work even harder as to get more playing time with Malaga.
It's still early to tell but Olinga can be deadlier if he is given the break more often.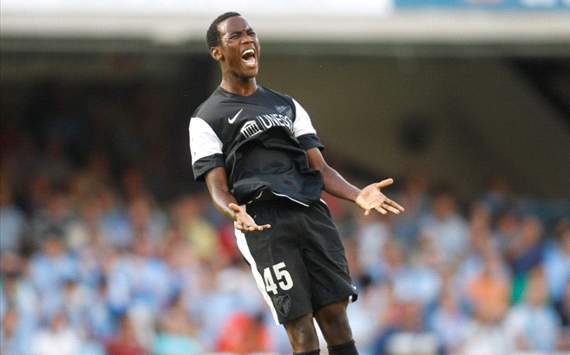 Olinga was born in Donala, Cameroon on May 12, 1996. He arrived in Spain in 2009 and joined Mallorca's youth ranks the same year.
It was a matter of time before he was spotted by Malaga's academy director Manuel Casanova, who invited him to join Malaga last year.
Olinga played an influential role for Malaga's successful youth side, reaching the final of Copa del Rey Juvenil last season which he missed though because of a suspension.
Then came last Saturday's feat. Now the question is will he start for Malaga in their Primera Liga home match against Mallorca on Saturday.
Let's hope he does and see what he can do next. Another goal or two, perhaps?
It's up to the 58-year-old Pellegrini also known as 'El Ingeniero' or 'The Engineer' to decide whether Olinga start or not.
Adios!