The English Premier League (EPL) is off and running again, and what a weekend it was! Seven penalties, 27 goals and losses for Manchester United and Liverpool. Each week I'll be looking at the Tops and Flops of the EPL, so let's see who stood out this weekend.


Tops
Michu (Swansea City)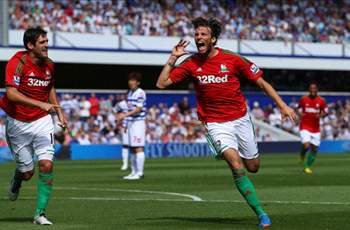 In the EPL two things endear attacking midfielders to fans, goals and work rate. It's easy to focus on the Spaniards two goals (assisted by the QPR defence - more on that later), but his work rate off the ball suggests that he will be well suited to the EPL. After scoring twice he continued to work tirelessly, charging down Fabio da Silva to win the ball for the third goal and then pouncing on a poor Nedum Onuoha clearance to play a role in the fifth goal. At £2 million he is already shaping up to be the bargain of the season.
Eden Hazard (Chelsea)
Two assists in six minutes gave us a glimpse to his potential, and that's seven penalties won since the beginning of last season, defenders beware.

Marouane Fellaini (Everton)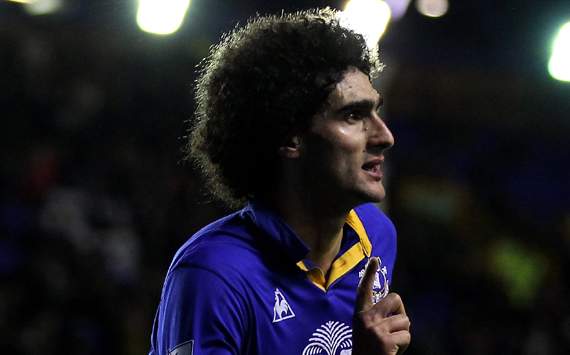 In his four EPL seasons Fellaini has often thrived when playing in a deeper defensive midfield role, however now that Tim Cahill has left the club we may get to see the best of the gangly midfielder. Playing in a more advanced role behind the forward, Fellaini gave United's makeshift backline problems all night and made the most of his teams willingness to launch aerial balls into United's area winning four headers in the United box, including the winning goal. Next time United would be wise to let someone else but Michael Carrick pick him up at set pieces.
David De Gea (Manchester United)
Six good saves, arguably United's best performer and guess what, he's still only 21. Those who called him a flop last year spoke to soon.
Mladen Petrić (Fulham)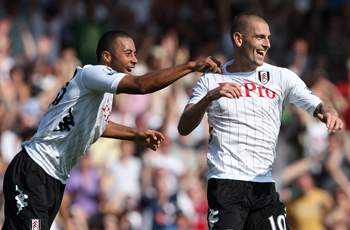 The news that talisman Clint Dempsey wants to leave the club will be a blow to all at Fulham, however Petrić's debut will ease the pain somewhat. Replacing last year's 17 goal top scorer won't be easy, but the experienced Croatian, who hit two goals and also provided an assist vs. Norwich, looks like he could certainly be a capable stand-in this season.
Rickie Lambert (Southampton)
It took him four minutes to score his first EPL goal, expect it to be the first of many this season for the player who has scored 108 goals in four seasons.
Steve Clarke (West Bromwich Albion)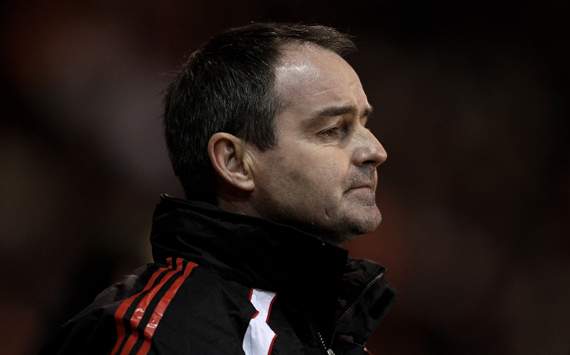 Make no mistake, this was a big game for him. When you are a coach who steps up to become a manager people are waiting for you to fail and anoint you the new Les Reed, Sam Lee, or Brian Kidd. One result doesn't make a season but a comprehensive win over Liverpool will ease some of the pressure on Clarke. Tougher days will come for the new boss; his team won't always get two penalties, an opponent sent off and score a 20 yard screamer, but the way his team took hold of the game in the second half and punished their opponents bodes well for his chances.
FLOPS
Liverpool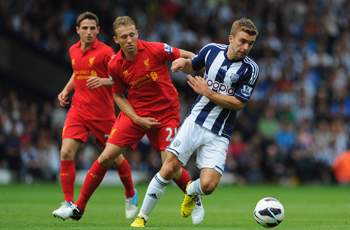 A defeat one game into a new regime at the start of the season is no crisis, but if Liverpool struggle in their next four matches (Home vs. Arsenal, Manchester United & Manchester City, Away vs. Sunderland) then there will be one. New boss Brendan Rodgers will be worried about the schoolboy defending of his team; Daniel Agger's challenge as the last defender was clumsy and deserved the punishment it got and the usually reliable Martin Skrtel look ill at ease with his new managers 'play from the back philosophy', uncharacteristically dallying on the ball before gifting Albion a second penalty. Another worrying sight was Jamie Carragher, a defender never known for his searing pace, clumsily trying to keep up with Romeo Lukaku as the game was stretched, things may look even worse if he is asked to keep deputise for Agger in the coming weeks. Liverpool showed signs of promise and need not panic yet, but they, and Luis Suarez in particular, need to realise that dominating possession and creating chances aplenty counts for nothing if you cannot convert.
David Silva & Shane Long's penalties
Two of the worst penalties in EPL history. Their respective managers shouldn't let them near another one all season.
Arsenal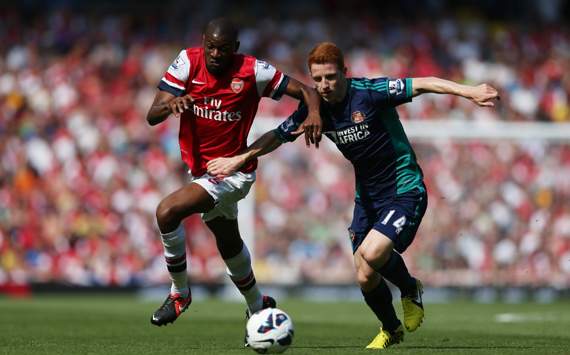 Albert Einstein said that Insanity is doing the same thing over and over again and expecting different results. Apply this to Arsene Wenger's transfer policy of selling your best players each summer yet still expecting a title challenge and apply it to Arsenals style of play, beautiful when everything clicks, but often effectively countered by opponents. The blueprint that Sunderland and Martin O'Neill used for frustrating Arsenal isn't new, get men behind the ball, let Arsenal dominate possession
(70%), hope that they are wasteful with their chances (23 this weekend) and that your keeper pulls of a few fine saves. Some of the parts may have changed, but the Arsenal vehicle plugs along as usual. Expect Champions League qualification again this season, but until they can turn draws like this into wins, forget a title challenge.

Ivan Ramis (Wigan Athletic)
Seven minutes into his Premier League debut Ramis may have rued his decision to leave the beaches and sunshine of Mallorca for the rain and pies of Wigan. Outfoxed twice in quick succession by the sharpness of Eden Hazard, it was a harsh lesson of the pace of the Premier League and that any mistake can be punished ruthlessly. He can be comforted by the fact that his teammate Antolin Alcaraz endured a similarly traumatic debut experience in Wigan's 4-0 opening day defeat to Blackpool two years ago when he made Marlon Harewood look like George Weah, however he has rebounded to become an integral cog in Wigan's back line. It takes time for any foreign defender to adapt to English football, and the three man back line that Wigan adopt which offers very little cover for its defenders. But Ramis will need to get to speed soon or else it will be another long season for the Latics.
Adam Federici (Reading)
An uncharacteristic error that can be chalked up to nerves more than anything else, but a horrendous error which gets worse with each viewing.
QPR's Defence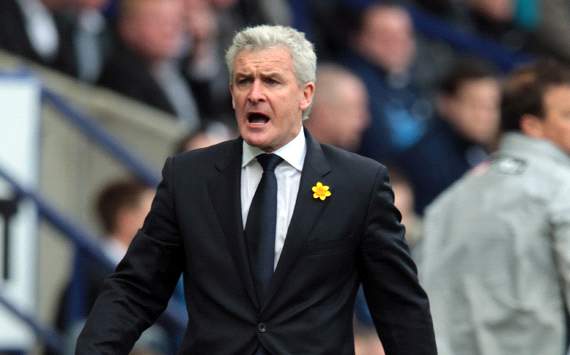 Tony Fernandes must have wondered why he'd bothered to make the long journey over to the UK after watching such rotten defending from his team. Rob Green demonstrated why few believe he is a top level keeper with a gaffe which set the tone for the afternoon. Fabio demonstrated that he is a Manchester United defender in name only after carelessly losing possession for the third goal and completely failing to track Nathan Dyer for the fourth. And it will be a miracle if the sluggish Clint Hill, aged 33, can play as many as the 22 games he did last season after his opening day performance. The positives, at least it was only 5-0!
Aston Villa at Set Pieces
Villa conceded 24 goals from Set Pieces last season, judging from Kevin Nolan's goal against them last weekend, they still have a lot to work on.
Norwich City
Perhaps not the start Chris Hughton would have wanted. They conceded 66 league goals last season this season may well be worse unless they begin to exert more pressure on their opponents and not stand off them as they did against Fulham. This result means that the Canaries have now shipped eleven goals in three trips to Craven Cottage!