COMMENT
By Carlo Garganese | Goal.com International Deputy Editor
Ronaldo, Casillas, Messi, Iniesta, Pirlo, Drogba, Xavi, Ashley Cole – the leading lights of the Goal.com 50 are among the best of a generation in their respective positions. And in 2011-12, these superstars repeatedly demonstrated just why they will be remembered as legends.
Ronaldo and Messi blasted home a jaw-dropping 133 club goals between them, the Spanish contingent were decisive in leading their country to a historic third major title in succession at Euro 2012, Pirlo put Juventus and Italy back on the map with his playmaking genius, while Drogba finally dragged Chelsea to the promised land with critical goals on the way to Champions League glory, including the penalty shoot-out winner with his last kick for the club.
The 50 represents the
creme de la creme
of football. Any indispensable member of a major title-winning team are likely to have been recognised. The champions of Spain, England, Italy, Germany and Europe (Champions League and European Championship) account for 35 players on the list, with a further six from a Barcelona side widely identified as one of the best of all time.
The presence of four goalkeepers underlines that we are in the midst of a golden era for shot-stoppers. While some critics – including this writer – may bemoan the shortage of quality in other areas, such as defence, the existence of Iker Casillas, Gianluigi Buffon, Joe Hart and Petr Cech is something to be celebrated. In finishing second, the Real Madrid No.1 almost achieved the virtually impossible – considering only one goalkeeper in history has won the Ballon d'Or: Lev Yashin way back in 1963.
Club football – having overtaken its international brother in popularity and quality – has never been so sellable, with clubs like Real Madrid, Barcelona, Juventus, Milan, Chelsea, Manchester United and Arsenal transcending nations and reaching more people than ever before, thanks no less to global mediums such as Goal.com.
Yet a note of caution should be attached, despite this expansion and globalisation. Club football needs to be enjoyed and shared by the masses, both inside and outside the sport, but at present the game is dominated by only a handful of teams from a handful of countries. There is an ever decreasing circle of elite clubs - with rich gatecrashers such as Manchester City and Paris Saint-Germain the rare exceptions to the rule.
A whopping 43 of the Goal.com 50 are based in just four leagues - La Liga (18), the English Premier League (13), the German Bundesliga (7) and Italy's Serie A (5). Of these, 33 players are from six clubs – Real Madrid (9), Barcelona (6), Manchester City (6), Juventus (4), Chelsea (4) and Borussia Dortmund (4). Last year, 45 of the 50 came from the 'big four' leagues, exactly the same figure as the year before.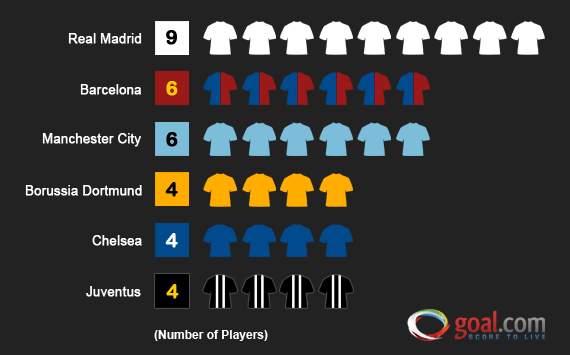 Elite Dominance | 33 players in the Goal.com 50 are from just six clubs
Over the past decade, football's most prestigious club competition, the Uefa Champions League, has - Porto's shock 2004 success and a smattering of brave Monaco/Schalke-like adventures aside – only really been contested by 10 clubs from the aforementioned four countries: Manchester United, Chelsea, Arsenal, Liverpool, AC Milan, Inter, Juventus, Barcelona, Real Madrid, and Bayern Munich. In the last seven seasons, there has been one semi-finalist from outside these four nations – Lyon in 2009-10.
While the German Bundesliga has remained refreshingly spasmodic, with four different champions in the last six years (although only Bayern have consistently challenged in Europe), the destinations of the Premier League, Serie A and La Liga titles have been as predictable as the sunrise. Only this May did Manchester City's millions end an eight-year Manchester United-Chelsea duopoly. Juventus, Milan and Inter have won every Scudetto since 2001, while in Spain, Real Madrid and Barcelona have captured every Primera title since 2004. In the last three campaigns, the gap between these top two and third place has been 25, 21, and 30 points respectively, illustrating just how far ahead of the pack the
Clasico
rivals are.
Football is now a two-tier system: the elite at the top who retain all the talent and money, and everyone else who have no chance of challenging the upper crust at the apex of the pyramid, unless wealthy investors come calling as we have seen with Manchester City and Paris Saint-Germain.
"A club can buy players like PSG has done or Manchester City or Chelsea, with unlimited resources, but overall football suffers," Arsenal coach Arsene Wenger complained recently.
It is no coincidence that the teams who feature most prominently in the Goal.com 50 are generally those who spend the most money. In the last five summers prior to this one, Real Madrid have shelled out a colossal €606 million (€389m net spend) on transfer fees alone. Barcelona have dispensed with €409m (€360.6m) and Manchester City a jaw-dropping €658m (€518m).
| | |
| --- | --- |
| Football is now a two-tier system: the elite at the top who retain all the talent and money, and everyone else who have no chance of challenging the upper crust at the apex of the pyramid | |
Football never used to be dominated by such an exclusive elite, though.
Before the Champions League re-branding in 1992, the European Cup featured countless contenders and winners who are regarded by today's younger generation as minnows. Celtic's Lisbon Lions of 1967, Brian Clough's Nottingham Forest, Felix Magath's Hamburg, Gheorghe Hagi's Steaua Bucharest, Dejan Savicevic's Red Star '91 heroes, Vialli and Mancini's Sampdoria ... the list goes on and on. Sadly, even legendary clubs like Ajax – whose Cruyff, Keizer and Neeskens-inspired Total Football cultivated three straight European Cups in the early 1970s, before another golden generation added a further title in 1995, have no chance of challenging today.
Domestically, it was not just about Real Madrid-Barcelona in Spain, and Juventus and the Milanese in Italy. As we approached and then entered the new millennium, Atletico Madrid, Deportivo and Valencia all got their hands on the Primera crown. In the early 1980s, the Basque region ruled Spain as Real Sociedad and Athletic Bilbao shared four consecutive championships between them.
Between 1983 and 1991, there were seven different
Scudetto
winners, including fairytale victors Verona. Every squad could dream of possessing world-class champions, not just the elite. In the mid-80s, Verona boasted Preben Elkjaer and Hans-Peter Briegel, Udinese - Edinho and earlier Zico, Sampdoria – Trevor Francis and Graeme Souness, Fiorentina – Daniel Passarella, Inter – Karl-Heinz Rummenigge and Liam Brady, Juventus – Michael Laudrup and Michel Platini, Roma – Zbigniew Boniek and Toninho Cerezo, Torino – Junior, Napoli – Diego Maradona. Even Avellino acquired a diamond in Ramon Diaz.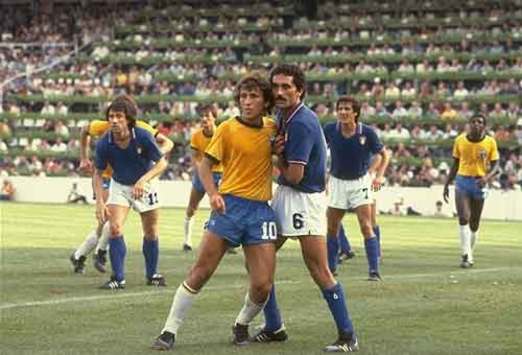 Ronaldo at Udinese? | The world's best player Zico joined Udinese in 1983
While wealth obviously was a key factor in attracting these players during Serie A's heyday – just as it is now for the superpowers in the Premier League and La Liga – these riches were not enjoyed by only a small handful of clubs. Wealth and talent was spread throughout the league, thus ensuring competition.

As a result, personal awards such as the Ballon d'Or highlighted a healthy representation of clubs and leagues. Fifty years ago, the 27 players who received votes for the 1962 award were from 24 clubs and 11 leagues. In 1972, the 27 contenders hailed from 21 clubs and 14 leagues. Every club, barring Ajax and Bayern, provided no more than one player. In 1982, the 19 hopefuls plied their trades at 13 clubs in eight leagues.

Compare 1982 to 2012's Goal.com 50, where the top 19 stars were from just three leagues and eight clubs. Even 10 years ago, the 2002 Ballon d'Or still unveiled 27 players from 15 clubs and six leagues.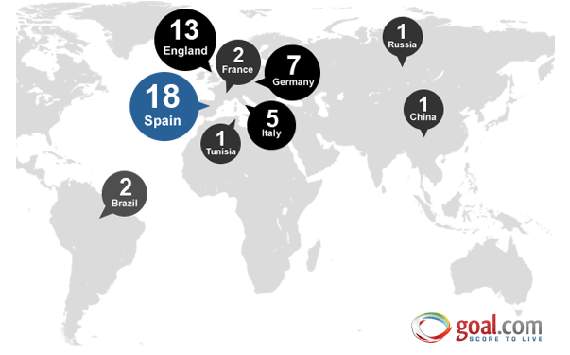 Monopoly of top talent | 43 players in the Goal.com 50 are from just four leagues
But what can football's governing bodies do to redress the balance?

Uefa president Michel Platini has fronted initiatives attempting to achieve a more level playing field. Their Financial Fair Play (FFP) regulations demand that clubs do not spend more than they earn, but it remains to be seen how enforceable Platini's crusade will be. The €100m already splashed out this summer by PSG suggests that clubs will find loopholes to evade the FFP police.

Ultimately, unless the elite loosen their grip on the steering wheel then it will be difficult for the also-rans to close the gap. This is perfectly illustrated in Spain where the "corrupt" distribution of television money, as Malaga president Abdullah bin Nasser Al-Thani describes it, means that Real Madrid and Barcelona earn at least €100m more per year from TV than most of La Liga as deals are struck individually. The skewed system presents the sport's governing bodies with a unique challenge.

There must be rules in football, enforceable rules, to ensure that TV money is evenly distributed, that modest sides like Ajax can reap the rewards of a world-class youth academy without having their fledglings poached, that top-class talent is spread throughout leagues and not concentrated in the top two sides, that European Cup-winning countries like Romania, Scotland and Netherlands are not just feeder leagues.

The Goal.com 50 offers us a reminder that we are living in an age of great footballers. But if football's authorities want to avoid the beautiful game becoming simply the predictable one, then the onus is on them to ensure that this greatness is spread around much more.

Follow Carlo Garganese on