The Via Turati club have claimed that their deals are done for this summer, but they are in no position to challenge at home or abroad with their current squad
COMMENT
By Kris Voakes | Italian Football Editor
"An act of heroism" was what Adriano Galliani called it. Silvio Berlusconi stepped in at the 11th hour to prevent AC Milan's star centre-back Thiago Silva from being sold to Paris Saint-Germain last month, and the CEO couldn't have been more grateful.
"We made a huge effort to keep Thiago Silva," Galliani would go on to add. "It counts as a signing."
Yes, it was a massive coup for Milan to keep a player who is unquestionably among the best in the world right now, but calling it a new signing is as if to paper over the cracks that has been the Rossoneri's transfer campaign thus far.
Last season, Massimiliano Allegri's men lost the Scudetto to Juventus on measurements of both quantity and quality. When an injury crisis hit them in the final 10 games of the campaign, they were neither deep enough nor good enough to stave off the steamroller from Turin.
And now, halfway through the summer, Milan's market moves have left them trailing in Juve's wake once more, with Galliani now claiming that their dealings are done for this transfer window.
Surely not!
MILAN'S MOVES SO FAR THIS SUMMER

Ins

Outs


Bakaye Traore (Nancy)
Riccardo Montolivo (Fiorentina)
Gabriel (Cruzeiro)
Francesco Acerbi (Chievo)
Kevin Constant (Genoa)
Edoardo Pazzagli (Fiorentina)

Alessandro Nesta (Montreal Impact)
Filippo Inzaghi (released)
Flavio Roma (retired)
Gianluca Zambrotta (released)
Gennaro Gattuso (Sion)
Mark van Bommel (PSV)
Clarence Seedorf (Botafogo)
Alberto Aquilani (L'pool - loan return)
Maxi Lopez (Catania - loan return)
For a start, there have to be question marks about what Zlatan Ibrahimovic thinks of their transactions so far. It is well known that the Swede was hugely relieved to see Thiago Silva stay after the club had very nearly ousted him for a pot of Arab gold, but he needs more evidence that the
Rossoneri
are serious about winning back the title and competing in Europe once again.
He spoke during the European Championship of having a real drive, and it was something many Swedes commented on seeing in him for the first time. There was a new hunger in his eyes. But if that is not matched by Milan, then he could walk. And his agent, the infamous Mino Raiola, has recently refused to confirm that his charge will don the red and black in 2012-13.
So will Zlatan be happy with the ins and outs? And how will he have received Galliani's news that the squad Il Diavolo currently boast will be the one that attempts to lift a 19th Scudetto next term? With names such as Alessandro Nesta, Filippo Inzaghi, Gennaro Gattuso, Mark van Bommel and Clarence Seedorf all having been jettisoned in May, their replacements have a lot to live up to.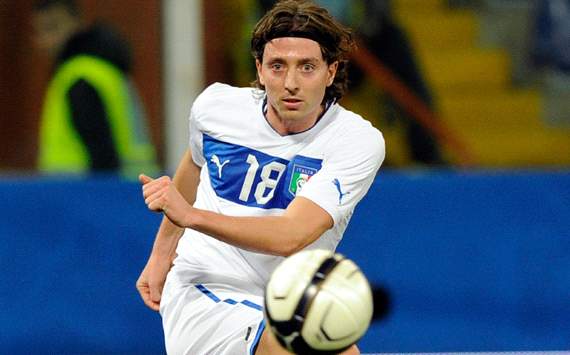 Milan's main man | Montolivo is the most high-profile Rossoneri arrival so far
Without wanting to call into question the possibility of Riccardo Montolivo, Bakaye Traore, Kevin Constant and Francesco Acerbi becoming top stars in the years to come, are the new signings really ready to take on the mantle of the storied former stars that have moved on since last season ended?
The need to challenge at the very top in the forthcoming campaign seems to have been forgotten for now, with a wealth of experience shipped out and a succession of bright raw hopes – Montolivo aside – replacing them. It all feels rather hollow as it stands. Not ready enough, and not sufficient enough.
It is huge that Thiago Silva stays on. It is huge that Ibrahimovic remains a Milan player for now also. But is that enough? They've lost a lot of experience, as well as a lot of decent squad members – they've also said goodbye to Maxi Lopez, Alberto Aquilani and Gianluca Zambrotta among others – and they really can't expect to challenge with less savvy and less players than the panel which didn't have enough last time around. Juventus have got better thanks to their deals this summer, but Milan simply have not.
Milanisti must hope and pray that Galliani was just playing his cards close to his chest when claiming that the chequebook has been put away, since a club that demands at least a tilt at silverware is simply not prepared to do just that as things stand.
Quality and quantity is still required at San Siro, and there is no chance of Milan winning Serie A, let alone the Champions League, if it doesn't arrive.