COMMENT
By Paul Freelend
So now we know:
Indonesia have won their 2010 Asean Football Federation Cup semi-final 3-2 on aggregate
over the Philippines. Odd how it took 16 months to play the Filipino leg.
How should Merah Putih fans react to the 2-2 draw in Manila on June 5? To be optimistic, any positive result on the road is a good one, especially having fielded 13 players from the officially-sanctioned but second-best Indonesian Premier League and three AWOL Papuans from Indonesian Super League clubs against what some pundits dubbed the strongest Azkals squad ever.
Road friendlies are rare for Indonesia. It played one last year - a 1-0 defeat against Jordan - and none in 2010. In 2009, its only international friendly was a 3-1 loss in Singapore. As such, Indonesia doesn't have much experience in hostile environments, which shows in times such as their collective pant-soiling at the hands of Malaysia in the last AFF Suzuki Cup final, when they suffered a 3-0 first leg defeat.
Merah Putih won't have home-field advantage at this year's AFF Suzuki Cup in Thailand and Malaysia –
assuming they're even in the draw and not banned from international competition
– so being able to salvage results on foreign soil should not be underestimated.
That, of course, is the charitable view. It is not incorrect, but there is also plenty to worry Indonesian supporters.
One unwelcome revelation was seeing the culture of cynicism and indiscipline from the ISL-led national team carry over to the IPL-dominated squad. Commercial darling and occasional footballer Irfan Bachdim sparked a bench-clearing brawl with 10 minutes to go, taking a swing at Philippines captain Chieffy Caligdong as the Azkals tried to take a quick free-kick.
Coaches and officials on the Indonesian bench also waded into the brouhaha. Irfan, Caligdong and Manny Ott were sent off, but the hosts dominated the last 10 minutes despite playing nine versus 10.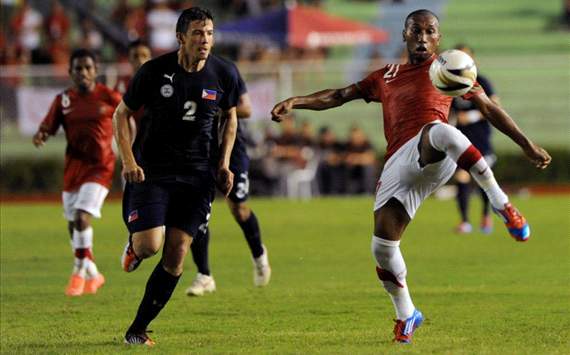 Honours even in Manila | Philippines and Indonesia ended up 2-2 in June
Goalkeeper Markus Haris Maulana was his usual infuriating self, flapping at crosses, writhing in agony when challenged for high balls and driving Philippines fans mad with his time-wasting. Even when Indonesia had a man advantage, at least three players stayed down for extended stoppages. The behaviour betrayed a side that was happy to secure a draw and get out of Dodge.
Were Indonesia that desperate to preserve their record of never having lost to the Philippines in 54 years? Or was the lure of a draw away to a team placed higher in the Fifa rankings too irresistible?
There's also the matter of the defence. Markus has always been a shot-stopper more than an all-round goalkeeper. For every acrobatic save he makes, he often struggles to command his penalty area or organise his defense. In the second half alone, Indonesia's defensive breakdowns gave the Philippines six clear chances to score, two of which they took.
| | |
| --- | --- |
| "PSSI has slashed in half the number of schools for its academy network because of a lack of funding... but there's no end of people willing to lure big names like Inter because such events serve the purposes of people only concerned with their brand" | |
The match was Indonesia's second 'A' international this year – the other being the 10-0 debacle in Bahrain. One win in five friendlies against local clubs, as well as going 1-1-1 against Mauritania, Iraqi Kurdistan and Palestine B at the Al Nakba tournament last month, is hardly the preparation one would expect from a country desperate for its first AFF Suzuki Cup title. Given the hand-to-mouth existence prevalent in Indonesian football, though, it's hardly surprising. Clubs struggle to attract sponsors despite the country's fervent love for the sport, while
the Indonesian Football Association (PSSI) relies on funding from its chief patron, oil tycoon Arifin Panigoro
.
Money men who claim to love Indonesian football and want to see it succeed won't pay a piddling amount to hire Tom Byer, the man who helped lay the groundwork for Japan's dominance in Asia. The Football Association of Indonesia (PSSI) has slashed in half the number of schools and class sizes for its academy network because of a lack of funding, all but killing the project.
Of course, there's no end of people willing to lure big names like Inter with US$2 million-plus paydays because such events are sexy and serve the purposes of people only concerned with advancing their brand.
Going by South-East Asian teams' trajectories, Indonesia's high-profile, short-term approach is failing
. Thailand and Singapore have long been steady at the top of Asean. Vietnam and Malaysia have passed Indonesia, while the Philippines have made great strides and could threaten Indonesia's seemingly assured place in the region's top four. After a 0-0 draw at Malaysia and a brave performance against the Merah Putih, the Azkals can rightfully feel that their long-awaited first win over Indonesia is a matter of when, not if.
Follow Goal.com Asia on

and

for the latest in Asian footballing news, features, and analysis