| | | | | |
| --- | --- | --- | --- | --- |
| MANCHESTER CITY | | V | | MANCHESTER UNITED |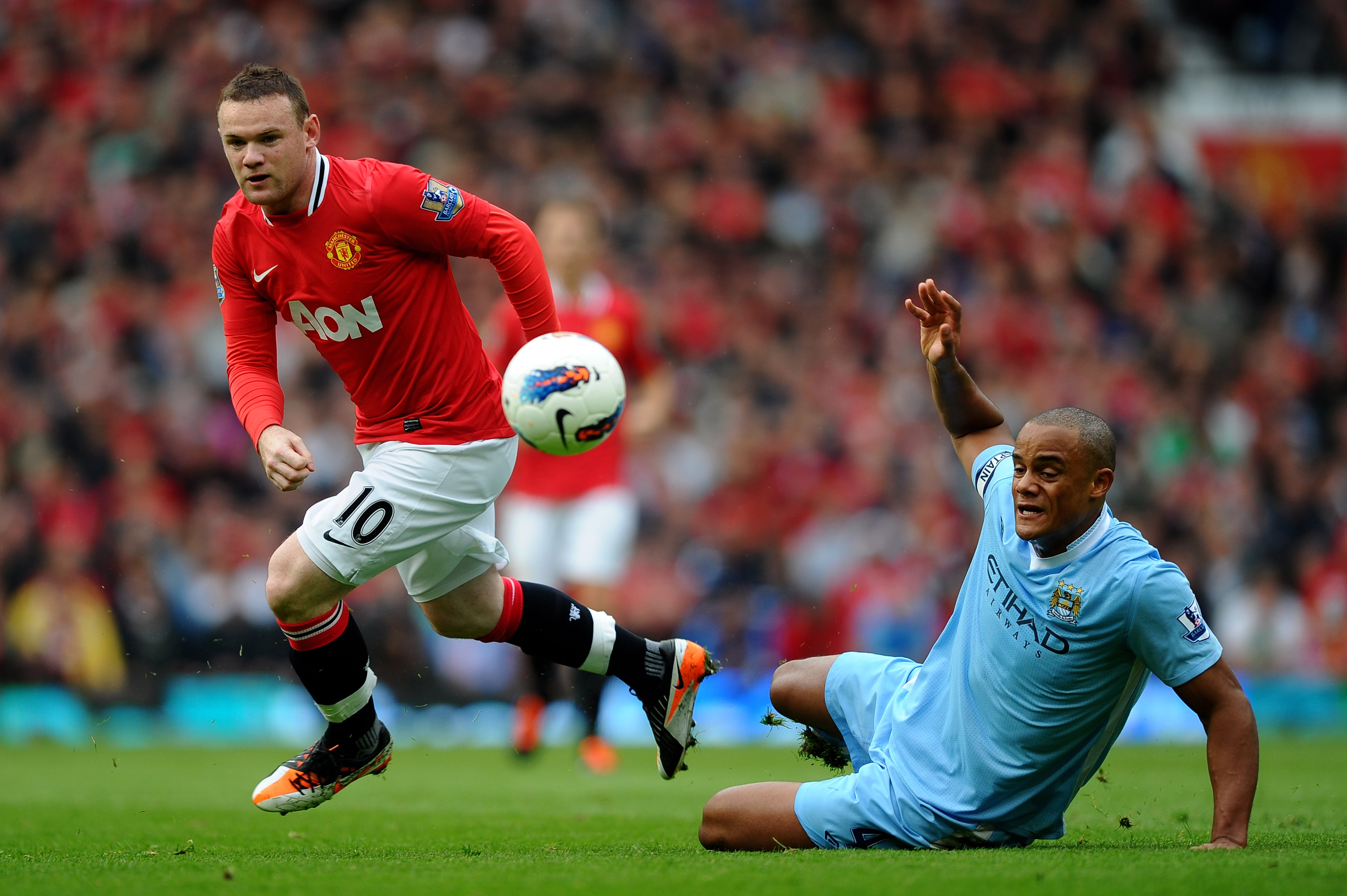 Tonight brings about one of the most hotly-contested Manchester derbies in years, as Roberto Mancini's
Manchester City
host bitter rivals
Manchester United
, in a match that will see both sides gunning for three points in their quest for the
Premier League
title.
The rivals have already played out two cracking games this season - City winning 6-1 at Old Trafford in October, whilst United gained some semblance of revenge with a 3-2 win in the FA Cup third round at the Etihad at the turn of the year - so a Monday night cracker is on the cards.
Goal.com invited City fan Ric Turner of Blue Moon, and his United counterpart Ed Barker, from United Rant, to get involved in our Twitter Q&A ahead of the crunch clash between the two title-chasers...
Can we expect goals galore? Are we set to see more of this season's crazy scorelines - Another 6-1, even?
Ric Turner
: "The 6-1, enjoyable as it was, was a one-off that's unlikely to be repeated. I'll settle for 5-1 tonight."

Ed Barker:
"Not a chance it'll be open. United are going to adopt the 'European approach', pack midfield and ensure it's as tight as possible for an hour. Of course, details can change matches - red cards, poor officiating, a wonder goal will change how both teams tactics adapt on the night. City have to win, United don't and that will dictate the outlook for the game. Of course, if United need a late goal I expect there to be a lot of firepower on the bench"
Roberto Mancini has been somewhat transparently trying to lull his opponents into a false sense of security by insisting that United have already won the league - surely Sir Alex Ferguson has won this particular battle?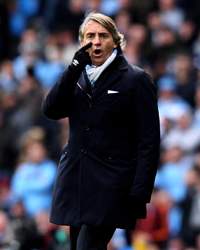 Ed Barker:
"It's mind games 101 from Mancini: attempt to remove the pressure from his team by saying the game is already lost. Although, I'll hand it to him - it was smart to rile Swansea and Sunderland by claiming United has two "easy games" against them. Fergie's played a more complex hand, by increasing the pressure on his own team after last weekend's disaster against Everton. There were some very complacent performances against Everton, and Fergie has said if United lose tonight the title race will be over. That's an attempt to focus minds on the task at hand."
Ric Turner
: "I'm not sure how you deduce that Ferguson has won the recent mind games, given that we're still in the title race! To be honest, far too much emphasis gets put on 'mind games'; in reality I think they have little effect on the opposition. Mancini has certainly held his own in this regard, though."
Carlos Tevez is a polarising figure in Manchester to say the least. He'll presumably start, right? And has Mancini handled his return properly?
Ric Turner
: "Tevez should start, purely because his partnership with Aguero is our most threatening combination up front. Balotelli can't be trusted, and Dzeko is out of form. I think Mancini has handled a difficult situation reasonably well, and Tevez could yet remain at City beyond this summer."

Ed Barker:
"I could go on about Tevez all day but there's very little of it for a family audience. If one player summises the sickening culture of modern football, he's it. Greedy, immature, led by agents, with a huge ego and a truly MASSIVE sense of entitlement. It's even more sickening that City fans have taken him back into their hearts without a moments thought. It's the battered wife syndrome - Blues are so desperate for silverware after decades in United's shadow that they're in total self denial about Tevez. He'll go in the summer, by the way, no matter what his PR people are saying right now ... and City's management will be glad to get rid." "
If City go on to win the title this year, is it just down to the cash? Ric, do you care how you do it? Ed - jealous?
Ric Turner
: "Teams have been buying success since the dawn of the Premier League, so City are hardly unique in that respect. Look at the cost of the United team tonight!"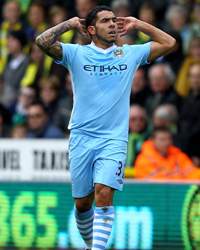 Ed Barker:
"It's always about money, isn't it? I'd be a hypocrite to pretend that United haven't spent big on players in the past. City have changed the game, though - when you have sovereign wealth there's no limit to what you can spend. United always had competitors for the best players - financially speaking - City doesn't. The only way City don't get a player they want is if the player doesn't want to join. Jealousy? Of City? Absolutely not. All I'd like for United is for the club to stand on its own two feet, free of the burdens of Glazer ownership and showing some respect for the fans once again."
Three words (without swearing) to describe your rivals?

Ed Barker:
"Massive, bitter, deluded? ... OK, sorry, that's cruel."
Ric Turner
: "Arrogant, obnoxious, plastic."
Ed Barker:
"Definitely pot calling the kettle black with the last one. He means plastic seats, of course ... the ones City fans dress as at Eastlands!"

Predictions

Ric Turner:
"It's going to be a tight game, and I don't think there will be many goals in it. Hopefully City will edge it 2-1."


Ed Barker:
"I think City have a big advantage in midfield so Ferguson will look to close down space in that area of the park by deploying five. United have to keep it tight for an hour and let City try and break them down - City have to win, United don't and that's going to dictate the pattern of play for a while. But United have too many big-game players with a goal or an assist in them. I expect City to have the ball, but United to play on the break - there will be space after an hour and if the Reds can exploit it I expect Ferguson's side to gain a point in a scoring draw. Maybe 1-1."