COMMENT

By Tom Webber
Ever since his emergence from the youth ranks at Santos, Neymar has cast an ever-increasing shadow over other young players in Brazil. He is the superstar, the player that any manager would want in his side. The virtuoso striker has already established himself as a fixture in the Brazilian national team whilst also winning the Copa Libertadores in 2011 and securing back-to-back Paulista State Championships with his club. Dissenting voices have suggested he cannot be considered one of the best players in the world until he makes the inevitable move to Europe.
However, Santos have a chance to earn their third consecutive Paulistao this year, matching a feat not completed by any club from the state since Pele guided the Peixe to a trio of titles from 1967 to 1969. However, for Neymar & Co. to go down in history, they will need to pass a Sao Paulo outfit in the semi-final with their own talismanic youngster: Lucas.
The 19-year-old is an explosive forward who operates primarily just off the central striker, but similar to his Santos equivalent, he is perhaps most dangerous when coming inside from a wide area. His electric pace shocks defenders, enabling him to bolt forwards with mesmeric close control.
He also possesses the ability to finish with an equally effervescent shot and has already compiled an impressive portfolio of stunning goals. With such attributes among his arsenal, it is easy to see why he has alerted the interest of European giants including Chelsea, Manchester United and Inter, but recent events suggest that Spain may well be his next destination.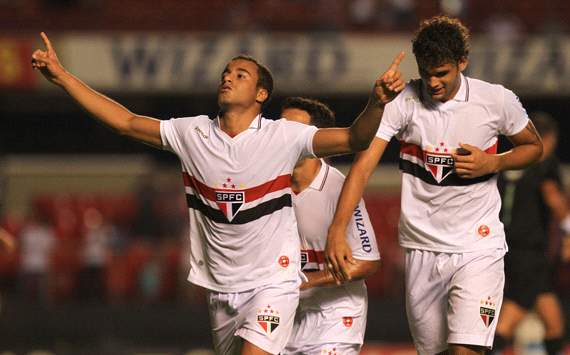 Contender to the throne | Lucas needs to match Neymar's trophy haul with Santos
Real Madrid president Florentino Perez was recently photographed giving a tour of the Santiago Bernabeu to Lucas' parents. Los Blancos had been interested in securing the signature of Neymar but relations between the player and club have become increasingly strained with the Santos attacker reportedly angered by Perez's attitude.
Sunday's semi-final not only offers Sao Paulo a fantastic chance to win their first Paulistao since 2005, with Serie B opponents Bragantino or Guarani awaiting in the final, but it could also be the stage for Lucas to rival the Santos star as Brazil's golden boy.
The Tricolor will be without Luis Fabiano through suspension but Neymar has already picked out his international team-mate as the player to watch in the game, describing him as "a very talented star" before adding: "Lucas will step up to the game [in the absence of Fabiano]."
The 19-year-old is similar to Neymar in the fact that he is more than accustomed to carrying the hopes of his side on his back in the early stages of his career. The supporters are aware of the potential that Lucas possesses and therefore store their faith in the club's fortunes within him. His counterpart has seemingly blossomed under such circumstances, and with 'O Fabuloso' out of the clash we will see if the Sao Paulo attacking midfielder is of the same mould.
| | | |
| --- | --- | --- |
| February 5, 1992 | DATE OF BIRTH | August 13, 1992 |
| 85 | LEAGUE APPEARANCES | 53 |
| 40 | LEAGUE GOALS | 13 |
| 16 | BRAZIL CAPS | 11 |
| 8 | BRAZIL GOALS | 1 |
| Real Madrid, Barcelona, Chelsea | INTERESTED CLUBS | Real Madrid, Inter, Chelsea, Manchester United |
| €45m | ESTIMATED VALUE | €30m |
There could never be a greater need for everyone at the Morumbi to pick up their performances. The club are currently enduring a four-year barren run having not won a single trophy since Muricy Ramalho guided them to three consecutive Brasilieiraos between 2006 and 2008. Incidentally, Ramalho is now the coach of Santos and can attempt to protect his legacy by seeing his team to victory in the San-Sao derby.
After a great start to last season's Brasileiro, undulating performance saw Sao Paulo fall from potential title chasers to a sixth-place finish. Having failed to secure a berth in the 2012 Copa Libertadores the club's owners decided that investment was needed. Botafogo's impressive left-back Bruno Cortez and Jadson are two of the standout names in a number of procurements since December. Yet there will now be increased expectations at the Morumbi, and the pressure will fall greatest upon Lucas and Emerson Leao to steer the club to success.
The world will be watching as Lucas and Neymar go head-to-head. They may not be identical in terms of positioning, but the passion and love they receive from their respective fans is mirrored in both. The Santos forward will be eager to match 'O Rei's' feat of three consecutive Paulistaos, but the Tricolor's 19-year-old will be eager to step out from the shadows and earn his club a slice of the glory that has been recently bestowed upon the Vila Belmiro outfit.
Follow Tom Webber on