Though there was little shock that stars such as Robin van Persie attracted the majority of the vote, we look at some of the more underrated talents who deserved recognition
COMMENT
By
David Lynch
The PFA player of the year and young player of the year nominations were announced on Monday to the now customary debate over the merits of certain players' inclusion.
Though few could argue with the selection of likes of Robin van Persie and Wayne Rooney, it is the omission of some of the Premier League's more underrated talents which has left a bitter taste in the mouth of football fans.
That the top four took all six nominations, with Manchester City grabbing half of those, there was little room left for some of English football's less heralded successes.
Here,
Goal.com
looks at the players who can rightly feel aggrieved for not gaining recognition from their peers.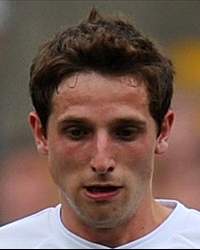 There is little doubt over which side have been most lauded as the surprise package of this Premier League season. Swansea City have gained plaudits not just for their almost certain survival in their maiden top-flight season, but an unwaivering belief in easy on the eye passing football.
Allen has been central to that, earning himself the affectionate nickname of 'the Welsh Iniesta' for pulling the strings in the Swans midfield.
At the tender age of 22 his exclusion from even the young player list is a baffling one, though if he can continue to grow in his partnership with Leon Britton then the pair will doubtless receive recognition in time.
KEY PREMIER LEAGUE STATS:
Has enjoyed a 91% pass success rate in 27 starts this season.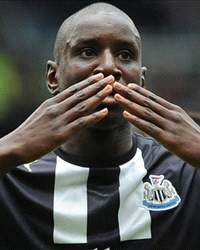 Whilst other more expensively assembled sides around them crumble, Newcastle's unlikely push for Champions League football continues at pace. No man encapsulates their 'brilliance of a budget' better than Demba Ba, whose return of 16 goals in 29 Premier League games is even more astounding given that he was signed for free.
Though the Senegalese has tailed off in recent weeks, his role in the remarkably smooth transition to English football of compatriot Papiss Cisse cannot be underestimated.
Neither can his ability to engineer the space from which is team-mate has quite clearly profited from during a streak which has seen him score 10 times in just nine games.
KEY PREMIER LEAGUE STATS:
Has contributed 35% of his team's goals this term.
Fabricio Coloccini - Newcastle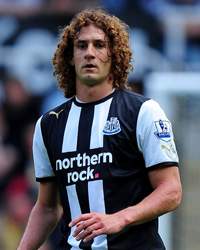 Though not one of the Magpies' more recent signings, this has finally been the season that Coloccini has stamped his authority on the Premier League.
There was always something odd about a full Argentina international being part of the often calamitous defensive displays which the Toon have put in over recent years.
Now though, he is beginning to show his pedigree on a weekly basis as part of a defensive line which can proudly say it does not let down a potent attack. The discipline instilled by Alan Pardew can take much credit in allowing lesser talented defenders such as James Perch to help lessen the burden on Coloccini this term.
KEY PREMIER LEAGUE STATS:
Has helped register the third-best clean sheet percentage (39.4%) in the league with Newcastle so far this season.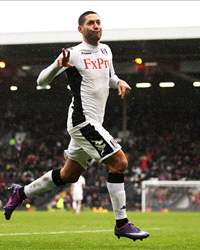 There have always been whispers of the American's ability to play for a top four club but these have grown increasingly loud in what is proving to be a seminal season. Sixteen league strikes - some coming from a deeper, midfield role - have provided Dempsey with his best-ever return in England.
Though the 29-year-old has perhaps unfairly missed out on recognition from his peers this season, he may yet get a deserved move to a Champions League club with his contract set to expire next summer.
Along with a better platform to express his evident talents, Dempsey could well go on to achieve recognition in Europe and not just at home.
KEY PREMIER LEAGUE STATS:
Has a career-best total of 16 league goals in 33 games.
Younes Kaboul - Tottenham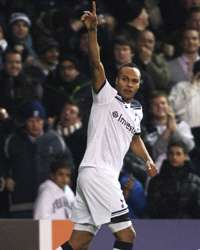 When thinking of Tottenham, it is often attacking flare, pacey wide play and incisive passing which come to mind. What has been in equally important in their Champions League push this season however is a new-found defensive steel. Kaboul, who had previously appeared to be little more than a Premier League journeyman, has been absolutely crucial to this.
Coping with an ever-changing Spurs centre-half partnership due to Ledly King's well-documented knee injury, Kaboul has been a model of consistency and, at times, the glue holding things together.
His importance could not have been better underlined as Spurs slumped to a shambolic 5-1 defeat to Chelsea at Wembley on Sunday with the Frenchman absent through injury.
KEY PREMIER LEAGUE STATS:
Will beat his own record of 21 Premier League appearances if he features just once more this season.
Vincent Kompany - Manchester City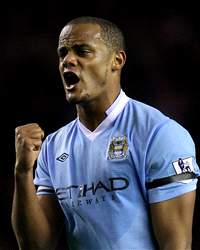 This has not been a season in which defences have covered themselves in a lot of glory but one man stands head and shoulders above the rest in this department.
City possess the meanest defence in the league but the Belgian provides so much more than just a shield for goalkeeper Joe Hart.
His leadership skills were never more evident than when Roberto Mancini's men crashed out of both the FA Cup and League Cup in his absence through a - perhaps unwarranted - red card and subsequent four-match suspension. If City can claw back United's lead at the top it will be in small part down to the performances of their captain.
KEY PREMIER LEAGUE STATS:
Helped City to keep clean sheets in 41.18% of their games this season.


Martin Skrtel - Liverpool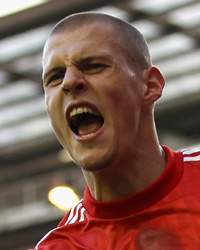 Though Liverpool's league form has been undoubtedly patchy, it is an inability to score goals rather than prevent them which has seen the Reds struggle.
Only three teams boast a better defensive record than eighth-placed Liverpool and their performances in the League Cup and FA Cup should not be disregarded despite disappointing league form.
Skrtel has been key to this following a season in which he has emerged from Jamie Carragher's shadow in order to form a formidable partnership with Daniel Agger.
He and the Dane are now undoubtedly Kenny Dalglish's first-choice central pairing and, should the Merseyside outfit banish their profligacy, the duo could well be ready-made features on the nominations list next term.
KEY PREMIER LEAGUE STATS:
Has helped Liverpool keep 11 clean sheets this season.
Antonio Valencia - Manchester United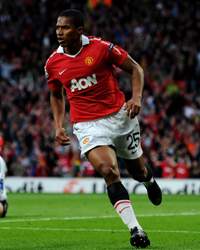 Though Wayne Rooney has rightly received recognition for scoring the goals which have maintained the Red Devils' title push, he and Manchester United owe much to the work done by Valencia.
The Ecuadorian is the joint-top Premier League assist maker and has chipped in with three league goals - none more crucial than a recent 80th minute strike against Blackburn Rovers when his side looked to be running out of ideas at 0-0.
Though he might not have achieved personal recognition this year, there is not doubting the esteem with which he will be held by the Old Trafford faithful should they secure a 20th league success at the end of the year.
In reality, as a deeply shy man, Valencia will have few qualms about missing out on the votes of his fellow professionals.
KEY PREMIER LEAGUE STATS: Has 13 assists and 4 goals in 23 Premier League games this season. Follow David Lynch on