Gabriele Marcotti

Euro 2012 Columnist


Follow on
It may be what we will remember most of Euro 2012: possession. The ball. When to keep it and what to do with it.
Spain's success at international level over the past four years has, of course, been built on possession. Germany transitioned from a counterattacking side at the 2010 World Cup to a possession team at this European Championship. Italy, of course, opted to take a similar approach after Cesare Prandelli took over in 2010 and rode their 'tiki-taka lite' style to the final.
Three out of four semi-finalists dominating possession – Spain with 67 per cent throughout the tournament, Germany with 59%, Italy with 53% – surely that must mean that in the current game the key to a successful side is hanging on to the ball?
Not so fast. Russia (56%) had the third highest possession percentage at the Euros. And they went out in the group stage. Just like Netherlands, at 53%, who actually lost every game in the tournament.
Oh, and by the way, the argument also works in reverse. Greece (38%) and England (40%) had the second and third lowest possession numbers respectively in the tournament, yet advanced to the quarter-finals. Portugal had the fifth lowest and made it to the semi-final.
EURO 2012 POSSESSION STATS
HIGHEST AVERAGE POSSESSION

LOWEST AVERAGE POSSESSION
Pos

TEAM

%

MINUTES

Pos

TEAM

%
MINUTES
1
Spain
60%
40 mins
13
Portugal
45%
28 mins
2
Germany
56%
35 mins
14
England
43%
28 mins
3
Russia
56%
34 mins
15
Greece
43%
24 mins
4
Holland
54%
34 mins
16
Ireland
40%
22 mins
The point, however, isn't as simplistic as saying "there is no right way to play", nor is it down to mere self-fulfilling prophecies: better teams have players who make better passes while also having players who are more adept at defending, and so they tend keep the ball more and when they lose it, they often win it back more efficiently, ergo they have better possession numbers.
Germany, Spain and Italy all made a conscious choice to emphasise possession over counterattack and there are numbers to support it. Italy have never trailed at these Euros, while Germany and Spain only fell behind once in the tournament (both against Italy) and yet the possession numbers stayed high. That suggests a broader strategy and a refusal to go down the old route whereby, once you have the lead, you clam up and force your opponent forward in order to exploit the space behind.
Instead, what we're seeing is defending through possession, based on the age-old mantra that if you have the ball, your opponents can't get it off you. Barcelona, of course, have been doing this for years, Spain arguably took it to an extreme with their (often) strikerless system.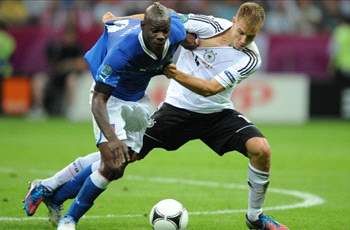 "

Germany, Spain and Italy all made a conscious choice to emphasise possession over counterattack and there are numbers to support it

"
Bear in mind though that these are very broad trends and that there is no obviously correct answer beyond tailoring your approach to the characteristics of your squad. England had very low possession numbers, but that was by choice: when you defend deep and put James Milner and Scott Parker in your midfield, that's what's likely to happen. Equally Portugal made a choice that suited them. Cristiano Ronaldo and Nani thrive in wide open spaces, they had a tremendous defensive partnership in Pepe and Bruno Alves, why not pursue the counter?
What does appear clear, though, is that the majority of teams at the Euros were comfortable with the ball. And even those, like Portugal or Croatia, who had low possession numbers and looked for the counter, could, when necessary, change into a team that kept the ball.
What we haven't seen at all were those archaic wars of attrition where both sides sit in their own half and boot the ball away at every opportunity. When two counterattacking sides have met, somebody has always taken the initiative. And that, more than anything, has made for one of the most entertaining European Championships in recent memory.
A final thought. It was no more than a decade ago that many felt the combination of athleticism and tactical nous was stifling technique. Players were bigger, stronger, faster and better deployed on the pitch to neutralise whatever the opposition was trying to do.
As a result, to score you either relied on set pieces or you needed space, and the easiest way to generate space was to retreat, suck your opponents in and use the areas behind their defenders. In other words, to counterattack.
Well, of the 72 goals scored ahead of Sunday's final, just 21 came as the result of set-pieces (including three penalties), while only four were the direct result of a counterattack. Nearly two thirds came in open, attacking play, a reward for teams holding on to the ball and simply doing the most basic thing we're taught as kids: try to score.
For football lovers, that can only be a good thing.