COMMENT
By Luca Caioli

Everything comes down to this one night. Well, maybe not everything, but it is certain that Cristiano Ronaldo, tonight, in the semi-final of the European Championship against Spain, will play for a hell of a lot.
For Ronaldo and for Portugal the parallels could not be more clear. The Seleccao, in their long history, have never won a major tournament. Despite having boasted wonderful players from the likes of Mario Coluna to the 'Black Panther', Eusebio. From Fernando Chalana to Paulo Futre, from Rui Barros to Luis Figo, from Paulo Sousa to Rui Costa, the Portuguese have always found a way to fall one step short of glory.
Take the 1966 World Cup, when Eusebio finished top scorer with nine goals, but Bobby Charlton and England blocked their path to the final. Or Euro 2004, when, against all the odds, Otto Rehhagel's Greece beat the host nation in the final in Lisbon. Or even the 2006 World Cup. This time Zinedine Zidane denied Figo and co. in the semi-final from the penalty spot.
That's the Portuguese way. Fourth, third, even second, but never champions. This could be their time though.
This time they did not start among the favourites, but safely negotiated the 'Group of Death', eliminating the World Cup finalist Netherlands on the way, and then saw off the Czech Republic in the quarter-finals. Thanks to Ronaldo.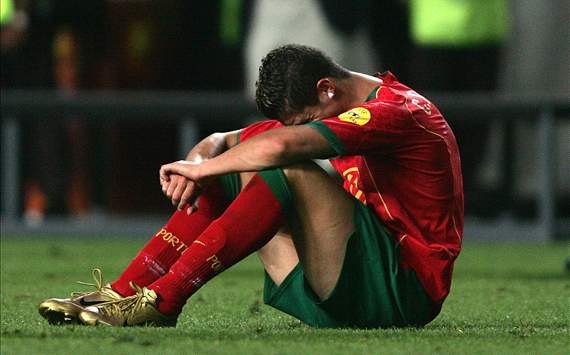 Tears aplenty | Ronaldo has never known success at international level
Ever since he debuted with the national side, the Portuguese have dreamt of seeing Ronaldo play as he did for Manchester United, and as he does for Real Madrid. They wanted the bold performances and the avalanche of goals, like the 60 he netted last season for Los Blancos. But it has not been the same when he has pulled on the national team shirt.
He scored just three times in Euros 2004 and 2008, and two in the last two World Cups. One of them came against Iran, the other against North Korea. Such were his performances in South Africa two years ago that Eduardo Galeano, a Uruguayan writer, commented: "They said this would be Cristiano Ronaldo's tournament, but no one has seen him. Maybe he was too busy to call in."
Since Sunday, June 17 when Portugal faced the Netherlands, things have gone well. Very well. But that was not enough. The Lusitanian fans and media want their captain to be like Diego Maradona in 1986 when he led Argentina to victory in the World Cup in Mexico. Ronaldo is not Maradona, and this Portugal is not that Argentina, nor are they Real Madrid.
Ronaldo does not have Xabi Alonso to rely on, nor Mesut Ozil. But that matters little. If he wants to win something with his country, if he wants to enter into the Hall of Fame, alongside Eusebio and Luis Figo, then he must drag them to victory. This should be Ronaldo's Portugal, and not in name only.
| | |
| --- | --- |
| There is pressure on Ronaldo because Spain cancelled him out at the last World Cup and he wants to gain redemption in front of the same public that sees him every Sunday, that whistles his every touch | |
There is massive pressure on Cristiano to win, because success with the Seleccao would silence those critics who support the hypothesis that Ronaldo is too anxious and is unable to be there for his side at the decisive moments.
He will be desperate to ensure Portugal emerge triumphant in the Iberian duel because Spain cancelled him out at the last World Cup and he wants to gain redemption in front of the same public that sees him every Sunday, that whistles his every touch. He wants to win against four Real Madrid colleagues and his regular nemeses from Barcelona.
What better occasion to demonstrate that he is strong enough for the task? What better moment to prove he is worthy of the Ballon d'Or in 2012? A title that, four years after his last award, has since been in the sole possession of Lionel Messi.
Already 'Messi, Messi' has been chanted at him in whichever stadium he has played. The comparisons will never stop. The chants got louder when he struggled, missing great chance after great chance against Denmark. His performance against the Czech Republic will only provide a momentary respite if he cannot reproduce the same form.
The thing is, Messi has also failed to win a major international trophy until now, and for Ronaldo to inspire a victory over the world champions and to take home the European Championship would be to silence his critics on more than one level.
For both Portugal and Ronaldo, there has never been a more critical moment.

Luca Caioli's book, Ronaldo: The Obsession for Perfection, is published by Corinthian Books and is out now. Order a UK copy here! Order a USA copy here!
Follow Luca Caioli on