Ben Hayward


Spain Expert

Follow on

ANALYSIS
The cream is rising to the top. So far, almost all of the famed forwards in action at Euro 2012 have shone and scored for their countries in Poland and Ukraine. All except Karim Benzema.
Cristiano Ronaldo, Mario Gomez, Mario Balotelli, Robin van Persie, Wayne Rooney, Fernando Torres, Zlatan Ibrahimovic and Andriy Shevchenko have all been on target at least once in the continental competition, yet the Real Madrid striker has failed to finish for France.
The 24-year-old has worked selflessly for Les Bleus in the opening three matches and assisted both goals in his side's only win so far - a 2-0 victory over Ukraine in their second match.
But strikers are judged on goals and in that sense, the Madrid man has been a disappointment so far. Dropping deeper to look for the ball has seen him far from the front line at times and when he has been in a position to make an attempt at goal, his efforts have been largely erratic.
Now it's time to step up.
Before the tournament began, many tipped France to be dark horses in Poland and Ukraine. So far, however, they look like rank outsiders and as things stand, a repeat of their 2006 World Cup win over Spain seems highly improbable.
THE VIEW FROM FRANCE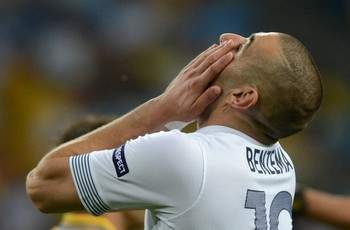 NAIM BENEDDRA, GOAL.COM FRANCE

The French press believe Benzema has been unlucky so far at Euro 2012. Statistics prove he has been generous and active in his team's play. Crucially, however, he hasn't scored.
There are some who have demanded the inclusion of Montpellier's Olivier Giroud, but as yet nobody wants to see Benzema dropped.
Due to the lack of chances created by the French midfield, the 24-year-old has been forced to return and play the role of a 'smuggler' or dézonage as it is called in France.
And it is partly this unselfishness and willingness to help the collective cause that has seen him saved from criticism in his homeland.
Laurent Blanc's men remain a dangerous rival, but their performances in Group D left much to be desired. A 1-1 draw against England was deemed little more than satisfactory and although subsequent success versus Ukraine raised hopes, those were dumbed down again in Les Bleus' final fixture in the sector, a surprise 2-0 defeat to already-eliminated Sweden.
Benzema has been here before. The former Lyon forward failed to shine for France at Euro 2008 despite much expectation and was left out of the squad for the 2010 World Cup altogether following a hugely disappointing debut campaign at the Santiago Bernabeu.
His second season in Spain also started slowly and Jose Mourinho was reluctant to field the forward, even after Gonzalo Higuain was sidelined with a long-term injury. "Benzema must understand that he is extremely talented, but that in itself is not enough", the Portuguese had warned in pre-season, and ahead of an away fixture at Zaragoza, the Madrid coach lamented being forced to select the striker. "If you go to hunt with a good dog, you hunt more," he told the media. "If you go with a cat, you hunt less, but you still hunt." The message was cryptic, yet crystal clear.
But Benzema responded. The Frenchman finished the season with 26 goals and was even more impressive in 2011-12, hitting 31 - including a wonderful volleyed effort at Osasuna which was reminiscent of Marco van Basten's famous strike in the final of Euro 88 - as Madrid claimed La Liga after three terms living in the shadows of fierce rivals Barcelona.
So after his teething problems in 2009-10 and 2010-11, Benzema finally established himself as Madrid's first-choice frontman last term, leading to speculation that Higuain may look to leave the Bernabeu this summer.
For France, though, question marks remain. Benzema's return of 15 international goals in 48 matches will surely improve over the coming years, but France need him now.
Reports of in-fighting in the French camp will concern fans of Les Bleus, but so will the form of their star striker. Many people's choice to finish as top scorer in the competition, Benzema is yet to find the net in Poland and Ukraine but if his team are to have any chance of beating European and world champions Spain, the 24-year-old must find his feet in front of goal.
He does it every week in La Liga. Now, against friends and foes from the Primera Division, it is time to deliver on an even grander stage.
For the cockerel to crow on Saturday, France's 'cat' must get the cream.
Follow Ben Hayward on