Ben Hayward


Spain Expert

Follow on

ANALYSIS
Domestic differences can be hard to resolve. There was little love lost between Barcelona and Real Madrid over the last two seasons, but on international duty all of that is put to one side. In order to win Euro 2012, Spain's stars are clubbing together.
And so they must. Individual talent will only go so far in a major tournament like this one; in order to win it, cohesion and comradeship are essestial elements. Partnerships are precious, teamwork key.
Before the start of the continental competition, coach Vicente del Bosque revealed in an interview that defenders Sergio Ramos and Gerard Pique had their differences. And that caused concern. Because although the two formed part of the Spain side which won the World Cup in 2010, this would be slighlty different. This time, in the absence of Barcelona captain Carles Puyol, the pair would be partners at the back.
Pique has since denied a rift with the Real Madrid defender, but tension existed between the pair with Ramos reportedly unhappy his international team-mate had claimed on several occasions that 'Catalunya was not Spain' - including once in a press conference while on international duty. Pique also taunted the Madrid players after claiming victory in the Champions League semi-finals last term at the Santiago Bernabeu. And that did not go down well.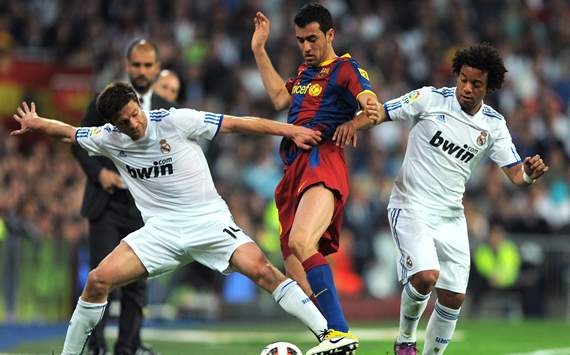 Problems at home | Alonso and Busquets have had their differences in the Clasico


Xabi Alonso and Sergio Busquets have not always seen eye to eye, either, with the Madrid midfielder frustrated at the theatrics of the Barca player in the sides' Clasico clashes. Busquets is also alleged to have made a racist remark last season to Madrid full-back Marcelo, making him a less-than-popular figure in the Bernabeu dressing room back then.
But all of that now appears to be water under the bridge as Spain continue their quest for a third successive title in major tournaments, having already claimed Euro 2008 and the World Cup in 2010.
Busquets recently claimed he has trouble making friends within the Spain squad, although that probably has more to do with his quiet and unassuming personality off the pitch than his sporting conduct in La Liga.
THE VIEW FROM GNIEWINO

Pique admitted to the press in Poland just several days ago that with Puyol alongside him, "just a glance was necessary" in order to know what the other was doing. Now the pair look to build a similar understanding at Euro 2012. These two strong personalities, both robust and physical defenders with a strong say in the dressing room, must now get to know each other just like Pique and Puyol have done.

With Busquets and Alonso, meanwhile, Del Bosque has remained true to the 'double pivot', which has generated debate ever since he took over after Euro 2008. The idea is to allow both full-backs, in this case Jordi Alba and Alvaro Arbeloa, to get forward as much as possible and provide an extra attacking dimension, with the two midfielders dropping deeper to cover at the back. It was good enough to win the World Cup and gives a defensive stability to Spain which can be so important in tight games at this level.

Jose David Lopez in Gdansk
The midfielder made his debut in Pep Guardiola's second league match in charge and has never looked back. Nevertheless, he has seen his role in the side questioned ever since he made his international debut in 2009, with many still believing that fielding two deep-lying middle men is counter-productive in a team that has the ball for most of the match.
In fact, though, Busquets and Alonso play different roles for Spain and Del Bosque, a technically gifted midfielder in his day, knows the value a player such as the Barcelona man can bring. Indeed, following criticism after the defeat to Switzerland at the 2010 World Cup, the coach even claimed that if he could play like any of his charges, he would choose Busquets.
Those words helped boost the Barcelona midfielder in a moment of tension and his partnership with Alonso has continued to develop, allowing Xavi, Andres Iniesta and David Silva to concentrate almost exclusively on the attacking side of their game, freed from the shackles of defensive duties.
And back in defence, Pique and Ramos are beginning to build a promising partnership, too, Though Pique has had his problems at Barcelona recently and looks less of a player without Puyol alongside him, he has been handed extra responsibility with La Roja and against Ireland on Thursday, there were signs that the pair can form a successful association this summer and beyond.
Barcelona and Real Madrid renew rivalries again in the Spanish Supercopa later this summer, but with dometsic differences out to one side at Euro 2012, these two tandems could yet prove the key to success for La Roja, just as much as Xavi, Iniesta, Silva, Cesc Fabregas or Fernando Torres. With domestic differences put to one side, Spain's stars are clubbing together.

Follow Ben Hayward on