James Goldman

In Donetsk


Follow on
In spite of everything, England expects. They always do. All of the signs point to an ignominious first-round exit, but the temptation to dream is simply irresistible for a nation that craves success like no other, even for a man as stoic as Roy Hodgson.
The England manager's final appearance in front of the media before his side begin their Euro 2012 campaign may have been devoid of the sort of tub-thumping some of his predecessors would have indulged in, but even the king of conservatism could not help but delve into the realms of fantasy.
Indeed, after 20 minutes of straight-batting questions, cliches and general platitudes, responding to a jibe from a French journalist who asked whether the Three Lions still deserved to be regarded as a great footballing nation, Hodgson puffed out his chest and discovered his inner England.
"How far do you want to go back in time? 1966? I can go back further than that," he bristled with the sort of nationalistic pride you would associate with just about anyone but the man from whose lips those words emerged.
"We started professional football in the 1860s or 1870s. You can't accuse England of not being a very serious footballing nation. We're all very much aware that we've not won anything since 1966, you didn't need to remind me of that. We have a chance, as one of the 16 teams here, to show how good a team we are. I can assure you we'll be doing our best to prove it on the field of play."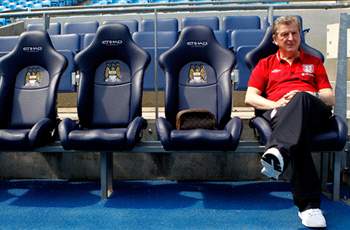 "We're all very much aware that we've not won anything since 1966. We have a chance, as one of the 16 teams here, to show how good a team we are. I can assure you we'll be doing our best to prove it on the field"
Certainly nobody would blame Hodgson, at this early juncture at least, were he to dampen expectations by listing the various travails he has encountered barely a month into his tenure, rather than go on the attack as he chose to yesterday. Certainly, much of what he has encountered in the job thus far permitted him the opportunity to do the opposite.
Injuries to experienced campaigners Gareth Barry and Frank Lampard, as well as the emerging Gary Cahill, represented unhelpful setbacks before England departed for Eastern Europe, while the issue of Rio Ferdinand's omission continues to be an unwelcome and unnecessary distraction.
Moreover, despite protestations to the contrary, the stifling conditions allied to the fact England have set up base camp in Krakow, a two-hour flight from Donetsk, is far from ideal and that is before you even begin to countenance the tough nature of a draw that means easing their way in gently simply is not an option.
France, despite what their own coach Laurent Blanc would have you believe, will represent formidable opponents. Despite the unfavourable circumstances, Hodgson remains confident his and England's preparations have been coherent enough to ensure none of his players will be left uncertain as to what is expected of them.
Asked whether this was his England team, he said: "It's got to be. No one expects, after three weeks, someone to have totally stamped his mark on the team. But I've worked with Steven Gerrard before, Glen Johnson before. It's the team I pick, and the team I take responsibility for.
"It's a massive occasion. It's been an exciting month, and three weeks with the team. Very enjoyable. The players have worked very hard and we're all very excited that the tournament begins in earnest now.
"For me, personally, it's a fantastic occasion to sit on the bench and watch an England team I'm responsible for."
Hodgson's surprisingly upbeat assessment was in stark contrast to the picture of pessimism painted by Blanc, who has overseen France's hugely impressive 21-match unbeaten run that included an utterly comprehensive win over England in November 2010.
Perhaps mindful of how Les Bleus' 2010 World Cup campaign imploded in such an undignified manner and conscious of what it takes to prosper at a major tournament, having won the European Championship as a player 12 years ago, Blanc was utterly insistent that his team were anything but dark horses.
He said: "The French team don't have the same ambitions as Spain or Germany at the start of these European Championships. France, in terms of their results over the last few years, have not allowed us to retain our place in European or world football.
"We have to look at what's clear. People say I often bring this up, but I don't do that because I like to. It's the reality. People say we're favourites in the group, but I don't agree with that. We were in the fourth pot of the draw, and that means something.
"It's an open group. France, England, Ukraine and Sweden can all legitimately believe they can get into the latter stages. We are at the same level as the other sides. We hope to get through and justify our status."
Recent history would point to France being at a level Hodgson's side could only dream of at present, but for now the England manager should be permitted to indulge in fantasy, after all it is only that sort of thinking that has kept the long-suffering fans going since 1966.
Follow James Goldman on