The likes of Jerome Boateng and Mario Gomez were selected somewhat surprisingly by the 52-year-old trainer, but how did they fare in Germany's Euro 2012 opener?
ANALYSIS
By Christoph Vogel
Germany have taken their first step towards Euro 2012 glory. But, in all honesty, their 1-0 victory against Portugal was far from easy. With Netherlands slipping to a 1-0 defeat to Denmark, the pressure was on the Nationalelf, and they struggled to deal with the attacks of Cristiano Ronaldo and co.
Meanwhile, the likes of Mats Hummels and Mario Gomez were far from certain of a starting place, but how did Joachim Low's gambles pay off?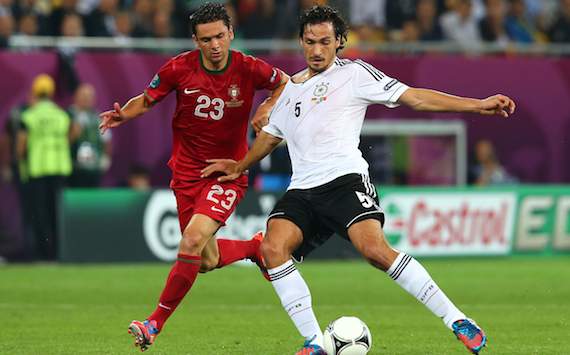 The 23-year-old was surprisingly selected ahead at centre-back ahead of Per Mertesacker, who is lacking match fitness, but this soon proved to be an excellent decision. His boundless self-confidence and intelligence made him a significant asset for his nation's back line.
Put simply, he played at the highest of levels, and was outstanding. A pass success rate of 88.9 per cent is more than respectable, given that he often ventured into the opposition half with the ball at his feet and was distinguished in both aerial battles and on the ground.
Verdict:
Has already become an integral part of the defence.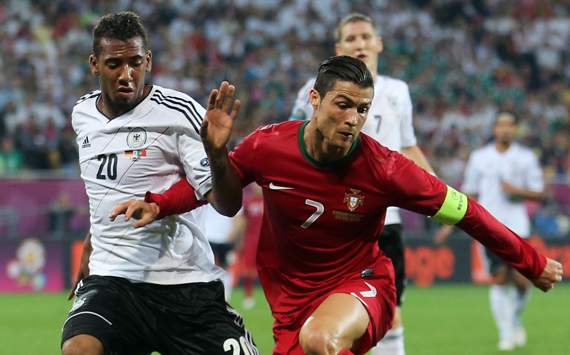 Jerome Boateng was not as involved in the match as Hummels was, but eventually forced his way into the limelight. Amidst all the headlines and scandals before the game, the Bayern Munich defender had a couple of doubts, but he ultimately accomplished his mission.
However was not quite outstanding enough, although it must be said that in some situations, he excelled himself - for example when he put his body on the line to preserve his side's advantage at the death.
Verdict;
Has a steady place in the team again, but needs to improve.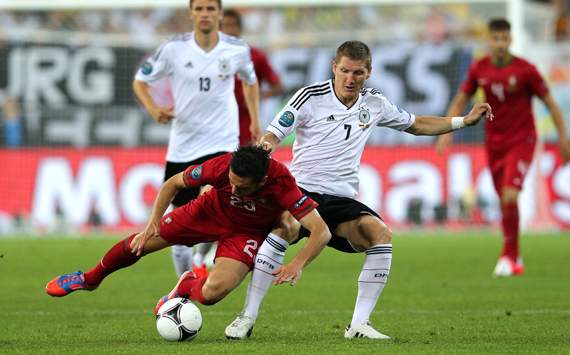 The midfielder went into the game as a fitness doubt but, although he got his teeth sunk into the game, he wasn't the world-class Schweinsteiger we all know. He was confined to a small zone, and could only make short-range passes.
You could see that he wanted to avoid gifting possession to the fluid Portuguese at all costs, but his mere presence causes problems for the opposition. Schweinsteiger is key to Germany, even if he isn't on top form.
Verdict
: Schweinsteiger may have his shortcomings, but he will fight throughout the tournament.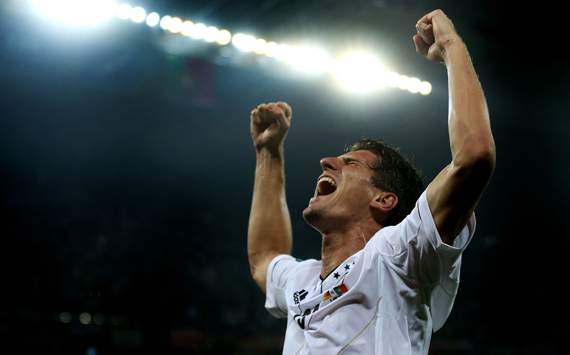 The most surprising decision of them all was Gomez being used from the start. The Bayern striker had a very hard time against the Portuguese defence in an encounter where his attacking colleagues had preciously little to remember.
But somehow, this game was just right for Gomez. He got his chance when a deflected cross from Sami Khedira came into his line of fire and took his chance in the grandest of manners. The whole scenario was typically Gomez. The goal was not just the winner, as it could affect the course of the whole tournament.
Conclusion
: Gomez didn't get much of a chance to impose himself as he would have liked to, but when he was needed, he came up trumps and deserves a lot of credit.