"I wanted Manchester City to win!" said R.Sasikumar, Managing Director for Red Card Group, before proclaiming that the Lion City Cup tournament now consists of four champions.
The oldest youth football tournament in the world will begin on June 23 with U-15 teams of Ajax Amsterdam, Boca Juniors, Porto FC, Manchester City and the Singapore U-15 and U-16 teams.
Newly crowned English Premier League champions Manchester City who have announced plans to rely on youth development for long term success, were placed in Group B in the draw held at Football Association of Singapore's (FAS) headquarters at Jalan Besar Stadium.
They will be joined by Boca Juniors and the Singapore U-15 team.
Group A will comprise of Ajax Amsterdam, Porto and the Singapore U-16 team, and will kick-off the tournament with the match between Ajax and Singapore U-16 on June 23.
Boca Juniors will then take on the other Singapore team on the same day in Group B's opening match.
The top two teams from each group will qualify for the semi-final stage which will be staged on June 29.
All six teams will then be in action on the same day, two days later for the final, third/fourth placing as well as the fifth/sixth placing matches.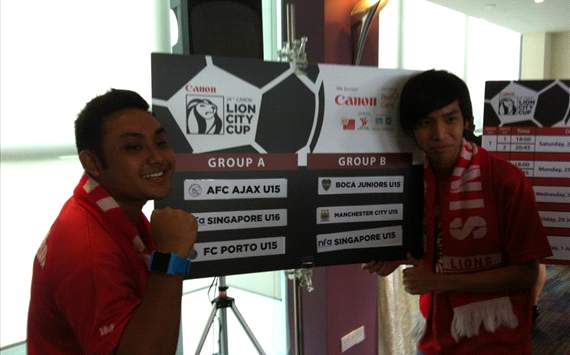 FAS President Zainudin Nordin who was not in attendance for the draw given other commitments was deputised by
Ridzal Saat, Deputy Director for Marketing and Competitions.

Zainudin had promised a higher standard of refereeing given the controversies over officiating last year.

When asked what the plans for this year's likely to be heated encounter between Manchester City and Boca Juniors was, Ridzaal replied, half in jest: "We will send our best referee!"

Canon also announced at the press conference that they will be sponsoring two Singapore players to train with foreign academies, one each from U15 and U16 teams
. The players for the training stint will be selected by a panel comprising the six coaches of the participating teams.
All teams in competition will arrive in Singapore on June 21, with the exception of Porto who will reach the following day.
Tickets for the event will go on sale on May 14, and fans will be able to choose from a selection of ticket packages, including season passes, concessionary tickets for students and senior-citizens, and early bird discounts.
Fans can make their purchases at all AXS machines across Singapore and the Tickebooth website as well as their outlets. Prices for tickets will range from $20-25 for the Open Category and $7 for students and senior citizens.