By
George Ankers
After a big-money move to
Arsenal
late in the summer transfer window, it was a promising - if not truly spectacular - club season for
Mesut Ozil
. As
Germany
's top scorer in
World Cup
qualifying, though, big things were expected in Brazil.
Goal
examines how he got on in his first game of the tournament...
PERFORMANCE AGAINST PORTUGAL
In a Germany starting XI low on conventional width, Ozil was stationed out on the right by Joachim Low with a remit to keep Fabio Coentrao distracted enough not to bomb forward so often as well as to drift further infield when necessary to make things happen.
By and large, it was a tidy performance from the Arsenal midfielder, who was accurate in his passing and involved at some stage with most of the team's major attacking moves for the 63 minutes that he was on the pitch – not that failing to play out 90 minutes is either unusual or condemnatory for Ozil.
His stand-out moment was the failure to put away a 50th-minute chance when he snuck in behind the defence and shot straight at Rui Patricio in the Portugal goal, with hat-trick hero Thomas Muller putting the rebound over. That incident, however, should not tarnish the overall competence of Ozil's efforts as he and his team-mates dealt calmly and efficiently with a Portugal side all too willing to implode.
In form, anyone. There is no team on the planet who could not be lifted by a top-of-his-game Ozil and his canny movement and often breath-taking passing and, though his first season in English football appears to have exhausted him somewhat, that player is still very much alive.
Arsenal looked like a good move at the time and he has already given the Gunners plenty about which to be excited, though a club with such a questionable record of keeping their best players fit need to be particularly careful about managing Ozil's workload. Surely one of the most substituted elite players in the world, fatigue is an issue to be worked around.
That does not mean that he should not persevere in England, though, where his quick mind and feet should continue to hasten Arsenal's progress in returning the bite to an attack that, for a few post-Invincibles years, had grown ponderous and fiddly.
WHAT DOES THE FUTURE HOLD?
It would be a huge shock for Ozil to go anywhere this summer. Arsenal invested over £40 million in the Germany star only last August and, after turning down the chance to re-sign Cesc Fabregas, will not give up on that investment any time soon. The former Real Madrid fan should only get better, too, as he continues to adapt to the Premier League.
There will be more responsibility put upon Ozil's shoulders next season in the wake of Fabregas's move to Chelsea as fans demand performances that justify letting their old captain slip through their fingers, but there is no doubt that the 25-year-old is capable of fulfilling their hopes. If he hits anywhere near his full potential in 2014-15, it will be a very entertaining spectacle indeed.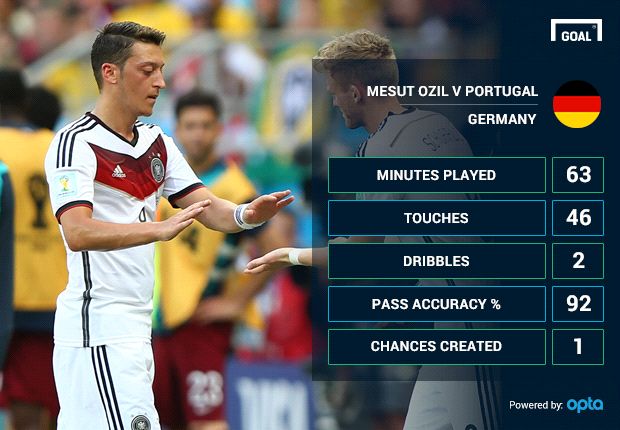 Follow George Ankers on