As imagined by
Matt Scott
In Arsenal Wenger Trusts
Arsenal were expected to be one of the biggest movers and shakers in this transfer window but, after Manchester United's deal with Wilfried Zaha, who was apparently ignored by the Gunners, it is clear that Wenger sees no reason to add to his squad.
David Villa? Not interested. Mohamed Diame? Not going to happen. Pepe Reina? Get out of town.
The Gunners have been linked with several players but as of yet have signed nobody as time runs out to make additions in January and
MTW
has stumbled across some e-mails seemingly between
Le Prof
and Arsenal's chief scout, Steve Rowley.
MATT'S MAILBAG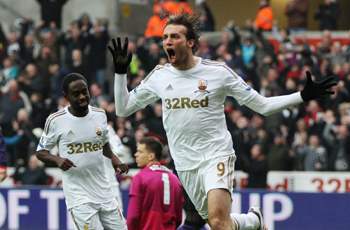 It's feet-up time for me! I'm so happy. I'd heard England was the place to go if you want to get paid an absolute fortune but I was a little disappointed when I turned up here on a moderate deal. Things have been really hard so far this season, I've been busting a gut, scoring loads and loads of goals and finally my contract has been barely extended - but, let me tell you, I'll be bathing in tenners for a while. GET IN.


- Miguel, 26, Wales
SR:
Hi Arsene, please find attached a list of players we've had a look at. All are available on affordable deals, fitting with the club's current structure. Some names I think that will stand out for you are David Villa (£12 million approx), Mohamed Diame (£3.5m - I cannot stress how good a deal this would be for the club) and Wilfried Zaha (would be expensive but the fee could be boosted with add-on clauses).
Cheers,
Steve.
AW:
Bon soir Steve, I've had a look through your reports. I think we will leave them for now.
I shall start with David Villa. He is 31, which is far too old - I'm usually belittling players with one-year contract extensions by that age.
I understand he is a very good player but he also has that stupid little beard thing under his lower lip and I binned Robert Pires for similar crimes against facial hair, so I should stand by my policy.
You mention Diame from West Ham and I accept that he is an excellent midfield destroyer, who also possesses excellent passing abilities, with a fearsome shot on him. More so, the release clause in his contract makes him an absolute bargain.
But we have Abou Diaby returning to fitness and I think he will be like a new signing when he is back in the team.
Finally, Zaha. I was once very interested in him; he has great talent, wonderful potential and I have no doubt he will be a superstar. My issue is that we will likely have to break our transfer record to sign him and I am not ready to take that honour away from Andrey Arshavin yet. I believe that he will come good again and prove to be well worth the expense.
Plus he is apparently going to Manchester United and you know we have agreed to boost them as much as we can until Sir Alex Ferguson retires from the game.
Thanks, Arsene.
TODAY'S BIGGEST

RUMOURS

Norwich want Van Wolfswinkel

Spurs offered Belhanda


Mourinho may quit Madrid

What They Really Meant
Brian McDermott on Andrey Arshavin
:
"It's one that I've heard many times. He's an Arsenal player. I don't think he will be a Reading player."
Decoded: "The last thing I need is that lazy git shuffling around my midfield. I am not even a little bit interested."
Michael Dawson
:
"Neil Warnock always gets his teams right up for matches. It will be a sell-out, the Leeds fans will be right behind them and the atmosphere will be brilliant."
Decoded: "I'll be wearing three pairs of shinpads, especially if I see that Michael Brown is playing."
Gianluigi Buffon
: "I do ask myself what my career would have been like now and again. But Barcelona only started winning in 2006. Five years without winning anything is a long time. Seeing how my career has developed, I have no regrets."
Decoded: "Do I wish I hadn't been Gigi Buffon for the last 34 years? Don't ask silly questions."
Leeds United
:
"Luciano Becchio, who has been the subject of two separate bids from foreign clubs during the January transfer window, has handed in a transfer request to the club, as financially he believes his best interests are served by a move away from Leeds United.
"
Decoded: Oh ... that one's just pretty obvious, isn't it?
Follow Matt Scott on