COMMENT
By Kris Voakes | Italian Football Writer
Two days earlier, there were some observers treating AC Milan as one of the big guns again. After they were drawn alongside Barcelona for another huge clash in the last 16 of the Champions League, platitudes galore were sent the
Rossoneri
's way as the Spanish giants were warned that their opponents may not be what they were but could still be dangerous.
But by Saturday night, they were proving that they are still a long way from troubling the
Blaugrana
, with their 4-2 defeat to Roma looking a hell of a lot closer on paper than it did on the pitch. Milan were four goals down in the 87th minute, and were lucky to be that close after a shambolic defensive display. Replace Daniele De Rossi and Michael Bradley with Xavi and Andres Iniesta, and you get visions of an even bigger mauling to come.
Thankfully there is some room for manoeuvre thanks to the January transfer window ahead. That said, there are so many issues at the moment not all of them can be solved with sales and purchases.
The bottom line in many ways is that disorganisation at its most basic form will leave a team short whatever the personnel. With Massimiliano Allegri having chosen 18 different defensive lines in the first 18 games of the season, there has been little or no stability about the Rossoneri in their own half all term. There have now been seven occasions when they have conceded at least twice, and yet they have gained only five clean sheets, and just three in Serie A.
So as they approach the home leg against Tito Vilanova's side, there needs to be a degree of hierarchy applied. People need to know where they stand, literally and metaphorically. Mario Yepes and Philippe Mexes may make mistakes anyway, but the constant chopping and changing can hardly help. Indecision breeds uncertainty.
Additions are needed though, that much is clear. While much has been said both publicly and privately about the pursuit of a forward and also of a midfield replacement for Nigel De Jong, little has been discussed in terms of defensive stocks. That has to change now. Eleven different men have been used in Milan's defence this term, and it is fair to say Mattia De Sciglio is the closest thing to a regular right now. Kevin Constant, meanwhile, has been exposed as a jobbing winger playing the part of a left-back.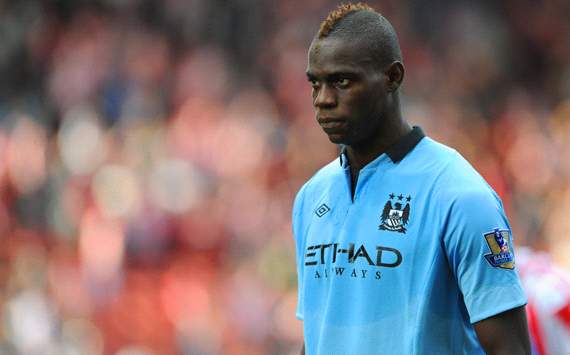 January Dealings | Mario Balotelli could come to the rescue for ailing AC Milan
There are possibilities in terms of signings elsewhere. Alexandre Pato and Robinho both look set for the exit door, with the latter having performed well recently but still looking short on the big occasion.
Goal.com
revealed this week how the Brazilian pair could be offloaded next month in order to bring in Mario Balotelli, and while the potential addition of the Manchester City forward has been dismissed by president Silvio Berlusconi, it may be in the
Rossoneri
's interests to ask the Citizens if the Italy man may be available on loan.
With seemingly no short-term future at Eastlands, the former Inter man could well be enticed back to San Siro to add spice to a forward line currently relying on the likes of out-of-form former star Kevin-Prince Boateng, and a loan would help to expel some of the worries over a big outlay over the winter.
It must be noted that Balotelli would be cup-tied in the Champions League. But money saved on a potential transfer fee could be spent elsewhere, with the need for a mobile anchor in midfield never clearer than when Roma were scything though the middle with ease on Saturday. Massimo Ambrosini may have pulled one magnificent display out of nowhere against Barca last term, but lightning is unlikely to strike twice is this regard, with his ever-slowing body looking every inch its ageing state.
Daniele De Rossi has come up as a potential target, and either he or Cagliari's Radja Nainggolan - who was in sensational form against Juventus on Friday - could fit the bill. Both are capable of covering in the centre for more artistic players alongside them and can both add a lot in terms of a combative running game.
Money may be tight, but there are certainly options open to the Rossoneri. There was some truth in the post-Champions League draw hubbub which claimed Milan-Barca to be one of the more attractive ties, but if it is to be more a contest than a cakewalk then the Italian outfit clearly need to shuffle the pack accordingly in the next month. Performances like Saturday's must not be tolerated by a club looking to beat the best in the not-too-distant future.

ELSEWHERE...
Inter's 1-1 draw with struggling Genoa showed once more that any talk of the Nerazzurri now being able to catch Juventus needs to be quickly shot down. Andrea Stramaccioni's men were arguably Champions League hopefuls at the beginning of the season, and they are definitely nothing more than that now. Esteban Cambiasso may well have rescued them from the ignomony of defeat late on, but dropped points against probably the most underwhelming team in Serie A all year is hardly something to crow about.
Napoli also left it late in the day as they picked up a win to end an ugly week for the club on a high. Back-to-back home defeats against Bologna in the league and cup were just the start of their bad news, with their two-point deduction and loss of captain Paolo Cannavaro compounding a miserable week. The Azzurri will clearly have to move to strengthen an already-weak defence which has now been shorn of its cornerstone if they are to have any hope of reaching the Champions League come the summer. A 2-0 win over Siena is a start, but they desperately need to fill the gaps at the back if it is to be the beginning of something bigger, especially with only four points now separating second from sixth.
That small gap comes not only due to the Azzurri's punishment, but also thanks to some magnificent showings from the likes of Lazio and Fiorentina this season. Vincenzo Montella's side have been particularly good to watch, and there is a refreshing look about a Serie A table which has the Biancocelesti and the Viola as Juve's closest rivals with Napoli on their tails. Still, with Inter and Roma still hoping to have something to say, it looks set to be quite a tussle for the last two Champions League spots behind the runaway leaders after the break.
The final word for 2012 deserves to go to Juventus, whose 3-1 come-from-behind win against Cagliari topped off a magnificent year. With an unbeaten Scudetto, an eight-point lead at the top this season and a place in the last 16 of the Champions League with Celtic to come, it's hardly been the shoddiest of 12 months for the Bianconeri. Arguably, they were just a Coppa Italia final victory away from complete perfection, and are undoubtedly the Italian club of 2012. They may miss a fair number of penalties between them, but Andrea Pirlo and Arturo Vidal are worthy of special praise for their part in the revolution, while Antonio Conte will have a lot to live up to in 2013 after his first full calendar year in charge blasted the Old Lady back to the top of Italian football.
Follow Kris Voakes on