ANALYSIS
By Kris Voakes
"The personal criticism is something that motivates me," Zlatan Ibrahimovic told Goal.com earlier this year. It was two days after he had been instrumental in AC Milan's 4-0 demolition of Arsenal in the Champions League round of 16.
"When I read something positive about myself it's not giving me any emotion, it's easy to read it. You should read it when somebody is criticising you, then that is when you change and become motivated to want to go out tomorrow on the field and do the opposite."
Ibrahimovic's latest response to claims that he struggles against English sides was a four-goal haul for Sweden against the Three Lions, including THAT goal which has every football fan in the world talking about him again. Clearly, the more criticism he gets, the greater motivation the Paris Saint-Germain striker feels.
THE BEST PLAYERS NEVER TO WIN THE CHAMPIONS LEAGUE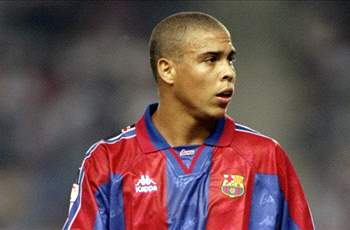 ROBERTO BAGGIO (Italy)
MICHAEL BALLACK (Germany)
GABRIEL BATISTUTA (Argentina)
DENNIS BERGKAMP (Netherlands)
GIANLUIGI BUFFON (Italy)
FABIO CANNAVARO (Italy)
LOTHAR MATTHAUS (Germany)
PAVEL NEDVED (Czech Republic)
ARJEN ROBBEN (Netherlands)
RONALDO (Brazil)
LILIAN THURAM (France)
FRANCESCO TOTTI (Italy)
RUUD VAN NISTELROOY (Netherlands)
PATRICK VIEIRA (France)

But that remains only half of the story in many ways. That 4-0 win over Arsenal was followed by a spectacular riding of luck for the Rossoneri in the second leg before another encouraging but unconvincing Ibra performance as Barcelona ended the giant striker's hopes of winning the Champions League for another year.
It is a competition he still hasn't come close to winning, which is a stick he seems to be beaten with daily. The very mention of his name in a positive light is often met with talk of him being a 'big game flop', and while that may be an over-simplistic, uninformed way of summing up the 31-year-old's relationship with Europe's top event, it isn't completely without foundation either.
His three-year spell with Ajax brought with it a first exposure to the Champions League, and while the Rodenzonen would reach the quarter-finals in 2002-03, Ibra failed to make the mark in either leg as they exited to AC Milan. Still, the Dutch side were never expected to go far, and it was only when he signed for Juventus that real pressure to succeed in the latter stages would arrive.
Yet in his first season with the Bianconeri he registered no goals in 10 games in Europe despite notching 16 in a Scudetto-winning campaign in Italy. Juve struggled to score on a wider level, qualifying from their group with five 1-0 wins and eventually falling to eventual winners Liverpool with their only goal coming from defender Fabio Cannavaro.
But again the following campaign he underachieved despite the Old Lady being far more effective in front of goal, with two of his three strikes coming against Rapid Vienna and the other being a last-minute consolation effort against Bayern Munich. He was nowhere to be seen as Arsenal sent Juve packing in the last eight, sending in one shot on target over the two legs.
His switch to Inter in 2006 brought about largely similar returns. No goals in his first campaign, with only two shots on goal in the round of 16 loss to Valencia, was followed by doubles against PSV and CSKA Moscow in the following season's group stage but again no impact against Liverpool. Although the Nerazzurri were short-handed over both legs, in neither game did Ibra trouble goalkeeper Pepe Reina.
Another underwhelming campaign was followed by his high-profile transfer to Barcelona, where he seemed set to finally bury the moniker of Champions League flop in grabbing a double against Arsenal at the Emirates Stadium in the quarter-finals, but his profligacy continued to attract criticism, and his complete no-show in the last four against former side Inter – when he would famously cover less distance than keeper Victor Valdes – would help to secure a premature exit from Camp Nou for the increasingly unhappy Swede.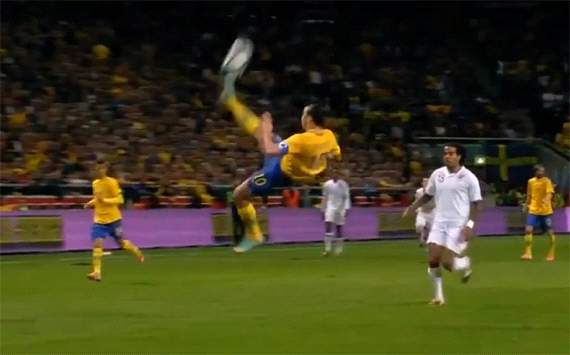 Spectacular | But can Ibra turn his recent feats into Champions League gold?
At Milan, he was largely a more contented spirit, and it showed in his Champions League performances for the most part. Whereas in Catalunya he claimed he was a "Ferrari driven like a Fiat", back in Lombardy he was the centre of attention once more, but it originally looked like the same old story as a positive group stage was followed by failure to make a mark against Tottenham as the Rossoneri crashed out. Then there was the Arsenal win that raised hopes, and sparked talks of buying tennis star Novak Djokovic "a big dinner" if Milan went all the way. But again he would fall flat when it mattered.
So what lies ahead for the Swede with Paris Saint-Germain? It's fair to say he has never looked more ready on a personal level. He is in the best form of his career right now, with 10 goals already in Ligue 1, those four strikes against England, and a four-goal assist masterclass against Dinamo Zagreb in his last Champions League outing. Ibrahimovic looks primed for success once more.
The centrepiece of PSG's attack, he is being used in the manner to which he is suited again. Now we are seeing what the Ferrari can really do with Michael Schumacher at the wheel. Ibrahimovic is as complete a forward as he has ever been, is mentally stronger, and is applying himself better physically in games. Where people have claimed in the past that there was a mental fragility and laziness about him (with stats to prove it, to be fair), the same accusation can no longer be levelled at him.
But those doubters who love to hate him continue to have their digs; they say he is only at PSG for the money. All he needs now is to tackle this criticism in the same way he has dealt with the rest of it. He said when signing for Les Parisiens that they were a club going places, building in the right manner and heading for the top. That PSG's wealth and star-studded squad undoubtedly makes them a Champions League challenger, if not this season then certainly next. The critics just scoffed, but that was all the motivation Ibra needed. He remains determined to prove them wrong.