COMMENT
By Wayne Veysey at Stamford Bridge
With a name like
Oscar
, it is only natural that
Chelsea
's Champions League debutant should be a player of high achievement.
Especially when the latest gun hired to make Roman Abramovich simultaneously salivate and celebrate cost around £25 million to bring to Stamford Bridge.
Nevertheless, if the Brazilian's full debut is anything to go by it already looks money every bit as well spent as the £32m required to land the signature of equally precocious team-mate Eden Hazard.
On the night he was properly introduced to the Chelsea fans, following up three substitute appearances with his first start for the club, the former Internacional man was a double Oscar-winner, scoring two long-range goals within two thrilling minutes, the second a marvel of skill and audacity. It was a memorable spell in which it felt like a true star was born.
In truth, the 21-year-old had been a fairly invisible presence for the opening half-hour. Preferred to Juan Mata in the central playmaker role behind Fernando Torres he had struggled to get into the game as Chelsea's sloppiness at the back was matched by a paucity of composure in the final third.
OSCAR'S KEY MATCH EVENTS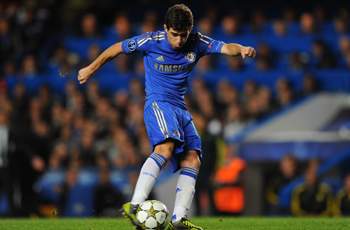 | | | |
| --- | --- | --- |
| | 31' | GOAL! Grabs opener |
| | 33' | GOAL! Scores magical second |
| | 74' | Replaced by Mata |
PLAYER RATING






An element of fortune in his first goal being deflected by Bonucci out of Buffon's reach but no question about his second, a thrilling first touch and curled shot that drew every spectator out of their seat. A tad too impetuous but such is to be expected of a youngster making his first start to the club and his touch was generally superb. Taken off after a crunching tackle by Bonucci.
After 31 minutes, the Brazilian made his mark. Hazard was the architect, upping his already burgeoning assist count by swerving in from the left and selflessly passing to his better placed team-mate.
Oscar took a touch and then connected well with a shot from 25 yards, although Gianluigi Buffon would surely have saved the shot had it not taken a cruel deflection off centre-back Leonardo Bonucci.
If there was an element of fortune to Oscar's first goal for his new employers, the second was a masterclass of imagination and execution.
With a single touch he was able to control Ashley Cole's pass he received with his back to goal on the edge of the box and, at the same time, wrong-foot the defence to manoevure himself into a goal-shooting position. The second touch was as glorious as the first, a rising curled shot evading the grasp of Buffon.
How the faithful roared. It was the type of goal that only a player of rare ability could have scored, the type that few who have worn the blue shirt could have conceived, never mind execute.
While some killjoys, most notably Graeme Souness, doubted whether Oscar meant his first, swivelled touch, it was clear to this observer that he did. His eyes never strayed from the ball as he set himself up to score.
The instant comparisons with Gianfranco Zola, a legend in these parts and still recognised as the greatest player to ever pull on a Chelsea jersey, were deserved.
The home fans, who had already been pumped up by the Champions League trophy – or the 'Big Cup' as one noteworthy former manager calls it – being paraded by the Armed Forces shortly before kick-off, were in jubilant mood. "We know what we are, we know what we are, Champions of Europe, we know what we are," they sang.
Chelsea's supporters have yet to come up with a suitable song to commemorate the lavishly gifted Brazilian, but this should inspire them into action.
Roberto Di Matteo's team stuttered throughout the second half but Oscar's debut double was enough to earn the red carpet treatment from the home fans when he was substituted after 73 minutes.
They rose in unison to acclaim the new boy, although excitement at witnessing another thrilling young talent was later dampened by the failure to hold on to a two-goal lead.
This is the weakness of the new Chelsea. It is early days in what will undoubtedly be a transition season but the lavish investment in the front of the team has not been matched by reinforcing a distinctly wobbly centre.
While Hazard, Oscar, Ramires, Juan Mata, Victor Moses, Daniel Sturridge (injured against Juventus), Marko Marin and the loaned Kevin De Bruyne tussle for the three attacking midfield positions in Di Matteo's favoured 4-2-3-1 formation, the defence is protected by first-choice pair John Obi Mikel and Frank Lampard, backed up by Oriol Romeu and little else.
Ramires has not been used in the centre since the days when Andre Villas-Boas performed his touchline gymnastics at the Bridge, while Michael Essien and Raul Meireles were both eased off the wage bill at the end of the transfer window.
This has given Di Matteo's squad a lop-sided look, one which Juventus' equalising goal served only to magnify.
Mikel's errant pass from his own box and some dawdling by Chelsea was compounded by a terrible error of judgement by John Terry, whose attempt to catch Fabio Quagliarella off-side failed dismally as the substitute darted past him and slotted calmly past Petr Cech to make the score 2-2.
The sale of Meireles to Fenerbahce in the week after the Premier League transfer window had shut and the failure to replace him appears even more perverse in the light of a second consecutive night of thrilling Champions League group action.
Chelsea have introduced an Oscar but the wider debate is whether they have the squad to go on and win some prizes.