---
---

Goal Malaysia
spoke with actress Cristina Suzanne Stockstill about her favourite team in the Malaysia Super League (MSL), Pahang's chances of winning trophies this season and who she thinks is their biggest rival.


So why Pahang? Any specific reason?
"Because I love Pahang, and I believe they have the right players to win any trophies, they have done that last season and I don't see any reason why they can not do it again. Pahang also has been great in the history of Malaysian football. Always there among the top teams and that's why I love them!"
Last year they won the Malaysia Cup. An achievement that they have not done for many years. What do you think is the key for that perfomance?
"First of all congratulations for the whole Pahang team for that. And for me, I believe that the key for that winning performance is that they never lost their focus in any game. People were thinking Kelantan would win the game because they are one of the best teams in Malaysia right now, but Pahang never lost their focus and that's really the key for them.
"Another reason is that I think they did well in training and I think you can see that whenever they play. They were really organized and know what they were doing on the pitch and the harmony in the team is really good and that's all come from the training ground."
So do you think they can do it again this season?
"Why not? InsyaAllah. Wish for the best."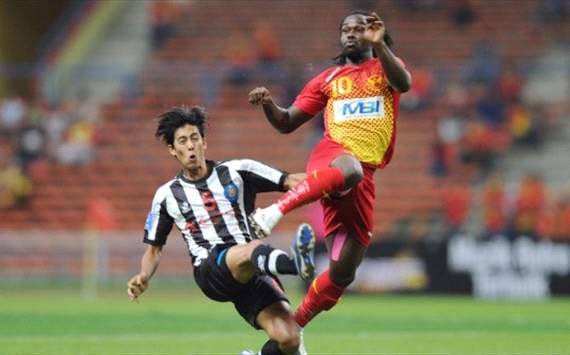 Yol left for moneybags, Johor Darul Ta'zim.

Amirulhadi Zainal left Pahang for JDT. Do you consider it as a loss for The Elephants?
"No, not at all. It gives other Pahang players the chance to step up and I think some of them did really well. Make no mistake, Amirulhadi did a lot for the team last season and one of the key players for us in 2013, but I believe there are other young playes can step up into his role and carry the team like he did last season."
What are your thoughts on Zainal Abidin Hassan being the head coach of Pahang? Do you think he is the right man for the job?
"Yes, I mean when you look at the performance ever since he took over, Pahang have improved a lot. He knows the game really well and I think he would be great as Pahang's head coach. Ronald Smith was unfortunate not to get his tactics right with Pahang but I think Zainal can make it up. He is a national legend after all!"
Who do you think is Pahang's biggest rival in the league?
"I think Johor Darul Ta'zim (JDT) is really strong and they are our biggest rival in the league. Of course there are the east-coast teams such as Terengganu, Kelantan, and Selangor will be there as well. But I think JDT will pose a threat to anyone else in the league because of the players that they have as well as their new head coach."
Who do you think will win the MSL and the Malaysia Cup this season?
"Erm. It is really hard to say at this moment. For MSL, teams are really battling out and almost every week we will see a new leader in the group so it is hard to say. Terengganu are really strong defensively, Kelantan and JDT is still up there despite their inconsistent performances. For Pahang, they have played well ever since Zainal took charge so I can't really say who will win the league.
"Same goes for Malaysia Cup. Teams who win MSL does not necessarily win the Malaysia Cup so again it is hard to predict who will win the cup this year."
Pahang will face JDT again in the FA cup semi-final, do you see them progressing to the final?
"JDT? Easy. We will not bow out like we did last season so yeah, Pahang all the way!"
Lastly, who is your favourite player?
"Khairul Azhan! Future number one goalkeeper for Malaysia, InsyaAllah! He is really great, composed, calm and with a bit more experience, he will definitely challenge for the Malayan Tigers' goalkeeping spot."