Goal.com Malaysia met up with Kelantan team manager, Haji Azman Ibrahim at the FAM National Football Awards on Tuesday and managed to get his views on a few matters.
Here are some of the best bits from our chat with the treble winning manager.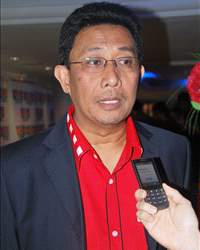 On Norshahrul Idlan Talaha winning the Best Striker and MVP awards
I hope these awards will keep his motivation high to better himself as a player. I also think him winning them is advantageous to the national team.
On Norshahrul's future
He asked to be released and we've told him that we do not intend to let him go. He has since submitted an appeal, and at the same time the Johor management have been in contact with us to find a solution. So, we'll have to wait and see how this pans out.
On Muhammad Ghaddar's future
He's had some offers but we're trying our best to hold on to him. Discussions are ongoing at the moment.
On teams to look out for at the AFF Suzuki Cup
In terms of main challengers, I would say the Philippines are latest to impress; there is also Vietnam and maybe even Singapore.
On how far Malaysia can go
In my eyes, at the AFF level, there's not much separating most of the teams but from Malaysia's perspective, I expect us to at least see through the group.
On whether Malaysia can win back-to-back titles
We have a good chance of defending the title and I am keeping my fingers crossed we can do it.
On Kelantan's plans for new season
So far we've not made any moves because KAFA's priority is to hold on to the key members of the squad, as well as promoting from within. But with teams hovering above some of our players, it's getting difficult. Rest assured the players committee will deal with it internally.
On winning the best association award
I was surprised to be honest, but the award will give us a lot of encouragement to keep improving our management of the Kelantan team.