Jamsari Sabian plans to donate 100% of the proceeds to the belegeaured people of Palestin and Gaza
---

BY ZULHILMI ZAINAL

Follow on Twitter

---
Retired former MPPJ FC, Selangor and Kuala Lumpur goalkeeper Jamsari Sabian, has revealed that he intends to auction off two of his cup winner medals, for the purpose of donating the proceeds to the people of Palestine and Gaza, who are facing escalation of incursion by Israeli forces this week.
On his official Facebook fan page, the former Malaysia keeper has let on that one of the two medals in question is his the 2005 Malaysia Cup winners' medal, which he had won with the now-defunct MPPJ FC, the first club side ever to win the prestigious domestic competition. He describes this medal as something "Very special to me..." The other medal is the Malaysia Cup winner medal which he then won with Selangor, in 2005.
According to the page, interested bidders may send a private message to his page before 8pm 18 July, and the winner will be notified shortly afterwards.
The winner will then be revealed to the public during a charity futsal match which will take place later during the evening at the Triway Sports Centre in Shah Awam.
He added in a posting that he has already received the first bid for his MPPJ medal, although he did not disclose the amount.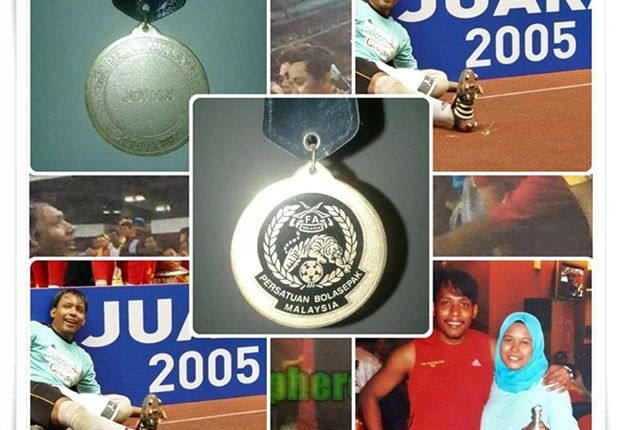 A picture collage of his time with MPPJ FC and his 2003 Malaysia Cup winners' medal