Ong Kim Swee handled Malaysia for the first time against the Phillippines. And it's good to note he did manage to make some interesting changes to the team to some effect
---

BY MUSTAPHA "EL LOCO" KAMARUDDIN

---
NEVER mind the smoke bombs and flares being thrown onto the track which halted the friendly between Malaysia and the Philippines for 10 minutes at Selayang Stadium on Saturday.
Never mind the fact the match ended in a 0-0 draw as it was rather entertaining contest with several chances created by both teams.
It was refreshing to see Malaysia, handled for the first time by interim coach Ong Kim Swee, produced some movements via their attacking game -- using basically the 4-3-3 set-up with Safee Sali, Bobby Gonzales and Amri Yahyah playing up front.
Hardworking Amri, though, was also involved with some effective defending if he went down if the situation warranted him to do so.
There were not much of that predictable long balls and aimless runs along the flanks which ended with nothing once crosses were made. Yes...there was no more this 'game of hope' employed by the Malaysians.
The hosts executed some useful passes in their attacking buildups and the Phillippines had to work to stop the Malaysians, with most of the players also possessed good attitude towards the game.
Malaysia could have even killed the game in the first half itself with the kind of chances they had then.
Unfortunately, this was not the case. Some may say Malaysia were kind of unlucky as three of their attempts hit the woodwork.

Then what also appeared to be a valid goal in the 14th minute via a header by defender Amiridzwan Taj Tajuddin was disallowed by referee Amirul Izwan Yaacob because of an infringement.
The problem here was the Malaysians were not sharp enough in executing their attempts which denied them of a win.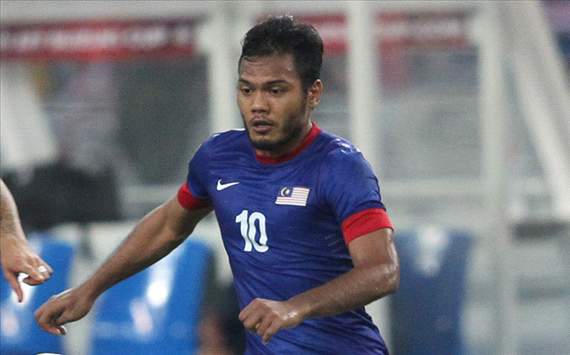 Safee failed to find the net against the Azkals.
Experienced Safee and Amri should have more composure when granted with the chances -- which would be hard to come by against a formidable side.
Kim Swee has to find out ways to ease this problem of missing even good chances if Malaysia hope to be best at least in the South East Asian region soon.
Safee is struggling to find the kind of form which had instilled that fear to opponents before. More games might do the trick for this Johor Darul Ta'zim (JDT) striker.
Midfielder Safiq Rahim, criticised by many before for his poor performances under former coach K. Rajagopal, did a decent job but only in the first 45 minutes.
Safiq must be consistent for 90 minutes if he wants to assist the team more.
Anyway, it's a pity that Kim Swee did not give talented 19-year-old Nazmi Faiz Mansor some playing time.
Nazmi, with those defence-splitting passes of his, needs more playing time if he is to improve abilities.
He may be still young and has his critics but the PKNS FC midfielder has all the qualities to make things moving for the team.
After all, Nazmi is already one of the best in the country and let's waste more time by always putting him on the bench.
Kim Swee did play goalkeeper Khairul Azhan Khalid and midfielder Hafiz Kamal for the first time and they did not fail him.
Khairul Azhan, in fact, executed one superb save to deny the Philippines.
It's interesting to see who will be Kim Swee's starting lineup for the away Asian Cup qualifying Group D match against Yemen on Wednesday.
Mustapha 'El Loco' Kamaruddin is an experienced sports journalist who is crazy about football. He has been following football, both at local and international scenes for over two decades. He is also a columnist with The Malay Mail.