IT was entertaining contest, it was great fun to watch.
This was when Johor Darul Ta'zim hosted champions LionsXII in a thrilling Super League match at Larkin Stadium on Tuesday which ended in a 2-2 draw.
But there was surely no fun for JDT's little magician Pablo Aimar, who must be wondering how on earth they let the Singaporeans come back from two goals down to snatch a point.
The visitors could have even returned home with three points after gaining control of the game when Aimar left the pitch on the hour mark.
Perhaps his exit was as a precautionary measure by coach Cesar Ferrando Jimenez, after the former Argentina international was elbowed by Madhu Mohana.
Aimar must be the most frustrated man at the end of the match played to a packed stadium.
He was in his element where he beautifully engineered the first goal scored by compatriot and hardworking Luciano Figueroa in the 28th minute with a perfect pass.
Then the 34-year-old Aimar made it 2-0 for JDT from a superbly executed freekick from 25 metres out to the roar of their excited fans.
With due respect to Fandi Ahmad's gritty lads, the hosts suddenly turned into a different outfit as soon as Aimar was out.
There was not much of that delightful passing game as JDT lost their pattern of play as well.
There was no more that creative 'composer' to orchestrate -- especially the offensive moves which were delightful to watch in the first half.
Yes... JDT relied heavily on Aimar to get them going. He was doing practically everything -- from executing passes, scoring and defending as well.
Remember, he is only human and he is not growing any younger.
This was one of the reasons why JDT were frustrated in the end after enjoying such a great first half.
JDT can't afford to just rely on Aimar alone if they want honours this season. There are such things as injuries and suspensions in football.
They have to work more as a team. The players have no choice but to raise the bar.
As said in an earlier piece, the shaky JDT defence needed to be worked on to by Jimenez.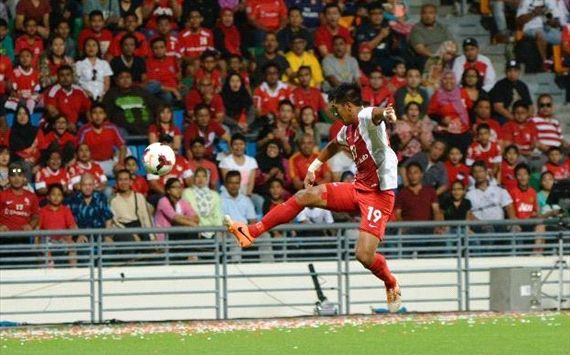 Khairul Amri sparked the surprising comeback for the Lions.
The first goal conceded in the 67th minute by star man Khairul Amri which sparked LionsXII's fightback could have been avoided.
It was resulted from a set-piece via a long throw-in by specialist Madhu.
The JDT defence led by experienced pair of Aidil Zafuan and Baihakki Khaizan were guilty of ball-watching. They were ball watching!
For that matter, the second goal conceded only two minutes later scored by impressive Hafiz Sujad could have been avoided as well if only the usually dependable Baihakki was more alert.
And what was actually Amirul Hadi Zainal doing? He needs to improve if he wants to contribute better to the team.
The good news, though, is that the season has just started. JDT should be able to improve after those training sessions under Jimenez and the players build up a better understanding.
JDT, like the other teams, need some time to really settle down for the new campaign.
Adios!