For so long the nation had been struggling to revive itself in the footballing fraternity, but when Malaysia triumphed in the AFF Suzuki Cup back in 2010, football fans in Malaysia rejoiced happily for the first time in quite a while. A year before that, King Raja inspired his men to the SEA Games Gold medal and he repeated his performance just a year later in the AFF Suzuki Cup.

The success wasn't luck or co-incidence. It was at a moment in which Rajagopal developed his men into national team material, allowing the likes of Safee Sali and Safiq Rahim all to flourish under his guidance. So much so that when the Malayan Tigers went down 5-0 to Indonesia in the opening game back in 2010, no one expected them to come back, let alone see Safee Sali inspire their triumph.

But that was exactly what happened, and Rajagopal turned out to be a hero in the eye of the nation. Fast-forward three years to 2013 and things are hostile now. The national team is struggling for form, the similar group of players continue to get call-ups and things look stagnant. Not to mention the fact that we are playing club sides more often than ever now.

But when the Football Association of Malaysia (FAM) had a meeting to decide Rajagopal's fate recently, plenty of eyes and ears paid attention, waiting attentively for their next move. FAM soon announced their decision to not extend Raja's contract beyond this year and it has sparked off a debate throughout the nation

So is FAM's decision to not extend Raja's contract justified? Here we go!
ARGUING ON THE SIDE OF FAM
FAM had a meeting to discuss K. Rajagopal's future (Photo: NST).
One thing that everyone should remember is that there is no space for emotions in football. King Raja did us all proud in 2009 and 2010, but when things start deteriorating, the Head Coach has to be accountable for it. Yes indeed, we struggled for recognition prior to the Suzuki Cup triumph. But once when won it in 2010, our aim should have taken a bigger step, our national team should have improved and continued scaling bigger heights. However, we remained stagnant. Progress looked a tad too far away and our national team continued toying with the Southeast Asian region.

With due respect, we have given King Raja enough time to revive himself and the team. Our defeat to Singapore in the World Cup qualifiers was already a frustrating result, although we continued trusting Raja's selection. So much has also been said about his team selection and that has to be a contributing factor in his downfall. Ultimately, players that are called up for national team duty should be the ones playing consistently well for their club or state teams. But we failed to see this in Raja's team selections, with 'favouritism' being brought up by many sections of fans and media alike.

He has had enough time to stamp his authority on the team and he failed to do so. In the recent Suzuki Cup final, the defeat to Thailand in the semis suggested that we had gone backwards since our triumph in 2010, and that isn't a healthy position to be in. Thus, Rajagopal has to face the consequence and at least help Malaysia put on a strong show in the Asian Cup qualifiers and bid farewell on a positive note, come December.
ARGUING ON THE SIDE OF DATUK K. RAJAGOPAL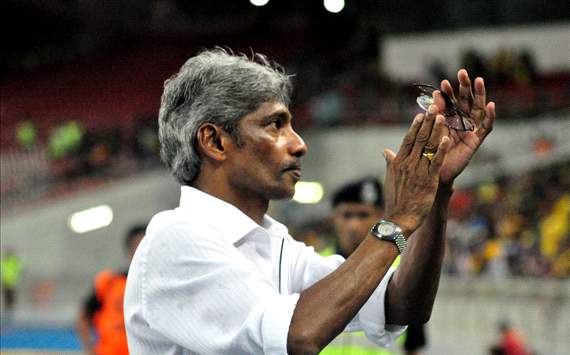 K. Rajagopal's contract will end in December 2013
When it comes to the performance of the national team, or be it any team, a coach's position can be pretty restricted. Yes, team performances are the responsibility of the coach, but they also depend on the player themselves. The entire 'debate' about King Raja not calling up players who deserve a national team spot can be pretty negligible. Because a large part of this debate centers around Kelantan's Badhri Radzi and it has been over-glorified to an extent that Rajagopal was made to look like a guy who practices 'favouritism'. More than 'favouritism', I think its a matter of trust when it comes to King Raja and his selection of players.

A coach, when selecting his team, will want to include players that he knows and trusts. Their form is certainly an important factor but then again, every coach has his own brand of football. And the players within the squad must be able to execute their tactics to perfection. We saw how King Raja's trusted players transformed from the SEA Games Gold medal to the AFF Suzuki Cup triumph.

Furthermore, he has also introduced several new players into the set-up as well. From the likes of Norfarhan Muhammad, Farizal Marlias and Norazlan Razali to the likes of Nazmi Faiz, Nazrin Nawi and Junior Eldstal. He has indeed given players who perform in the league, a fair crack at the national team. Surely it's a bit misleading to suggest that Rajagopal practices 'favouritism'.

We are speaking about a man who knows his stuff here. His track record justifies it and it's a common period among coaches throughout the globe, where they go on a dry period of not being able to produce results. But as with all other situations, time is the least that FAM could afford Rajagopal and the fact that they made this announcement during a period in which Raja is preparing the team for crucial games against Bahrain, does not reflect their credentials in a positive manner.

CONCLUDING THE DEBATE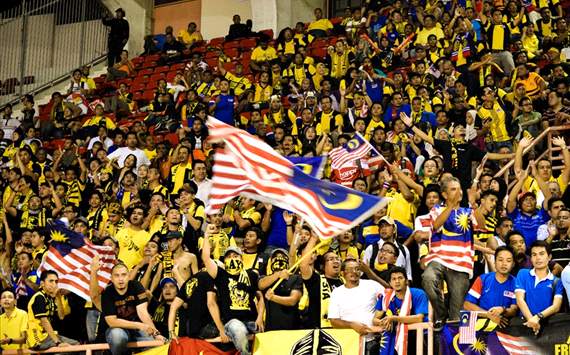 Perhaps good results in the Asian Cup qualifiers could change Raja's fortunes

This debate can go on forever but it's important for us to realise that there is a massive difference between accountability and respect. King Raja is likely to end his tenure in December and despite him failing to inspire our national team to positive results in recent times, it's vital we acknowledge his previous contributions for the nation and respect it.

I still remember writing an article on how Rajagopal added a new dimension into the team. He placed emphasis on youth, flair and most importantly belief, which was clearly obvious in the manner in which they bounced back from an opening 0-5 defeat to Indonesia to go on and win the tournament. I still believe he has the similar principles, but sometimes things can change dramatically and a coach could end up losing his plot. Not to say that Rajagopal has lost his plot, but the negative results hints nothing else.

All eyes will be on him and the nation when they take on Bahrain in the Asian Cup qualifiers later this year. Though FAM have reaffirmed their intention of not extending his contract beyond December, maybe just maybe King Raja could stake a strong claim by inspiring the nation into the Asian Cup. Maybe, just maybe.