Harimau Muda B coach Razip Ismail believes his team were not disadvantaged despite having to play the whole of their second half with 10 men against the Courts Young Lions on Thursday night.
The Malaysian youngsters ran out 2-1 winners at the Jalan Besar Stadium courtesy of goals within the opening minute of each half, although Ridzuan Abdunloh was sent off in the 38th minute for a silly shove on Young Lions right-back Al-Qaasimy.
"I think in the second half with 10 men, we played better than the opponents," he asserted.
"I'm very happy with the performance of the players. Even though we were a man down, they never gave up. [Maybe] next time we play with 10 men better!"

Razip admitted that the red card for Ridzuan was "stupid" and needless.
"He can't control his temper," he said. "He's our best player, he shouldn't do things like that. When people foul you, you don't retaliate."
The Young Tigers coach, whose team are seventh now, also acknowledged that the goals were a tad fortunate, but praised his players' efforts.
"I think we went in [to the game] with a good mentality, knowing that we needed to win to improve our standings," Razip explained.
"We want to be in the top six, that's the target now. We need to improve our points [tally]. For the last three or four games, we can't afford to lose now and I think the players understand.
"We really needed the win tonight and that's what we got from the game."
With the Young Lions rooted to the bottom of the table despite having players of a similar age-group to his side, Razip opined that goalscoring was the main difference between both teams' fortunes.
"Young Lions are a very good team and it's a matter of time before they win a game," he said.

"Maybe they are a bit nervous in front of goal, they missed a lot of chances tonight."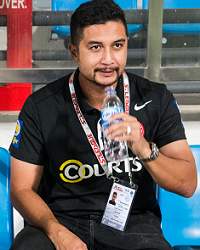 His counterpart Aide Iskandar (right) admitted that his charges struggled to score in a "disappointing" display.
"I think in the first half when they had 11 we had the chances to score but we just didn't convert them," he reflected.
"In the second half when they were playing with 10, we had even more chances to score.
"At the end of the day I have to give credit to Harimau Muda, they were resilient and kept their shape and were a bit lucky as well."
The former Singapore captain did point out that Razip has had his team training together for three years as compared to the "six or seven" months he has had with his, but he made no excuses for the display.
"It was just not the way I wanted them to play; we played really well with Johor Darul Takzim last weekend (in a friendly) so I thought we could emulate that performance, but unfortunately it did not happen," Aide said.

"The players have to learn and be strong; it's a good lesson for them and maybe some of the players were complacent or over-confident but at the end of the day, I will take the responsibility because I pick the team."
The Young Lions have not won any of their 18 games so far this season, but Aide believes it will not be a failure to end the campaign winless and instead called on his boys to continue working hard.
"We have done it in the League Cup where we beat the likes of Tampines [Rovers] and Warriors [FC], and we have to believe we can win games regardless of who we play," he said.
"Our next game is against Tampines so we have to try our best but the most important thing is to get back the team's morale so that they are able to perform to expectations."