ESPN STAR SPORTS to provide fans with the "Total Football" experience, adds Spanish La Liga to line-up of coverage
The final day of the 2011/2012 Barclays Premier League treated football fans to the most thrilling climax when Manchester City snatched victory and the league title in the dying seconds of the game from their cross-town rivals and defending champion Manchester United.
And after three excruciating months, the wait is finally over for football fans as the brand new season kicks off this weekend with the LIVE broadcast of the BPL returning on ESPN STAR Sports on Astro's platform.
There were plenty more moments that defined last season's BPL that drew over 6.3 million in-home viewers last season - a 28% increase in viewership. Last season saw plenty of highs and lows, such as Red Devil supporters getting their hearts broken with the worst ever 1-6 home defeat to Manchester City; Barclays Golden Boot winner Robin van Persie dragging Arsenal out of a dismal start to the season to clinch third on the table, Liverpool's continued struggles under Anfield legend Kenny Dalglish, Papiss Cissé of Newcastle United's Goal of the Season against Chelsea at Stamford Bridge, amongst many others highlights.
And starting this weekend, football fans can expect many more moments from the Barclays Premier League, with the addition of a new brand of football in the form of the Spanish La Liga on ESPN STAR Sports in Malaysia.
ESPN STAR Sports yesterday announced its much anticipated 2012/2013 season of football. Anchored by presenter Andrew Leci and joined by the charismatic JD of Maxis Football Extra, the duo called on the knowledge and expertise of Liverpool legend Steve McMahon and Old Trafford hero Paul Parker to preview the new football season.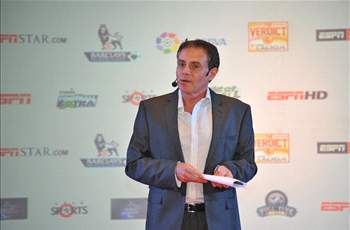 Fans will be spoiled for choice with ESPN STAR Sports' trademark brand of coverage, ensuring fans get the 'Total Football' experience with a multitude of ways to enjoy their favourite sport. Its television coverage through its broadcast channels ESPN (Astro Channel 812) and STAR Sports (Astro Channel 813) will feature a stellar line up of expert pundits and an unrivalled 1,500 hours of original programmes to provide comprehensive analysis and engaging sports entertainment for every sports fan.
Furthermore, ESS' coverage of BPL will be augmented by its high-definition coverage on ESPN HD (Astro Channel 832) with astonishing visual clarity and audio detail, as well as a top selection of live matches on ESPN 3D (Astro Channel 838), in partnership with Astro. Football fans can stay updated with up-to-date news coverage on SportsCenter, Score Tonight and on the 24-hour sports news channel, ESPNEWS.
In addition, the broadband network ESPN Player (www.espnplayer.my) will offer more flexibility with live and on-demand broadcast and extended viewing options to catch additional matches online anytime, anywhere; ESPNSTAR.COM and ESPNSTAR.MY will also provide comprehensive and in-depth news coverage of the new BPL and La Liga seasons.
Fans can also look forward to a new season of fantasy football in the ever popular 'Football Manager' on www.espnstar.com/footballmanager that looks to reward the most enthusiastic and well-informed football fans in Malaysia and across Asia. The game has one of the region's most lucrative prize pots with US$25,000 in cash prizes up for grabs - the Grand Prize winner will walk away with US$10,000 and there will also be monthly prizes of US$1,000.
* Please check www.espnstar.com programme schedules.
ESPNSTAR.COM's Football Manager
Have you got an ace up your sleeve?
Following on from a phenomenal success last season, ESPN STAR Sports will be giving Football Fans the chance to win a share of US$25,000 in cash prizes. The grand prize winner will walk away with $10,000 and there will also be monthly prizes of $1,000.
Based on the 2011-12 English Premier League season, participant's teams will receive points for the real life performance of the players from the current BPL 2012/2013 season, and the game will run through to the final matches played in May 2013. Participants will receive a budget to create their own Fantasy Football Team of players from the 20 league teams, and football fans can join at any point throughout the competition and will begin to score points once their team is submitted.
This season ESPNSTAR.com Football Manager will incorporate improved game mechanics and visual design, giving Football Fans a better playing experience.
Additionally, ESPNSTAR.com Football Manager is now optimised for Mobile and Tablet devices allowing football fans to transfer players and manage their teams whenever and wherever they choose.
The game is free and easy to play, and everyone has a chance of winning.
Also back this year, Andy Penders and his team of football experts will provide Fantasy tips and analysis on Scorecast every week. His expert analysis will give football fans informed decisions on managing their team, available on www.espnstar.com and on ESPN STAR Sports' Facebook Page (www.facebook.com/espnstar).
Visit www.espnstar.com/footballmanager to join the leading Fantasy Football Game in Asia and a chance to win in a share of US$25,000 in cash prizes.
What football fans can look forward to the new season of 'Football Manager'
• Manage the stars from the Barclays Premier League
• Register for free, play for free
• Challenge your friends to play and earn bragging rights over your buddies
• $25,000 total cash prizes to be won throughout the season - $1000 to be won every month and the grand prize winner wins $10,000
• New Feature: Play on your mobile or tablet device!

About ESPN STAR Sports
ESPN STAR Sports is a 50:50 joint venture between two of the world's leading cable and satellite broadcasters. As Asia's biggest sports content provider, ESPN STAR Sports combines the strengths and resources of its parent companies – Walt Disney (ESPN, Inc.) and News Corporation Limited (STAR) – to deliver a diverse array of international and regional sports to fans across multiple platforms.
ESPN STAR Sports features a comprehensive portfolio of multimedia assets including its television networks (ESPN, STAR Sports, STAR Cricket, ESPNEWS, ESPN HD, STAR Cricket HD), broadband network (ESPN Player), digital content services (espnstar.com, mobileESPN), and its on-ground Event Management Group with the aim to engage and entertain sports fans anytime, anyplace.
ESPN STAR Sports showcases an unparalleled variety of premier sports from around the globe featuring some of the most iconic sports events to a cumulative reach of over 300 million viewers in Asia through its 25 television networks and 3 broadband network, each localized to deliver differentiated programming to meet diverse needs of Asian sports fans.