1 – Malaysia should have gone for the win
It was hard to come away from this game without believing that national coach Datuk K. Rajagobal had missed a trick by not going all out for the win. Yes this was a friendly, and preparation for the upcoming AFF Suzuki Cup, so it was normal for the manager to make several substitutions throughout the match. However it was evident that the raft of changes affected the shape and play of Malaysia as they looked less compact and disciplined with each change. This was demonstrated in Arsenal's equalising goal; Rozimi Rahman failed to hold his position getting sucked forward and Mohd Muslim Ahmad was caught ball-watching as Alex Song threaded a pass in behind him. If the older and more experienced pair of Mohd Azmi Muslim and S. Subramaniam had remained on the field then perhaps Malaysia would have defended more wisely and held on for a famous win. A win over Premier League Arsenal would have raised the morale and confidence of players and triggered the interest of football fans all over the country in their national team. Malaysia were unfortunate in defeat; but it could have been so much better.
Missed opportunity | Will Rajagobal regret not securing the victory?

2 – A direct style suits Malaysia well
Malaysia's tactics from the first whistle were evident, they were happy to sit deep, get men behind the ball and then get the ball forward quickly once possession was won. The direct strategy was a good counter to the sharp passing game of Arsenal, to try and take on a team like Arsenal at their own game would have been foolish therefore Malaysia should be credited for their tactical approach. Captain Safiq Rahim was vital in this tactic as he made himself available as soon as Malaysia gained possession and launched forward a number of passes to Mohd Safee Sali and S. Kunanlan. Sali, in particular, seemed to relish getting the ball in advanced positions where he could isolate and run at defenders, and was unlucky not to put his name on the score sheet especially in the second half when he caused the makeshift Arsenal centre-back pairing of Craig Eastmond and Kyle Bartley several problems.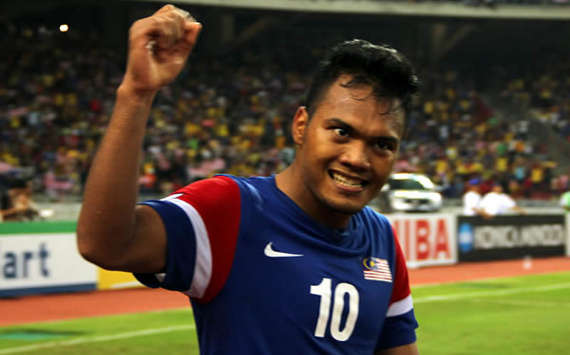 Unlucky | Sali caused the Arsenal backline no end of problems
3 – Chamakh loses the battle to Aidil Zafuan Radzak
It was thought that with the likely summer departures of strikers Robin Van Persie, Nicklas Bendtner, Park Chu-Young that maybe Marouane Chamakh still had a future at Arsenal. He seemed to believe that himself when he recently spoke about his future, "I will try to give my maximum but I am waiting. I don't know what I will be doing. I have not spoken with the manager but I will soon." In fact Arsenals pre-season tour of Asia, where he was named as the only senior striker in the squad, looked like an opportunity to re-establish himself in the plans of Arsène Wenger after a poor season in which he scored one goal in nineteen appearances. Well it's fair to say that he didn't take his opportunity. It was another lacklustre display by Chamakh who made poor decisions, seemed sluggish and lacked the ability to keep control of the ball, in fact on many occasions it looked like he couldn't trap a wet bag of cement. A large portion of credit for this also needs to go to Aidil Zafuan Radzak who doggedly stuck to the striker and made sure that he had an uncomfortable 45 minutes.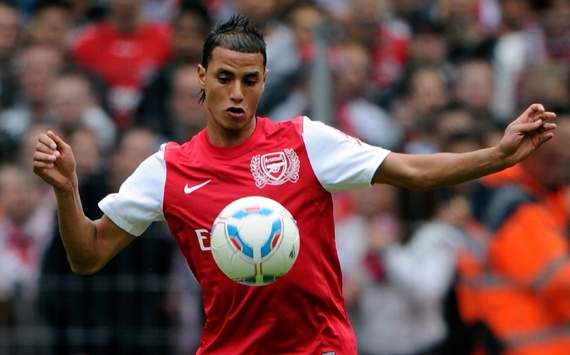 On his way out| Another poor performance from Chamakh
4 - Alex Song is a key attacking component of Arsenal
Many look at the imposing physical frame of Alex Song and see him purely as a spoiler, a defensive midfielder whose job it is to break up play and win the ball back for him team. In fact Alex Song is much more than that, he is a player who if given time and space on the ball can carve open a team with pinpoint passes as he displayed against Malaysia. He was the architect behind Arsenal's equalising goal as it was his through ball which allowed Nico Yennaris to cross for Thomas Eisfeld, and if not for Benik Afobe's poor finishing after running onto another of Song's passes then he could have had an assist. Last year Song managed eleven assists in the league, judging from yesterday he will be looking to better that this season.

Pass Master| More pinpoint passing from Song
5 – Hope for the future for both teams
Although fans may never really read too much into pre-season as matches as teams are using it as a chance to build up their fitness, Arsenal fans may well have been underwhelmed by the performance of some of their senior players such as Johan Djourou, Abou Diaby and Gervinho. These three players in particular have failed to live up to their potential so far in their Arsenal careers and in the future they may well be looking over their shoulders at some of the clubs latest youth products. Chuks Aneke, who netted the winner in the match, has been compared to Yaya Toure by Wenger and will be looking to break into the team after spending time out on loan last year. Young full backs Nico Yennaris and Ignasi Miquel both had an assist each and looked dynamic going forward.
It also bodes well for the future of Malaysian football that Wenger praised Safiq Rahim, Garry Robbat, S.Kunalan, Mohd Safee Sali and goalkeeper Farizal Marlias for their performances. Wenger also commented "Maybe I might sign a Malaysian player on what I've seen tonight." Whether this was a tongue in cheek comment or not, there is a real hope that more Malaysian players can soon establish themselves in different countries, and eventually the English Premier League.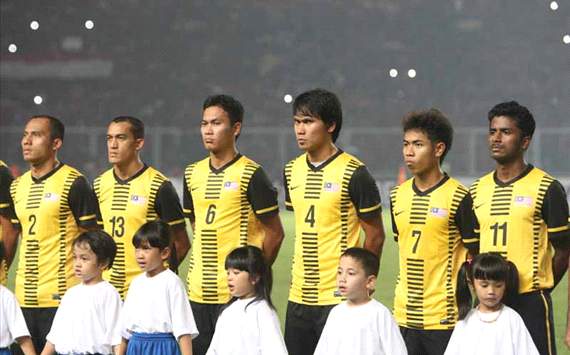 Next Generation| Can Malaysian players make it to the EPL?