COMMENT
By Ben Hayward | Spanish Football Writer
It was a night for celebration. Barcelona beat Valladolid 2-1 at Camp Nou on Sunday in a largely forgettable fixture played out in the pouring rain, but fireworks followed as the Catalan club celebrated their league title on the pitch afterwards, with coach Tito Vilanova at the forefront for what was his first trophy as Barca boss. His long-term future at the club, however, remains very much in doubt.
Vilanova revealed in a press conference on Saturday that he will fly to New York for further treatment of his cancer this week, with the club later releasing an official statement. "The pioneering treatment has been developed at a specialised centre and is proving particularly effective," it read, while adding that the trip had been put forward. "It was originally planned for this summer but as Barca has now clinched the league title it has been advanced to next week. Tito Vilanova will be away from Barcelona from Monday to Friday."
Press speculation in Spain on Sunday suggested Barca may look for a coach to take over for next season if the oncologic cancer immunotherapy treatment does not prove successful, but sporting director Andoni Zubizarreta refuted claims that the Catalan club may replace their coach. "Tito will be the trainer next season," he told
Canal Plus
after the game against Valladolid.
ABIDAL SET TO LEAVE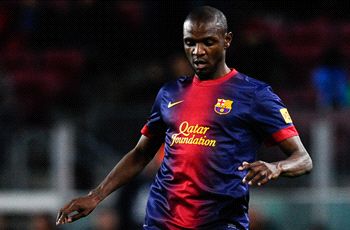 Eric Abidal lifted the trophy with Tito Vilanova in a generous gesture from captain Carles Puyol, who handed over the cup to his team-mate and his coach, both forced to fight serious illness in recent times. "The important thing is that they are here with us," the defender told the Camp Nou crowd on Sunday.

However, the image is unlikely to be repeated next season as Abidal is set to leave the club this summer.

The French full-back is keen to extend his playing career but is yet to be offered a new deal by the Catalan club and is resigned to moving on.

Asked if the defender would be at the club next season, Barca sporting director Andoni Zubizarreta simply said: "Let's just enjoy the present..."
However, the 44-year-old's health remains a concern after he missed two months of the current campaign while undergoing chemotherapy and radiotherapy treatment in New York.
Several of Barcelona's players, including Lionel Messi, admitted that they were hit hard by their coach's illness and the side's form suffered notably after his relapse was announced just before Christmas. With Tito in New York, Barca were eliminated by rivals Real Madrid in the semi-finals of the Copa del Rey, lost their first fixtures in La Liga and stuttered in the last 16 of the Champions League against AC Milan. And even though Vilanova returned to the club in March, the second half of the season has been comparatively disappointing. La Liga was already sewn up after the side's flying start, but the 7-0 aggregate loss to Bayern Munich in the Champions League hardly inspires confidence in the coaching staff for the coming campaign, as Barca were out-thought and out-fought in both semi-final matches.
Tito has asked to be judged at the end of next season following a difficult debut campaign at the Catalan club, but there are question marks over his suitability at all due to his inability to react in the big matches or win against the top teams in 2012-13, as well as his team selections and his management of Messi. The greatest concern of all, however, is whether his health worries will interrupt the club's campaign again in 2013-14.
Former Barcelona president Joan Laporta believes the club should have allowed their coach to recover and brought in a new man to lead the team this term. "For Tito's own peace of mind, they should have guaranteed his contract and allowed him a total recovery, because it's very difficult to manage Barcelona in a situation like the one in which he finds himself," he told
dpa
in an interview last week. "They should have said to him: 'Tito, recover completely, relax, don't suffer at all. We will respect your contract, but we are going to incorporate a professional who we believe is qualified to manage this situation until the end of the season.'"
Current chief Sandro Rosell will now hope Vilanova can complete his recovery this summer, because concern over the coach's continuity and, above all, his health, proved to be both disrupting and distracting for the players this term, as they were left without a leader for a large chunk of the campaign: uncertain, unsettled and unaccompanied.
Tito has said he feels fit to carry on. "It's my life. I feel strong enough to continue and I am excited about that - I will be here next year," he said last month.
Such positive news represents a boost for Barca, yet the Catalan club cannot afford to be without their first-team trainer for long periods during the season itself and if Vilanova is not fully cleared by the beginning of 2013-14, a coaching change - be it temporary or permanent - cannot be out of the question. So as the celebrations continued on Sunday, doubts also remained over Tito's long-term future at Camp Nou beyond this summer.
Follow Ben Hayward on