ANALYSIS
By Ben Hayward | Spanish football Writer
Even Bayern were surprised. Barcelona needed to produce the greatest comeback in their history on Wednesday and the one man who had given them a flicker of hope that a fairytale fightback was possible at all sat staring sadly from the bench. Lionel Messi was missing.
The Argentine attacker played the 90 minutes in Munich in the first leg when he clearly still had not recovered from his hamstring injury sustained in the Champions League quarter-final first leg at Paris Saint-Germain, but his brilliant cameo in the 2-2 draw at Athletic Bilbao on Saturday seemed to show he was ready for this return match. He was not.
With Messi on the bench, Wednesday's second leg was essentially over before it had even begun. Ahead of kick-off, Barca's fans revealed a magnificent mosaic at Camp Nou with the word
Orgull
: Pride. And there was now little more to play for because, without Leo, there was never going to be any way to beat Bayern and make the final at Wembley.
Management of Messi's injury has been nothing short of shambolic. Forced to play when far from fully fit in Munich, the Argentine was a pale shadow of the player who had collected four straight Ballons d'Or and his participation last week left Barca hamstrung themselves, lacking intensity and fight when they needed to press and pressure all over the pitch. They were playing with 10 men.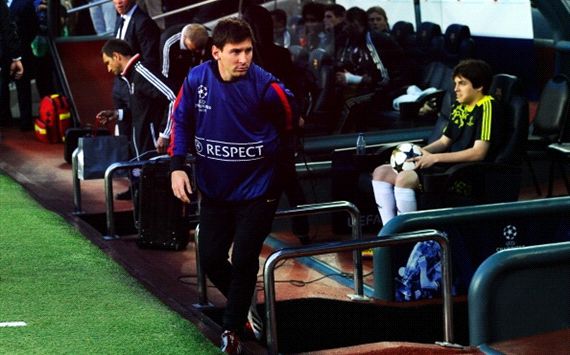 Out of action | Without Messi, Barcelona sunk without trace on Wednesday
Pursuit of meaningless (although very impressive) goalscoring records has seen Messi virtually ever-present in the side over the last two seasons, yet for the second campaign in a row he has now been left powerless at the business end of the calendar and his injury this time is surely the final straw. Even though he wants to play every game and scores goals galore for the Catalan club, he is not a machine - and Barcelona need to take much more care to ensure their prized player does not miss the biggest fixtures in future. Rest and recuperation were interrupted by the team's need to call on their star man, first against PSG and later versus Bayern: club and player have paid the price.
However, it wasn't just Messi. The whole team looked flat and fatigued in their two most important games of the season, unable to press persistently and high up the pitch - one of the factors which brought so much success in the first place. These fantastic footballers have simply played too many games over the last few seasons and physically they were nowhere near Bayern on Wednesday or in Munich. Coach Tito Vilanova has barely rested his best XI in 2012-13 and Barca's finest now have nothing left in the tank - just when the club needed them most.
Injuries in defence have also hit Barca hard, with the club deprived of captain Carles Puyol for long periods this term, Javier Macherano currently sidelined (like Messi, picking up an injury for the Catalans days after playing at altitude in Bolivia on intenational duty) and Eric Abidal taking his first steps back following a liver transplant.
IN NUMBERS
Barcelona in 2012-13

1
Tito's team have played in four competitions this season and look set to win only one (La Liga)
8
The players used in central defence: Abidal, Adriano, Bartra, Busquets, Mascherano, Pique, Puyol and Song
8
Total defeats this term: three against Madrid; two versus Bayern; one at Celtic, Real Sociedad and AC Milan
11
Barca's points advantage over Madrid with five games remaining in La Liga
13
Consecutive games without a clean sheet before the 2-0 win at home to Deportivo in March
And the defence was exposed again on Wednesday. Arjen Robben was allowed time and space to attack down the right for the first goal, Gerard Pique sliced the second horribly into his own net as he attempted to clear and Thomas Muller climbed above Marc Bartra and Adriano to head the third after Franck Ribery had raced past Alex Song as if he had not been there. It was men against boys.
Song had sat out the first match as poor Bartra was left exposed at the Allianz Arena. Early in the season, however, Barca seemed not to trust Bartra when many of their first-choice defenders were out. Given a longer run in the team, he may have been better equipped to cope with a side like Bayern, although his fragile frame meant he was perhaps not the ideal candidate for such a physical battle. In any case, bringing him in for these two games without proper preparation was as unfair as it was inexplicable.
Song is not the solution either. Signed as cover for midfield and defence, the Cameroonian has been unable to make his mark in either position. While he has produced some promising performances in midfield, he rarely looks comfortable in defence and, on Wednesday, Barca were staring at a man who could have solved all of those problems dating back to the summer: Javi Martinez.
The Basque midfielder was excellent in defence last season for Athletic Bilbao and could genuinely operate in either position. He was also keen on a move to Barca but was ultimately deemed too expensive at €40 million. What price for a top-class centre-back now? Barca have said they will sign four or five players this summer. A central defender must be top of that list.
The two games against Jupp Heynckes' side also highlighted the Catalans' weaknesses in the full-back positions. Dani Alves and Jordi Alba are excellent in attack, but both were terribly exposed by Bayern and now may be the time for Barca to consider a move for a disciplined defender out wide. When this team played with Eric Abidal on the left and Alves attacked, the Frenchman slotted in as a third centre-back and gave balance to the side. Barca now need something similar.
"Some decisions need to be made in the summer," Pique commented on Wednesday. Swimming solo against the tide, the Catalan defender has been unable to cope at times this term, although he must also assess his own contribution. Beaten for pace, in one-on-one situations, lacking concentration and clumsily slicing into his own net against Bayern, Pique has looked off colour in 2012-13, lacking the leadership of Puyol and struggling to take authority himself. With Alba and Alves spending most of their time up the other end of the pitch, however, he has been left isolated - and often without a specialist partner at the back.
Another transfer target must be a forward to provide an alternative to Messi, be it a winger, a centre-forward or even both. Alexis Sanchez has showcased his abilities and attributes against only the smaller sides this term, while David Villa looks like a player on the way down, Cesc Fabregas really wants to be playing in midfield and Cristian Tello, the one man who has ignited the Barca attack with his pace and goals this season, did not play a single minute of either game against Bayern. Pedro, meanwhile,
has
looked like a world-class forward at times this term - when he has pulled on a Spain shirt.
With Messi, the result would have been more or less the same. Now we have to close out La Liga and make some decisions in the summer



- Gerard Pique

And then there's Tito. Hailed by some as the tactical genius behind the partnership with Pep, he failed to come up with a proper plan without Messi for the second leg against PSG, produced not one variation for the tough trip to Bayern and was unable to react to the disaster unfolding before his eyes as he made his first change at 3-0 down - and with 83 minutes on the clock. Without Messi, there were no miracle solutions on Wednesday either. Although not without fault, Guardiola always had a tactical variant up his sleeve for the biggest match. Tito does not seem to.
Barca's players struggled in Vilanova's absence during cancer treatment in New York, but his return at the end of March was expected to see the team back to their breathtaking best. It simply has not happened and question marks remain over his suitability for the job. Tito is popular with the players, but appears to lack the presence, the tactical nous and the character to lead this team on his own. His health problems persist and will be a concern ahead of the coming campaign, as Barca will hope to avoid a repeat of this term when, essentially, they were without a top-class coach for several months of the season.
"Tito is winning all of the comparisons with Guardiola," club spokesman Toni Freixa claimed in an interview just two weeks ago. An unnecessary and unbelievable thing to say at the time, such a statement seems even more arrogant, absurd and frankly false now: Pep never lost once by three goals in 247 games as Barca coach, let alone 7-0 in a two-legged tie.
Celebrated Catalan chef Ferran Adria told
dpa
in an interview last week that he had dined with Guardiola and that the main difference between Barca and Bayern right now was "motivation" - and Pep had alluded to being concerned at his players losing their hunger in his last season at Camp Nou. Now they need it back.
The transition to Tito was supposed to stop Barca pining for Pep. It hasn't. Guardiola now heads to Bayern, the strongest side around at the moment, while the Catalans look to rebuild and repair the gaping holes which have appeared this term, with a coach still recovering from a life-threatening illness, a team full of out-of-sorts and fatigued footballers and a bumbling board.
Sandro Rosell's stewardship has seemed more about discrediting old foe Joan Laporta and the previous regime than extending the club's glorious era. Upon assuming the presidency in 2010, Rosell stripped club legend Johan Cruyff of his title of honorary president and so started a rocky relationship with Guardiola. It never healed.
I don't know what Pique is referring to - you will have to ask him. In any case, decisions are made at the end of the season



- Sandro Rosell

While Rosell's team have eased debts with a shrewd spending policy, the needs of the team were not adequately addressed last summer and the president's pursuit of Neymar is more about marketing and shirt sales than a pertinent plan to boost Barca's attack. Freixa's recent comments have done nothing to aid the board's credibility, either.
"The scoreline doesn't reflect the reality, the difference between the two teams." Rosell said after the Bayern elimination on Wednesday, while he claimed he had no idea what Pique was referring to in terms of the decisions which need to be taken in the summer. "I don't know what he means; you will have to ask him. In any case, decisions are made at the end of the season and this one still hasn't finished. We have to support the team."
That time will soon come. Big changes are now necessary, as well as strong self-assessment from the board, Tito and the players. As one Catalan columnist put it on Thursday: "Refresh or Die!" Eras end, but cycles can continue; the 7-0 aggregate loss to Bayern is either a colossal crack in a crumbling empire, or just one disastrous defeat in this group's glorious governance. Just how it will be seen in the future depends on one thing: how Barcelona react.
Follow
Ben

Hayward on