By Agung Harsya
In football, success on and off the pitch does not simply come down to talent and tactics, but requires years of meticulous planning. With this in mind, Goal.com presents a statistical and structural evaluation of five top clubs in the South-east Asian region along with a verdict on why these teams are heads and shoulders above the rest.

In this edition, we take a look at one of the most prestigious clubs in Indonesia, Semen Padang.


Semen Padang is the first, and to date, is the only professional club from West Sumatra. They are located in Padang, the province's capital city, which is also the most populated city in the western coast of Sumatra.
The club is owned by PT Semen Padang, the oldest cement company in Indonesia. They were established on November 30th 1980, to participate in Indonesia's first semi-professional league, Galatama. They gained promotion to the top division of Galatama only two years after it was established. After the formation of the Indonesian league in the mid-1990's, Semen Padang were relegated to the first division in 2007. They reached the highest level of Indonesian football once again three years later.
In the 2010/11 Indonesian Super League (ISL) season, in their first appearance after promotion, Semen Padang finished fourth. Following this, they entered the new IPL and succeeded in becoming champions after their debut season.
HAJI AGUS SALIM STADIUM

The Haji Agus Salim Stadium was built in the mid-1980's by the city council of Padang to replace the old Imam Bonjol Stadium. Two clubs are using this stadium: Semen Padang and PSP Padang. The stadium was named after a national hero, Haji Agus Salim, who participated in Indonesia's independence movement. The renovation was carried out in 2009 by PT Semen Padang, a cement corporation which owns the club, after an earthquake.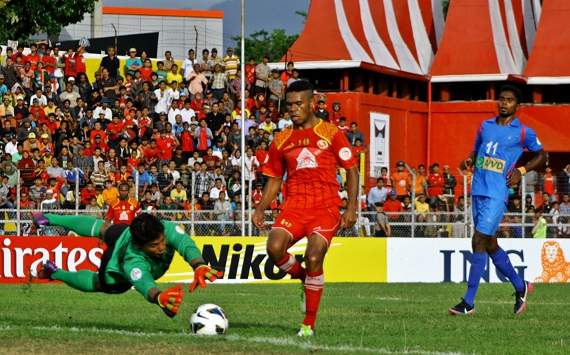 Like many Indonesian clubs, Semen Padang doesn't have a good youth development system. They used to bring many players from outside of Padang to strengthen their team, such as Ferdinand Sinaga last season and Titus Bonai this season. However, they are also known to give rare opportunities to young players like Vendry Mofu.
| | | |
| --- | --- | --- |
| | | |
| Vendry Mofu | Titus Bonai | Edward Wilson |
| Vendry is a dynamic midfielder who was introduced by Nil Maizar at both club and international level. The strong, box-to-box midfielder can at times carry the Semen Padang midfield on his own. He also has a good ability to shoot from long range. At a ripe young age of 23, he still has lots of room to improve as a player. | Titus has already made his name in the Southeast Asian region, although not a positive one, with his failed move to BEC Tero Sasana last year. But many can vouch for his technique and good accelaration that can threaten any team's defence. He moved to Semen Padang last year and soon it became clear that he will be an ideal replacement for Elie Aiboy on the right flank. | Edward is a complete striker with a lethal left foot. He scored a wonderful individual goal in the East Bengal match. He is also a prolific passer of the ball when he is not scoring goals. When Edward brings his 'A' game, Semen Padang can expect him to be a handful. |
JAFRI SASTRA - HEAD COACH

Jafri Sastra was appointed by Semen Padang's management after Nil Maizar was called up to handle the Indonesia national team. He prolonged Maizar's style within the team when he opted to play attacking and attractive football for the fans.
Semen Padang is Indonesia's only hope in AFC Cup this season after Persibo Bojonegoro's dismal performance. It is not surprising that Semen Padang can progress to the next round because they have a competitive squad - not much different from last season. The players know each other well. They have played the same way for the last few seasons and they have a stable management. It wouldn't be surprising if Semen Padang can go through the quarter-finals of the AFC Cup much like Persipura Jayapura and Arema in the past two seasons.
Stadium
OVERALL
Facilities
3

Youth System
Club Affiliation
Key Players
Management