On the pitch, the 'Bluebirds' (more on that later) story is sufficiently romantic and worthy of celebration. The club that produced players like Aaron Ramsey and James Collins has spent the past decade climbing closer to success only to suffer heartbreak at the final turn. They have reached Wembley three times, losing in the FA Cup final of 2008, the Championship playoff final of 2010, and the League Cup final of 2012. In 2008/09, they looked set for automatic promotion only to lose 6-0 at Preston North End on April 18, pick up just one point from the three games that remained thereafter, and miss out not only on the top two but on the playoffs altogether… on goals scored, to Preston. The last two seasons before this have ended with heavy defeats in the playoff semi-finals.

Now, thanks in no small part to the efforts of former Newcastle United and Manchester City star Craig Bellamy, who rejected a new contract at Liverpool to drop down a division and help out his hometown club, Cardiff have secured a return to the top flight of English football for the first time in 51 years. Having guaranteed promotion with a scoreless draw against Charlton Athletic last Tuesday, the Championship title was sealed on Saturday with a point at Burnley. Following the laudable successes of Swansea City, next season will see two Welsh clubs and the first ever South Wales derby to grace the Premier League.

However, most of the coverage surrounding Cardiff's success has been overshadowed by the controversial ownership of Malaysian businessman Vincent Tan, who forcibly parted with 104 years of tradition by insisting that the blue shirts that the then aptly-nicknamed Bluebirds had worn since 1908 be replaced with an altogether more Asian-friendly red. Speaking to BBC Wales in February, the billionaire openly admitted that the change had not been considered with local fans in mind:

"You look at Man United and Liverpool and they are red – they are much more successful and have a bigger fan base than Chelsea or Manchester City. In Asia, red is the colour of joy; red is the colour of festivities and of celebration. In Chinese culture, blue is the colour of mourning… I would like to tell the fans we are doing a good job, so give us all the support and have faith that we will do the right thing.

"A few were upset, but like in any business if we get 80 per cent or 75 per cent of the customers happy, with 20-25 per cent not happy, that's fine. If they don't want to come to support our business, that's fine. We need the majority. I believe the change is for the better. And if you put in a lot of money, surely you have the right to make a call on some things you believe will make it better. If you don't have a say, why the hell do you want to put in so much money?

"Why would I want to put in, maybe by the end of the season, £70 million in loans and investments into Cardiff and do stupid things? Do I look stupid? No."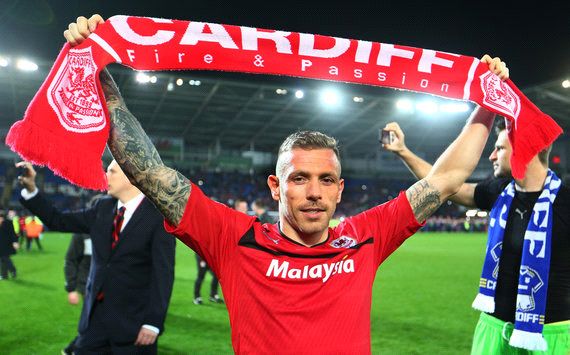 Craig Bellamy played a huge role in Cardiff City's promotion to the Premier League.

It was perhaps sensible of Tan to answer his question before anyone in Wales offered to do so for him, but even where there has been acceptance, it has been overwhelmingly reluctant. A recent increase in red 'Cardiff' scarves displayed at the still-blue Cardiff City Stadium is largely due to the club handing them out for free to every spectator at the home game with Brighton and Hove Albion. More match-going supporters than not prefer to sport the blue shirt which has been maintained as an away strip. A significant minority, meanwhile, have stopped attending altogether. Scott Thomas, a Bluebirds fan since 1975-76, explained the reasons for his disenfranchisement to The Guardian:

"Cardiff City didn't go up last night; Cardiff City died last summer. Seeing fans celebrate on the pitch during a news bulletin felt like watching the plug being pulled from a life-support machine that has been keeping an old relative alive. It was just another day at the office for a club I no longer recognise. They are just another team now, not the one I supported for decades."

The moral outrage has not been restricted to Glamorgan, but extends nationwide. Club colours are seen not as a fashion statement, but as a historical symbol of identity. In Asian football, Japanese side Vissel Kobe infamously switched from black-and-white stripes to crimson at the whim of Rakuten chairman Hiroshi Mikitani in 2005, but even this was just eight years after their entry to the J. League and thus very early in the process of establishing social roots – akin to Manchester United abandoning 19th century gold-and-green for red in 1902, or Juventus swapping pink for Notts County stripes a year later. In more modern times, the only outstanding exceptions to kit tradition in England are Leeds United, who dropped blue-and-yellow for white in homage to Real Madrid in 1961, and Crystal Palace, who wore claret-and-blue until 1973.

Yet a shift from blue to red somehow feels all the more seismic. The four Welsh teams to have played in England's top four divisions in the past 25 years have each been associated with a bold single colour – Cardiff blue, Wrexham red, Swansea white, and Newport County yellow. While Wrexham are currently languishing in the Conference, red versus blue remains a quintessential divide not easily bridged.

It symbolises those most classic of rivalries, from United vs City to Liverpool vs Everton, Milan vs Inter, Boca vs River, Korea vs Japan. It transcends sports to pit red Ferraris against blue Williamses then Red Bulls in Formula One, or against those blue Gulf Porsches at Le Mans with Steve McQueen in the 1970s. Olympic wrestling, taekwondo, and boxing contests dictate that red corner shall face blue. Even during my childhood, when two American gas-guzzlers were pitted together in an animated television commercial to prove that snacking on a Milky Way was healthier than devouring everything in sight, the tagline was simple: "The red car and the blue car had a race."

Perhaps worst of all, the colour change is the most visibly prominent manifestation imaginable of how football is selling out. For fans of most English clubs, once we have absorbed the financial hit of the match tickets, we can at least spend 90 blissful minutes like whores on heroin pretending that everything is fine and right with the world. At Cardiff, the reality is right there in front of them and even around their necks.

But I can only offer the cultural argument, so it is time for me to step aside. Tan's vision is one of business and customers – and he believes in the premise that if Cardiff City play in red, then more of you, the football lovers of Asia, will invest in their product. Is he right?