April 12, 2013
Back in the late 1990s, I was traveling and coaching extensively throughout the Japanese countryside, conducting football clinics and meeting thousands of kids in numerous venues.
But there was one venue that I should have remembered, and even today as I write this article it is still a complete blank. Many years later I would find out, to my great surprise, the significance of one single event and the impact it had for one of those children.
As way of background my clinics, which average around 250 attendees, focus specifically on teaching techniques to young children aged 12 and below. The concept is 'one ball, one player' and empowering players to practice meaningful, specific, deliberate movements, helping them learn the importance of ball manipulation. These methods produce skilled, confident players who find more enjoyment in the game by being able to execute simple ball movements.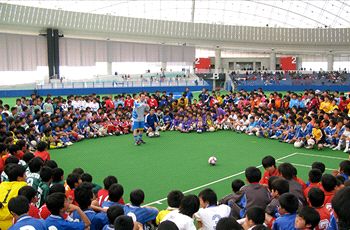 As the story goes I was in Kobe, Japan, a place I had conducted many clinics over a period of years. I demonstrated certain skills and moves for the kids and gave them time to practice them. Most kids are very eager and anxious to start practicing because of the joy they derive from the game when the ball is at their feet and under their control.
However, Japanese kids in general are very shy and apprehensive about raising their hand in front of hundreds of other children for fear of being mocked or laughed at.
At my events we establish several areas that are broken down into different sections, with multiple children practicing a variety of skills.
During this specific clinic, as I've been told, I requested a volunteer and one player stood up with his hand in the air, volunteering to demonstrate moves we had practiced including 'Ball Mastery', 'Moves to Beat Opponents', 'Change of Direction', and 'Stop and Starts'. Of course, I quickly selected him to come out and demonstrate.
As it turned out I judged this particular child as being the hardest worker from the hundreds who attended that day in Kobe so long ago. Apparently I signed a ball for him and paraded him in front of the crowd in acknowledgement of his work ethic and general skills and enthusiasm.
It would take another 10 years for me to be told that the 11-year-old boy who had impressed me so much on that day was none other than current Manchester United player Shinji Kagawa.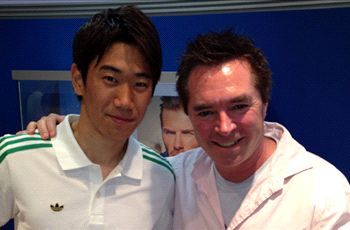 Like Shinji, I have been on contract with Adidas for many years. So when an Adidas staff member, Hashikura-san, travelled to Germany to fit Shinji with a new pair of boots, he mentioned my name and asked Shinji if he knew me.
After recounting the story, Shinji asked a favor of Hashikura-san. He asked, "can you please go back to Japan and ask Tom-san," as I am known in Japan, "if he remembers me?"
Surprisingly enough, I didn't. And this brings me to the point of my column.
Although Shinji Kagawa was a standout at my event and subsequently went on to be a top-class international player, there are many other youngsters like him who have participated in my events and displayed amazing talents over the years. Regrettably, it's very difficult to keep track of exactly how many there are, because the number is simply too big.

In conclusion, what I've noticed from coaching throughout Japan for the past 20 years, having conducted over 2,000 clinics for more than 500,000 players, is the gap between the very best and the very worst has shrunk considerably. Through this I've also learned that the best way to improve the most talented players is by making the worst players better. I believe that Japan has accomplished this, which accounts for the paradigm shift we are seeing today!
How do you stay up with football when on the move? With http://m.goal.com –your best source for mobile coverage of the beautiful game.