By Roshan Narayan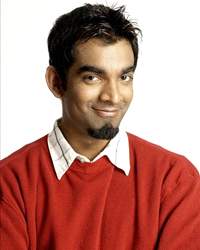 I was reading an article by former Premier League referee Graham Poll the other day. It was on Sergio Aguero escaping punishment for his horror lunge on David Luiz. The match referee Chris Foy reported the incident, but at the time did not see anything wrong with it. So the FA will not dispute his report or 're-referee' as they call it, unless it was an off-the-ball incident.
Honestly, are they waiting for a career-ending tackle before they actually do something about the rule? I know, the rule was modified recently. But it has become even more vague, if not ineffective in helping referees make decisions.
Aguero is not the only player who has escaped punishment because of that.
Remember Callum Mcmanaman's foul on Massaido Haidara? Then, there was Grant Holt's 'attack' on Chico Flores which also went unpunished. Luckily none of the victims suffered anything more than perhaps a very bruised and/or sore limb or an extended stay in the hospital..
Which brings me to my next point - what's with the idea of making rules so vague anyway?


The referee already has a hard job trying to keep 22 men calm on the pitch. Not to mention how many more on the bench and the stands. Does the FA think he doesn't have enough to do already throughout the 90 minutes of play? Sure, why not throw in some rules that make no sense. Let's force the men in black (or light maroon, flourescent green, or any other neutral color for that matter these days) to use his common sense under pressure, and interpret a rule based on what he manages to catch with his eye, something that happens unexpectedly, almost in hyper-speed.


How can we even blame the refs in this situation? Unless you've tried refereeing a normal Sunday league football match and correctly called the offside rule without having your call contested, then perhaps you have leeway to rationalise. But our eyes and ears can only detect so many things, at certain speed ranges, at one time. Seriously. We're only human. And so are they.


And that's why video technology has to come into play. But if they're going to continue opposing that idea for reasons unknown, then why not help the poor man in the middle with some sort of review panel for such incidents, after the match? Regardless of whether the incident made it into the ref's report or not, the entire world would have seen it and debated about it till they were breathless. It does not dispute the official's authority. It helps. It brings justice into the game, keeping it fairly contested.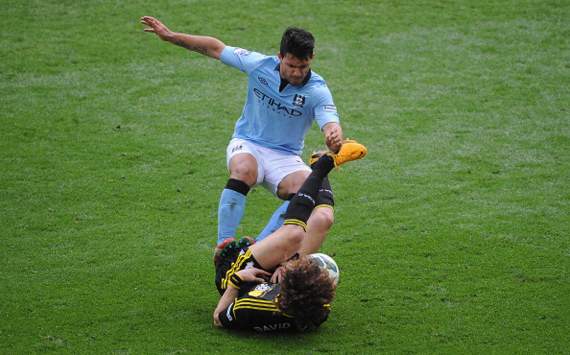 Sergio Aguero was unpunished for his cynical challenge on David Luiz in the FA Cup semi-final last week.
With so much attention on football and the Premier League in particular, the FA only comes out looking sheepishly silly when they decide to ignore incidents like this. Plus, it sends out the wrong message to players and fans. Football is meant to be a "non-contact" sport. Yet tackles like that contradicts this. They say the rule protects the ref. Really? Try looking up Chris Foy's name and see how many articles turn up belittling his lack of a decision on that Aguero tackle...What does that do for his reputation now?
Whether Aguero, Mcmanaman and Holt deliberately intended those tackles on their opponents (and we'll leave that to their individual conscience and another day to debate about) it can't go unpunished for the sake of the victims and fair play. They were dangerous, clumsy and uncalled for, in the heat of the moment! They do not improve the game of football in any way. And inconsistent rules do not protect the player at the receiving end. Or the referee. Instead, I reckon it could encourage players to decide on what they can get away with in a game, based on who referees their matches. And that thought alone is scary. Of course, we hope as professionals they will not be thinking of such malicious intent. But passion and sound judgment rarely go together. Just like how a class bully calculates how much trouble they will get into (or not), based on which teacher is on duty.
Which brings me to another point - if the FA can 'punish' Howard Webb mistakes at the Tyne-and-Wear derby including Yoan Gouffran's tackle on Adam Johnson, how is it that they dismiss the rest? To be fair, Webb issued Gouffran a yellow card. That's acknowledging a caution was necessary. Compare the inconsistency there. Webb has been 'demoted' to a League One match this coming weekend, although the Professional Game Match Board has denied it is a demotion for his role or a lack of it at Newcastle.
Some people might argue that these points and more make for great debate on TV. But what about justice in the game? If Aguero deserved to be suspended for his actions, then the team should face the consequences in missing his services. The player in turn will realise how much he has let the team down. Imagine if Manchester City lost to Wigan in the final of the FA Cup because of the absence of the Argentine. Do you think the player wouldn't think twice about the same action if faced with similar situations in the future?


A lot has changed in football since most of the FA's rules were designed. And it's time to update them and keep them consistent with the way the game is played these days. It will only improve the game, and not take the passion and debate out of it. Think about it.