Club football returned last weekend after the final round of international fixtures to interrupt the club season, has come and gone. As is usual with international matches, clubs fear that their players would pick up injuries or a loss of form. In Arsenal's case, it was the former and Theo Walcott was the casualty.
However, he wasn't the biggest injury woe to come out of London Colney last week. The biggest injury news was no doubt the one regarding Abou Diaby. Out for the next nine months with a cruciate ligament problem, it's another chapter in the long history of the French midfielders' fitness battle.
We know when the problem started, with Dan Smith's tackle in the dying minutes of the last match of the season against Sunderland. That needless tackle in the 2005/06 season will forever be remembered as the day that robbed football of one its great players.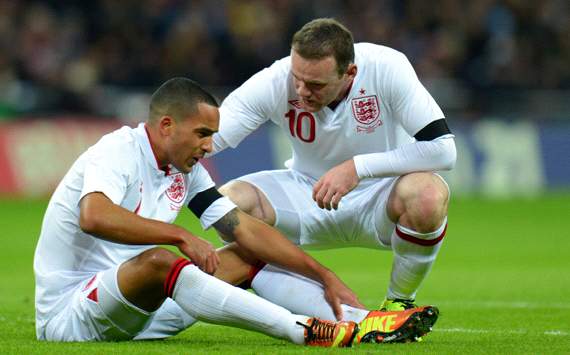 Walcott picked up a minor hip/groin injury in training and will be out of action for awhile.
Diaby's body never recovered from that shock, even though his ankle has healed sufficiently. I'm no doctor but his endless injury problems are exacerbated from this one injury alone. Almost as if his body suffered a trauma and reacts negatively to every other challenge that comes his way, from then onwards.
It's a big shame and it's hard not to sympathise with Diaby. Here is a player whom is highly regarded by two men, enough for them to want to use him as the core two or three players in their respective teams. First, Arsene Wenger wanted Diaby and Fabregas to be the fulcrum of the 2007/08 Arsenal side. Then, Laurent Blanc wanted to build his French national side around Diaby. In both cases, injury prevented the vision from being fulfilled.
It will be after the 2013/14 season ends before Diaby could be moved on. While he is pencilled in for a return at the end of this year, it would be a mighty gamble for any team to move for him in the next January transfer window. All likelihood points to the end of 2013/14 season and that has to be case. Hard as it is to let go, we will have to. Arsenal, at present, could ill-afford to have passengers in our squad.
The team started the rest of the campaign without Diaby last weekend. Reading were the opponent and three points were required. A win was duly delivered as we produced a performance without complacency. That's 16 goals put past Reading in just three matches this season. A tally which could well be higher, had we been a little more prolific in front of goal on Saturday.
It may or may not come down to goal difference in our race to reach a Champions League spot. But the players missed the chance to increase their tally for the season and perhaps more importantly, find that extra bit of confidence that can be had from scoring. With that said, someone did play with a lot of confidence and got the manager's praise after the match.
Gervinho was the surprised selection in the starting line-up and Wenger would have felt vindicated by his selection, given what transpired. The Ivorian was in his element and was involved in the first three goals from our side. It was one of those matches where his contribution mattered, as is proven with his well taken goal coupled with two assists.
If this is what he's capable of, it begs the question: 'Why he can't he do it on a consistent basis?' Was it because the pressure is off or was it because of the opponent? I fear that we will never know the answer to that question. If he's such a confidence player as we've been told, surely it would make sense to expect more of him in the next match.
Perhaps, the Diaby situation had an impact on the team. They were united in the warm-up, wearing t-shirts in support of their suffering team mate. It would only be human for the rest of the team to feel that football can be cruel and if they don't perform when they can, they might never get the chance in the future.