After a lengthy two week break, Malaysia Super League returned with a pulsating Round 11 which boasted a total of 18 goals scored from a total of six games.
Foreign strikers, Marlon James, Daniel Guiza and Effa Owona stole the headlines this week with Man of the Match displays as they grabbed two goals each.
Marlon continued his goal scoring streak with two goals, a sizzling free kick and an opportune close range finish to bring his team back from 0-2 down. Despite a penalty miss it was another great performance by the evergreen forward.
Guiza, meanwhile, was always at the heart of Darul Takzim's attacking moves and he picked up a brace here with a penalty and a deflected effort, and was regularly close to picking up a hat-trick. Owona on the other hand tormented Guiza's teammate, Aidil Zafuan, all night from set-pieces and helped himself to two goals.
Our four-man midfield is led by Kelantan's heartbeat, Badri Radhzi, who once again proved his class with an impressive display, bossing the midfield in their clash against ATM. His former teammate, Azwan Roya, got himself on the scoresheet once again, justfying why Fandi Ahmad can't leave him out of Darul Takzim's first eleven.
On the flanks, we have Pahang's Azamuddin Akil and Selangor's Amri Yahyah who scored a goal each against T-Team and Felda United respectively. Azamuddin played really well in their win against T-Team. He pushed forward whenever he had the chance and linked up well with the strikers upfront to give Pahang an extra edge when attacking, whilst Amri Yahyah made up for Forkey Doe's absence with a tireless performance filled with unselfish running and smart touches.
Our defensive line is marshaled by LionsXII duo; Safuwan Baharuddin and Faritz Hameed who were both rock solid at the heart of the defence, but in truth they were rarely troubled by the blunt Negeri strike-force. Former Selangor centre back Rosman Razlan stood firm in central defence and was unflappable in the air, cutting out plenty of crosses with relative ease for Pahang.
NORAZLAN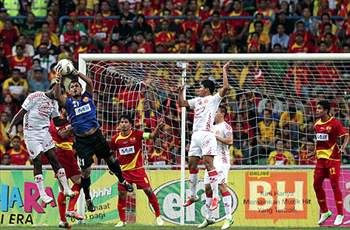 SELANGOR
vs Felda Utd (A)
Rating:




TOTW Apps: 4
FARITZ

RAZMAN
SAFUAN

LIONSXII
PAHANG

LIONSXII

vs Negeri Sembilan (H)

vs T-Team (A)

vs Negeri Sembilan (H)

Rating:

Rating:

Rating:

TOTW Apps

: 1

TOTW Apps

: 1

TOTW Apps

: 3
AZAMUDDIN

AZWAN
BADRI
AMRI

PAHANG


DARUL TAKZIM

KELANTAN
SELANGOR

vs T-Team (A)


vs Terengganu

(H)
vs ATM (A)


vs Felda Utd (A)




Rating:

Rating:
Rating:

Rating

:

TOTW Apps

: 2

TOTW Apps

: 4

TOTW Apps

:

3




TOTW Apps

: 2

OWONA
MARLON
GUIZA
TERENGGANU
ATM


DARUL TAKZIM




vs Darul Takzim (A)

vs Kelantan (H)




vs Terengganu

(H)
Rating:
Rating:

Rating:

TOTW Apps:

2


TOTW Apps:

3


TOTW Apps:

3


HAVE YOUR SAY
Do you agree with our selection of the MSL Team of the week? If not, who should be there instead and which players should get the chop?