COMMENT
By Dez Corkhill

On Saturday night at the cavernous Shah Alam Stadium just West of Malaysia's capital, Kuala Lumpur, a wonderful game of football from the Malaysian Super League (MSL) took place. It was as good, if not better, than any match that could be seen on any television station anywhere in the world. It was bloody marvellous entertainment.
The bald statistic of the game is that Selangor inflicted a 4-1 defeat on a Johor Darul Takzim team who had gone unbeaten in ten previous matches. What the scoreline fails to capture were some sublime moments that I, as a neutral observer, thoroughly enjoyed. The large following of Johorians present might not quite agree with the "wonderful" part of first sentence, but they'd be hard pressed to deny that they were present at a top draw sporting event.
For a start, there was the atmosphere. Johor Darul Takzim attracted around 15,000 of their own fans decked out in red and blue. And their support was splendid. Before the game the now-familiar Johor chant was spine tingling, and those same fans did what many don't do. They stayed on to support their team right to the end of what turned into quite a beating.
Selangor fans were colourful and noisy, and gave the returning national captain, Safiq Rahim, a less-than-cordial welcome back to the stadium. Safiq was one of the high-profile signings made by Darul Takzim at the end of last season. The red-and-yellow giant fans (Selangor's unwieldy nickname) are responding in increasing numbers to the success, and attractiveness, of the 2013 Selangor which, despite having recently undergone a four-game goalless drought, are always keen to play fluid, attacking football.
And then there was the game. And what a game. An early goal to Selangor from a cross-cum shot broke their goalless drought and set the scene. What followed, was a spectacle that would have graced any league, anywhere in the world. Two teams committed to attack, two coaches who want their teams to play attractive football, and two sets of fans keen to out-shout each other in support of their team.
A peach of a pass from Selangor's K. Soley to the Liberian striker Francis Forkey Doe for the Red Giants' second goal was an assist that took out three defenders with one sleight of the right boot. If it was Andres Iniesta with such a pass, it would have been replayed around the world as evidence of Iniesta's wonderful ability. But this is South-east Asia, so the focus wasn't on the quality of the pass, but on the goalkeeper and how he might have done better with the attempt to save a point blank shot.
The script of the game included Johor's Italian striker, Simone Del Nero, being substituted after a heavy challenge from Adib that could (should?) have seen him pick up a second yellow card. We also had the unusual sight of a goalkeeper being substituted at half-time, followed by the drama of home debutant Peter Chrappan's red card for two bookable offences just before the hour, and the feeling that Darul Takzim would inevitably produce another of their now infamous comebacks. The impression was that the Spaniard, Daniel Guiza, supported by Nurul Azwan and Norshahrul, would get Darul Takzim back into the game as they had done in three of their previous four matches.
But Johor Darul Takzim reckoned without Mahali Jasuli. Mahali was a revelation for Selangor. Signed from Harimau Muda by Coach, Irfan Bakti, he already has a reputation as a full back who likes to get forward. Think back to the Suzuki Cup match against Indonesia when Mahali scored a thrilling goal in his country's 2-0 victory and you get an idea of how he likes to attack. In Irfan, he has a Coach at Selangor who is happy to encourage his adventure. Indeed it almost seems as though Irfan designs his team around such fluidity. The reward came on Saturday when Mahali was the outstanding figure in Selangor's mauling of the Southern Tigers.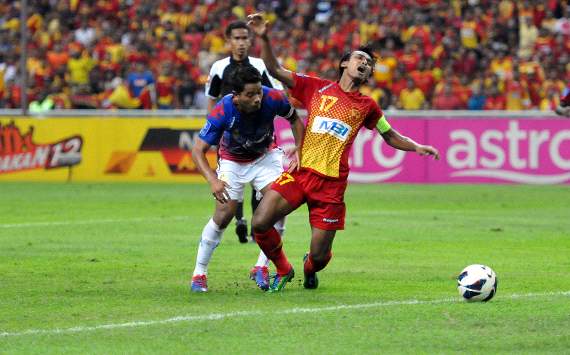 Amir Yahyah was on the scoresheet for the Red Giants that night
.
A super volley from the 23-year-old full back from a corner kick produced a fine save from Al-Hafiz - the new Darul Takzim custodian. If that had been Paul Scholes in his prime, there would have been pools of drool around the globe - but as this was the MSL, this wondrous piece of skill barely got a mention.
Selangor responded to going to 10-men by playing with Mahali on the right of a back three. Tell me anywhere in the world where you've seen a team go down to 10-men and respond by reverting to three at the back, and continuing to attack ? But this, again, is South-east Asia, so the focus was on how Johor imploded, not on how Selangor responded to adversity in positive fashion, and were rewarded.
Moving forward from his defensive duties, Mahali took a pass from Doe in his stride and ghosted around the tackle of Aidil Zafuan to bury the ball into the bottom corner. 30,000 voices from Selangor acclaimed a special moment.
And there was more still to come. Inspired by Mahali, encouraged to attack by Irfan, and now roared on by a crowd rapt in the occasion, Selangor scored a goal of real beauty. A "Naplah" dummy from Doe took out Aidil, a first time pass to Amri Yahyah, whose first touch with his right foot took him inside Kamarul Afiq, and whose second touch with his left was a shot from 18-yards that angled past a helpless Al-Hafiz. It was a goal that would have been special in any league anywhere in the world. Only Luis Suarez for Liverpool against Spurs scored as good a team goal in World football this weekend.
But Darul Takzim - despite the fall-out that would form many of the headlines after the game - responded with spirit. Norshahrul shimmied his way past the otherwise excellent Nasriq and found the bottom corner via a slight deflection. And Darul takzim continued to press, and had a great chance to make it 2-4 when Norshahrul volleyed wide rather than passing to Guiza.
That was he end of the scoring, and Selangor held onto the 4-1 lead to go level with ATM at the top of a league which sees just two points separate the top 5 teams. Johor's fans continued to support until the end, Selangor's celebrated a special victory. And I was left to reflect on a phrase that I sometimes use when commentating on matches in this region, that this game and some of the skills on display would not have been out of place in "any league, anywhere in the world".
Dez Corkhill is the managing Editor of Astro Arena - the malay-language sports Channel that broadcasts Malaysian Domestic football. He is also a commentator on the Malaysian League for Astro, and has commentated on Asian Football Leagues from Singapore to India via Indonesia and Malaysia for the past 9 years.