Last night the North London Derby (NLD) was played and there is no doubt that it was a cracking match. Tottenham won the game but it's too soon to say that the power shift in North London has definitively crossed from the red half to the white. I mean we've only seen Spurs lift the league title when television screens were still black and white.
The gap between both teams is now at seven points - exactly the same point difference after the NLD was played last season. So, it's definitely not an unassailable lead - Arsenal finished in third, ahead of their rivals who settled at fourth last season. However, there's a huge disparity between last season and the current one.
On the back of the 5-2 win last season, Spurs imploded while the Gunners went on a long run of positive results but now however, the situation is reversed. Spurs would have gained plenty of confidence from the win and Andre Villas-Boas will be looking to increase the lead to 10 points before Arsenal takes to the field for their next Premier League match.
It depends on what happens to Spurs in their next eight matches in all competitions. Should they defeat Inter in the Europa League, their exertions in Europe could play to Wenger's advantage. It is also vital to know that within those eight matches, the Gunners face an uphill task of taking on the likes of Liverpool (A), Everton (H), Chelsea (A) and Manchester City (H). Looking at those fixtures, Gooners will bet on Tottenham to drop some points.
Looking back at the game late last night, Arsenal only had themselves to blame for the loss. Although they were in control for most of the match, the Gunners were guilty of making costly mistakes with a lack of concentration. Before Gareth Bale scored the opening goal, the warning signs were there. Spurs kept knocking in over-hit passes when finally one slipped the offside call.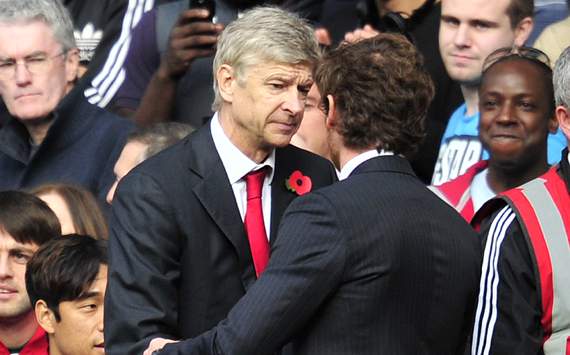 Any good defence would have heeded the warning signs to cut out the dangerous and perhaps, they could have dropped the idea of playing with such a high line. Wenger failed to address that threat and was punished for it. Twice in quick succession, the Gunners were undone by the same passage of play. Midfieldersfailed to cut out the passes and the defenders were not alert to the runs of Spurs' forwards.
Time and again, Arsenal have proved that they are consistent. That is, consistent in the ability to repeat mistakes, or rather, the inability to learn from past failures. The organisation in the defence left much to be desired. The frustration creeps in when one recalls how Steve Bould was focusing on the positional training during Arsenal's tour to Kuala Lumpur in July.
Is their training done right? Does anyone look into past mistakes and work in training to overcome it? Are the expertise of specific coaches given limited responsibility?
Being someone who encourages his squad to think for themselves, I'm worried that Arsene Wenger is placing too much expectation on his current set of players. In the past, the players were wiser and have better leadership qualities to handle such situations but not this squad. If it needs specific instructions to be drummed into them every minute of the game, then it must be done. For, it doesn't look like the current squad is capable enough find a solution.
Another aspect of yesterday's game which didn't go unnoticed was the lack of change. 'Senior figures' who were clearly underperforming but still continued to play. Jack Wilshere, Theo Walcott and Olivier Giroud did not have the best of games this morning and they should have been replaced. Maybe Wenger's favouritism towards these players, made him turn a blind eye to their lacklustre performance.
For the first time in a long time, St. Totteringham Day (the day where it is mathematically impossible for Spurs to match Arsenal's league points) might not arrive this season.