Matchday nine of the Malaysia Super League recorded one of the lowest scoring rounds with only seven goals scored from six games.
Diminutive striker, Abdul Hadi Yahya showed glimpses of the form that saw him top the MSL scoring charts two years ago. His goal displayed the quickness of foot and deadly finishing that he possesses, and Perak fans will be looking forward to his partnership with new Brazilian signing, Paulo Rangel.
Terengganu meanwhile, secured their second win of the season with local boy Manaf Mamat
at
the
forefront of their attacking moves. Manaf scored his first league goal in six matches to wrap up a highly impressive victory for his team over PKNS. His goal, in which he wrong footed two defenders, will have delighted fellow forward Effa Owona who has had to carry the burden of scoring most of the Turtles' goals this season.
Italian forward, Del Nero completes our three pronged attack after an influential display alongside Dani Guiza carving chance after chance for his Darul Takzim teammates.
Our midfield is led by Darul Takzim's nippy winger Azwan Roya. He
continued where he left off last week with an unrivalled work ethic and deservedly scored his team's winning goal from outside the penalty area.

Evergreen centreback, Jalaluddin Jaafar returns to marshal our backline after
proving his mettle once again as he played a pivotal part in helping the Pahang defence keep a clean sheet against ATM. He coped with the likes of Marlon Alex James and Bruno Marteloto with ease.
Negeri's hardworking fullback, Norismaidham Ismail makes his first TOTW appearance putting on an impressive defensive performance against Spanish superstar Dani Guiza. He worked his socks off and it would have been frustrating for him to see Negeri concede two late goals that threw the game away.
Tall Brazilian Rafael Novais marshalled Perak's defence impressively against Kelantan on Saturday as the Seladangs emerged with a 1-1 draw from Kota Bharu. The fact that it took 89 minutes for Kelantan to score their first goal proved that the Perak defence was on top of their game and Rafael was a key aspect of it.
NORAZLAN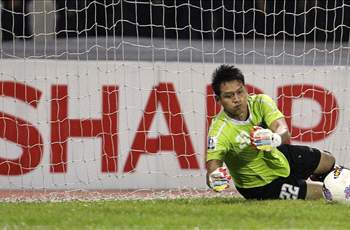 ATM

vs Pahang (H)

Rating:




TOTW Apps:

1

NORISMAIDHAM

RAFAEL
JALALUDDIN
FAIZAL


NEGERI SEMBILAN

PERAK

PAHANG



TERENGGANU

vs Darul Takzim (A)

vs Kelantan (A)

vs ATM (A)



vs Perak (H)

Rating:
Rating:
Rating:
Rating:

TOTW Apps:

1

TOTW Apps:

3


TOTW Apps:

2

TOTW Apps:

2

AZWAN
RASHID
HARISS

DARUL TAKZIM

NEGERI SEMBILAN

LIONSXII

vs Negeri Sembilan (H)

vs Darul Takzim (A)

vs Felda Utd (A)



Rating:
Rating:

Rating:


TOTW Apps:

3


TOTW Apps:

1

TOTW Apps:

1
HADI
MANAF
DEL NERO
PERAK

TERENGGANU


DARUL TAKZIM




vs Kelantan (A)

vs Perak (H)

vs Negeri Sembilan (H)

Rating:
Rating:

Rating:


TOTW Apps:

1

TOTW Apps:

1


TOTW Apps:

2


HAVE YOUR SAY
Do you agree with our selection of the MSL Team of the week? If not, who should be there instead and which players should get the chop?