By Andrew Leci

Stop the press: Benitez is leaving Chelsea at the end of the season.
I'm sorry, have I missed something here? I thought that was the intention, hence the "interim manager" job description.
As a term, 'interim' isn't necessarily time specific, unless the start and end dates are prescribed, but after Rafa's words that followed Chelsea's win in the FA Cup at Middlesbrough on Wednesday night, I have a feeling that even the vague time span will be curtailed.
Benitez rounded on Chelsea supporters (while taking a less than casual swipe at those responsible for his appointment) suggesting that they were wasting their time creating banners and making up songs of dissent.
We all knew that Rafa wasn't a universally popular choice to replace the much-loved Roberto Di Matteo back in November, but then we all probably also believed that a string of decent results would be enough to bring the Chelsea 'faithful' around.
Neither of these two eventualities has occurred, and I for one, would be surprised if Benitez even makes it through to May at Chelsea.
Chelsea's home game on Saturday against West Bromwich Albion will, in all likelihood, be more fascinating for what takes place in the 10 minutes before kick-off, rather than the 90 minutes of game time.
How will Chelsea fans respond to Rafa Benitez when he emerges from the tunnel at Stamford Bridge – a narrow corridor, the tightness of which seems inversely proportionate to the munificence of owner Roman Abramovich?
It could go one of two ways. Rafa's insistence that disgruntled fans "…have to concentrate on supporting the team" rather than wasting their time "singing and preparing banners" denigrating him, could resonate with the undecided vote. Alternatively, it could produce an even more vitriolic backlash, seeing as the loyalty of supporters is being called into question. Who knows with football fans?
One thing is clear though; the dislike of Benitez among a section of Chelsea supporters has been severely underestimated by the people who made the appointment. Did the owner not canvas opinion? Or did he simply not care?
It's been a bad week for Benitez.
Defeat against Manchester City on Sunday was followed by emerging reports ("lazy journalism" according to club captain John Terry) of training ground bust-ups and player fury. Rafa claims to still 'have' the dressing room, and insists that his relationship with his players is "fantastic". Does anyone believe him?
Interestingly, we've seen the way player power can contribute negatively to a Chelsea manager's career (see Andre Villas-Boas), and yet it doesn't seem to have had any effect from a positive point of view (see Roberto Di Matteo). We simply have to accept that Abramovich goes his own way on these matters, and the sooner he appoints John Terry as player-manager (interim), the happier everyone will be. Except Rafa… perhaps.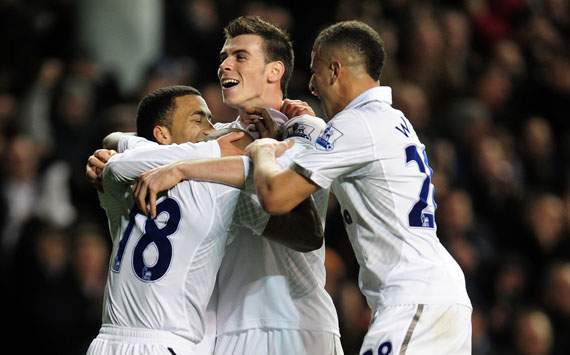 This weekend Spurs will be looking to trump their North London rivals
I couldn't write today without mentioning Sunday's North London derby.
The number of times Tottenham Hotspur have gone into the clash of the bitter rivals ahead of Arsenal in the Premier League era can be counted on the fingers of one hand, but this will be one such occasion.
Detractors have been falling over themselves to describe the current Spurs set-up as a 'one man team' (that man being Gareth Bale, in case you've recently flown in from another planet) and the stats are leaning that way. He's scored nine goals in his last 10 league games, including six in his last four, which have, more or less, secured 10 points for his side.
As with Rafa Benitez and Chelsea fans, this could go one of two ways. Andre Villas-Boas is facing a significant, albeit pleasant, managerial challenge, in that he has to achieve the balance between playing up his 'go to' man (which he has been happy to do) and making every other member of his squad feel as though they are more than merely peripheral.
Fortunately, Gareth has been on hand to weigh in with these words after the win at West Ham on Monday night; "It's not about me, it's about the team and we played really well." Many, I'm afraid, would beg to differ.
It's important for AVB to make sure his other players know that should Bale have an off day, they are capable of getting the job done (as they did back in mid-December against Swansea, when Bale was injured).
Despite the fact that Arsene Wenger considers it discourteous to the game of football to identify and man-mark key opposition players, he'll be only too aware of the impact Gareth Bale can have on a game. It will be fascinating to see how Wenger addresses the issue at White Hart Lane on Sunday.
Catch FOX SPORTS's presenter and football expert Andrew Leci on 'The Verdict' every Monday at 8pm HKT.