By Roshan Narayan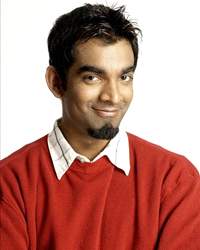 Bonjour!!!
Those who follow me on the social media platforms will already know that I got a chance to visit Paris Saint-Germain Football Club last week. As part of an Asian media tour, I got the opportunity to explore Parc des Princes and speak to the Swede sensation Zlatan Ibrahimovic, as well as head coach 'Don' Carlo Ancelotti. The icing on the cake was catching Le Classique at the stadium. The French version of El Clasico, the Milan derby and perhaps even the Manchester derby all rolled into one, featured the likes of Joey Barton and Andre Pierre Gignac of Marseille, traveling to a snow-drizzled Paris to face Ibrahimovic, Javier Pastore and co. To cap things off, I witnessed David Beckham making his debut for PSG! The home team of course came away with three very precious points, to push them even closer to their first Ligue 1 title in 19 years.

And I really think they can win it this year. It's theirs to lose.

Last season, PSG came very, very close, only to lose out by the skin of their teeth to eventual champs Montpellier. With Don Carlo at the helm, in charge of his first full season, I don't see how they can lose out to the others who are breathing down their neck. Inspite of his reputation and accolades, I think Ancelotti is the perfect person to guide this squad of millionaires to domestic glory.

Listening to him speak at the pre-match press conference, I was in awe of his composed demeanor. The Italian may not ooze charm or smart sarcasm like Jose Mourinho and Pep Guardiola. But watching him switch between three different languages while addressing local and international media, it gives you an indication of how he's been able to run a side which probably encompasses huge egos and hot heads. Sometimes, amid the raging storm, all you really need is a calm, collected yet commanding figure to steer the ship to clear waters.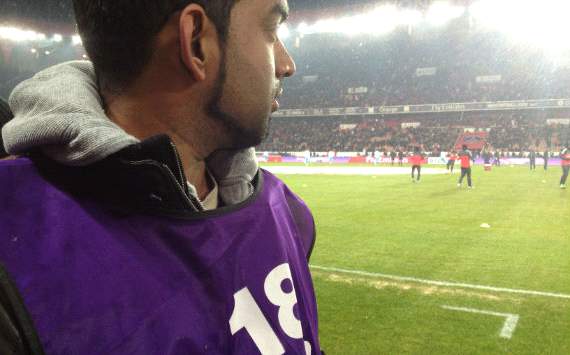 The PSG players warming up before taking on Marseille in chilling temperatures
Perhaps more so, when you've got a mixed bag of characters such as Ibrahimovic, Jeremy Menez and Thiago Motta. All three players have had their share of altercations in the game, as any football fan can attest to.

Speaking of the former Milan, Barca, Juve and Ajax striker, I have to admit that I got slightly annoyed watching him in action against Marseille. And I wasn't alone in feeling that way, as the nearly 45-thousand strong crowd at the Parc des Princes would let him know. Throughout most of the match, all he did was wait for the ball to be supplied to him. He rarely made any effort to win the ball from anywhere else on the pitch. Neither did he attempt to fight for it. I've long admired the Swede's style. But I still felt the urge to scream at him, urging him to help out his team mates a bit more. If he had done so, I believe PSG could have won the match by a much bigger margin. But perhaps that is the directive given to him by his boss.
All he is paid and expected to do is to bury the ball in the back of the net. Anything else that comes with that is a bonus. This season alone, Ibrahimovic has scored 25 goals and contributed 10 assists in all competitions for the club. He averages four shots per match. His passing success rate is at 76%. He is also the third most successful player when it comes to winning aerial duels. Only Mamadou Sakho and Alex have done better than Ibrahimovic in that area.

He may seem like a single-minded beast on the pitch. But off it, he was ever the chivalrous, somewhat honest, jovial and friendly person. He spoke easily with the pack of Asian media members present in the make-shift white tent where the meet and greet session was held. And when my colleague, Jay found her question being accidentally interjected by another journalist, the Swede politely insisted that Jay got her turn first. Definitely a suave side by the Swede there! After everyone had had their questions asked, Ibra was readily at hand to sign autographs, mingle and pose for photos. What an opportunity to rub shoulders with a footballing great!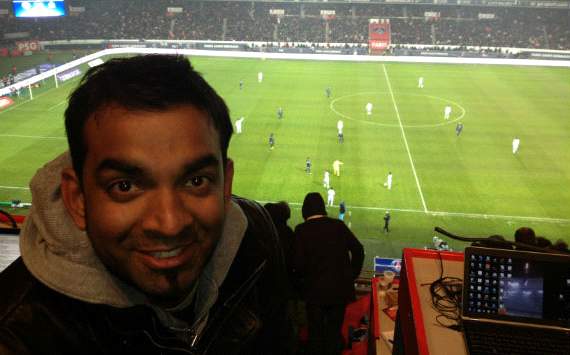 The 40,000 strong crowd add so much to the thrills of Le Classique
PSG have a formidable team that's gelled well this season. If last season saw them in sort of an "orientation" state, this season each player looks more well-versed with their role in the team. However, missing their captain Thiago Silva at the back that night, it was evident that the Parisian's weakest point was their defence. I was afraid for the home team, each time any Marseille player approached the penalty box. Thankfully, they managed to keep a clean sheet that night, thanks in part to the seven saves made by their 26-year old Italian goalkeeper, Salvatore Sirigu. It was their 10th clean sheet at home, and their 17th in the league this season.

That win over Marseille was PSG's 10th league victory in 28 total meetings against their closest rival. Yet, I get the feeling that with the right leaders in place for the long run steering Les Rouge-et-Bleu down the right pathways, I can only foresee more victories for them in the future. Possibly even against the likes of European giants such as Barcelona, Manchester United and AC Milan. And why not? To many on the outside, this project may seem like a stunt that's hitting all the wrong notes at the moment. But perhaps, and just perhaps, to hit the right ones, you have to survive a few skids and bumps first. And once you've hit the right stride, it can be smooth sailing all the way.

Then, other clubs had better beware of the emergence of another European powerhouse in Paris Saint-Germain.