COMMENT
By Dez Corkhill
Pahang's thrilling 2-2 draw with Kelantan in front of a packed Darul Makmur Stadium in the weekend was the latest in a long line of resilient performances by a Pahang squad whom few predicted would make a major impact on the 2013 Malaysia Super League (MSL). Those who made such predictions are eating humble pie as Pahang lie just a point off the top of the table eight games into the season.
Whilst comebacks are nothing new this season from Pahang, Saturday's was arguably the most impressive example of the Elephants refusal to lie down when staring defeat in the face. Having lost their previous two games, Pahang were down to 10 men (what was Hafiz Kamal thinking with his stamp?), fielding a clearly injured goalkeeper, and had gone behind to a Keita Mandjou header with just five minutes to play.
The response? Ten-men Pahang promptly went downfield and attacked the right side of Kelantan's defence - arguably the Red Warriors strongest defensive area - and were rewarded by winning a penalty that was confidently converted by Fauzi Roslan.
If you take a look at the Pahang squad that is contesting so effectively at the top end of the table, you'll see just one regular starter (Azamuddin Akil) in K. Rajagopal's current international selections. Fauzi Roslan and R. Gopinathan are fringe players on the international scene, but this is no team of all-stars. It is a group of former internationals perceived to be past their best, eager youngsters and gnarled veterans. And they are performing well.
The common denominators are that everyone in the squad seems to have something to prove - and that Dollah Salleh has placed his faith in them. The legendary Dollah has been rewarded by a group of motivated, committed Malaysian players who are showing the rest of the country that if you place your trust in local talent - as Dollah has done - they will repay that trust.
When Dollah sat down with his friend and assistant, Zainal Abidin Hassan, at the end of last season, he identified that the team who won Pahang promotion from the Premier League needed strengthening defensively if they were to compete effectively in this season's MSL.
The usual routes to strengthen defensively are to either recruit big foreign player to dominate the penalty area, or to go for established international players. Dollah did neither. Instead, he looked around and identified local players whom he knew to be talented, but who had fallen off the footballing radar. Hence experienced goalkeeper Nasril Nourdin (perceived to have a weight problem) was recruited from Perak.
Dollah's tried and tested strategy is to fall back on people who he can trust. His assistant is long-term playing foil Zainal Abidin; his Premier League squad was littered with players who he brought with him from Shahzan Muda. To strengthen Pahang for the MSL, he went back to his former team, Selangor, for three players to help a team that found goals easily last season (60 in the league, 19 in Malaysia Cup), but also conceded far too many for his comfort (29 in the League, 16 in eight Malaysia Cup games).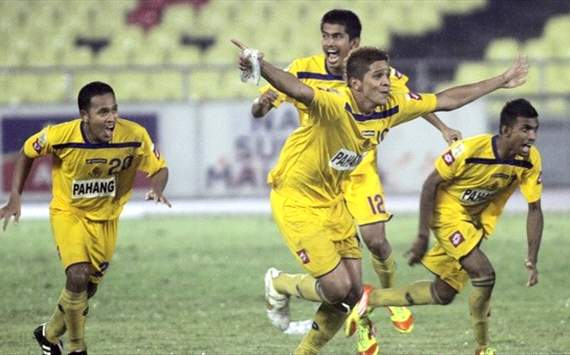 Dollah Salleh's Pahang is built around a solid foundation of local players
Razman Rosman, an infrequent starter under Irfan Bakti and jettisoned former international, was given the responsibility of partnering Saiful Nizam in a centre-back role; Azidan Sarudin, another infrequent starter, was brought in to add some defensive stability to the midfield; and Amirul Hadi Zainal, once a mainstay of the national team but suddenly out of the picture, was introduced and asked to recapture the magic that once made him the most talked about player in the MSL.
All four new signings have been a success. When you consider that Pahang's squad also includes the 38-year-old Jalaluddin and 31-year-olds Saiful Nizam and Shahrizan Salleh, MSL newbies Faizol Hussin and Hafiz Kamal, and local Pahang-born and groomed attacking talents such as Fauzi, Azamuddin and Gopinathan, Dollah's trust in these players has elevated them to a playing level way beyond what you or I might expect from such a group.
You'll notice that there has been no mention of the foreign players usually deemed to be so vital to success in Malaysian football. Pahang's promotion charge in 2012 was spearheaded by the prolific Brazilian, Maycon Carvalho, and the subtle promptings of the Russian midfielder, Boris Kochkin. For 2013, Dollah has two foreign forwards who have good CV's whom he can call upon. Macedonian, Niko Kleckarovski , is a giant target-man, whilst the Moroccan, Mohammed Borji, is a busy, bustling striker. Borji scored a late winner at Felda, whilst Kleckarovski was really unfortunate to have a goal chalked off against Johor in the season's opening game.
But the fact is that Pahang's success to date this season has been achieved without a significant contribution from either of their imports. With the exception of the season opener against Johor Darul Takzim, Dollah's starting line-up in every game has been 100 per cent local. Surely there's a message in there somewhere.
A key feature of Pahang's play this year has been a remarkable ability to fight back when faced with a deficit. Against Johor and at Shah Alam against Selangor, Pahang faced two goal deficits, and clawed them both back. They lost at Selangor but that doesn't negate the fact of their spirited response. Their latest draw against the odds in the clash with Kelantan proves that thier fighting spirit is still strong.
Pahang may yet slip away from the title race, and Kleckarovski and Borji may yet have a part to play in the Elephants' season. But so far, trusting his all-local team is reaping dividends for Dollah. It's unlikely that Pahang will repeat their title winning efforts of 2004, or become as legendary as the 1992 "Dream Team" – but who knows. A little bit of trust can reap huge dividends. Ask Dollah Salleh. Ask the fans of Pahang. Ask the players whom Dollah has trusted to deliver.
Dez Corkhill is the managing Editor of Astro Arena - the malay-language sports Channel that broadcasts Malaysian Domestic football. He is also a commentator on the Malaysian League for Astro, and has commentated on Asian Football Leagues from Singapore to India via Indonesia and Malaysia for the past 9 years.