By Andrew Leci

In the final six games of last season's Barclays Premier League campaign, Manchester City managed to overturn an eight-point deficit on their title rivals Manchester United.
In so doing, City grabbed their first league title since 1968, and United were left to ponder what might have been, and where it had all gone wrong.
Could we be looking at a similar scenario this time round?
I'm really going to stick my neck out here and say… probably not.
I know, it's a little non-committal, but if the top flight of English football has taught me one thing, it's to expect the unexpected, and to breast the wave of shocks with the degree of equanimity suggested in the Sports Presenters Handbook, page 4, paragraph 6, subsection ii).
Sir Alex Ferguson started the mind games almost as soon as the final whistle had blown at the Etihad Stadium in May last year, after Manchester City had played their part in the most dramatic end to a season in Premier League history.
He maintained that the title was harder to retain than win (particularly for the first time), and that has very much proved to be the case, with City failing to hit the heights this campaign. Many have suggested that they've spent most of the season at base camp.
The reasons for City's current plight are legion, but personnel, as ever, is key. While Manchester United were splashing the cash to bring in Robin van Persie and Shinji Kagawa, City allowed Nigel de Jong and Adam Johnson to leave, and brought in Javi Garcia, Jack Rodwell, Scott Sinclair and, lest we forget (some already have) Maicon.
Garcia has seen plenty of game time, and has looked reasonable on occasions, while Rodwell and Sinclair, with respect, have yet to even earn the 'peripheral' tag.
It's possible that Roberto Mancini and City's owners felt that if they had a good enough squad of players to win the title last year, then there was no reason to suggest that the same group wouldn't be able to repeat the feat.
It's a decent argument, but one predicated on key players retaining their form, and fulfilling their roles. Quite simply; this hasn't happened.
The likes of David Silva, Carlos Tevez, Edin Dzeko and even Sergio Aguero haven't been in anything like the form of last season, while injuries to Vincent Kompany and the absence of Yaya Toure have badly affected the team.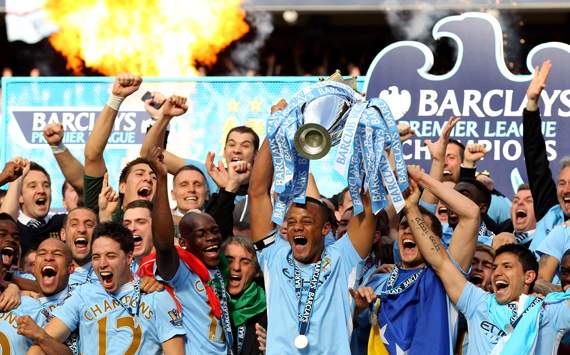 Manchester City fought hard in their last match against QPR to win the EPL title last season
A good side can afford to have one or two key players underperforming from time to time, but when 'one or two' becomes a 'handful', which then becomes 'the majority of the starting 11', difficulties will ensue.
I'm also going to suggest problems in terms of mentality.
The manner in which City claimed the title last season put everyone associated with the club through the emotional wringer. The campaign may have been successful, ultimately, but it's difficult to imagine what it must have taken out of the players psychologically, as well as physically.
They had scaled their Everest, and it had taken a gargantuan effort. As any mountaineer will tell you, coming back down from a climb can be a deflating experience, and it can take a while before another ascent is even contemplated.
In this respect, I feel that Roberto Mancini has been left wanting, particularly in comparison to Sir Alex Ferguson who has masterminded no less than six title retentions in the Premier League era.
This is new ground for Mancini, and he cannot be held to take all the blame, but I don't think he did himself (or his club) any favours by taking up so much valuable time with the saga that was Mario Balotelli, while questions have been raised over his motivational skills and man management techniques – to say nothing of the odd bits of tactical experimentation.
In all likelihood, by the time Manchester City take to the field on Sunday against Chelsea, they will be 15 points behind Manchester United. Sir Alex's men are away at Queens Park Rangers on Saturday, and it's difficult to see them emerging with anything less than 3 points, although stranger things have been known to happen.
If City are going to bridge what is already a massive gap, they have to start construction now. The side has looked jaded in recent weeks (as one point from their last three league games will testify to) and, uncharacteristically, bereft of ideas.
Mancini needs to take charge, and players have to fulfil their potential. Otherwise the title race will be done and dusted long before the two Manchester clubs meet again in early April.
Catch Andrew Leci on The Verdict at 8pm on ESPN, and during the live match presentation of the Barclays Premier League.