The 2013 Tiger Street Football tour is just around the corner and here is what you can expect in the upcoming months.
In the biggest edition of the Tiger Street Football thus far, the tournament will take place in seven countries - Australia, Cambodia, China, Malaysia, Mongolia, Singapore and Vietnam.
Starting with Cambodia in March, all participating countries will host a national tournament in which, only 32 of the hundreds of teams that register in each nation can qualify to play.
Teams can progress and play in up to four rounds of high-intensity football with local and international teams before reaching the Grand Finals in Guangzhou, China.
The teams that win their respective national tournaments are awarded a cash prize of $3,000 for first place, $1,500 for second place and $500 for third. The team that becomes Grand Champions will go home with $30,000.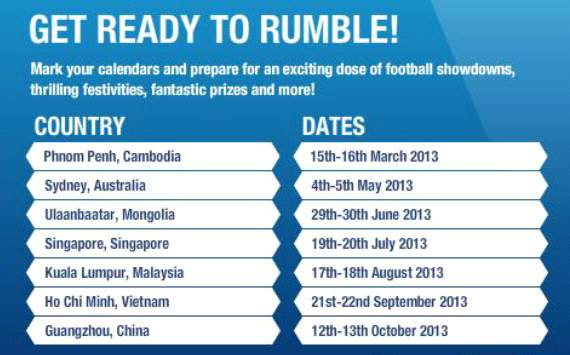 The tournament schedule for the 2013 Tiger Street Football

For the tournament, teams of seven players can register but only five will be playing at each instance in 12-minute matches with two halves. For more of the rules of the game, click here.
Besides the non-stop, high-octane explosive football action, fans of football can enjoy festivities surrounding the cage.
The 2013 Tiger Street Football tour also includes a lively carnival featuring plenty of entertainment. Skills showcases and exclusive autograph sessions with Tiger Street Football ambassador and football legend Fabio Cannavaro have been lined up for the event.
And of course, the Tiger Street Football tour is never complete without the exotic Tiger Cage Girls.
So what are you waiting for? Go register your team now!
All players must be male and above the age of 18 when signing up. For more information, visit the Tiger Street Football website.