By Roshan Narayan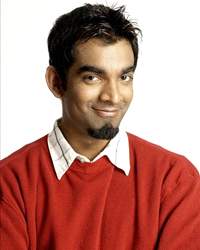 Paul Gascoigne's main claim to fame was his overall performance at the 1990 World Cup for England. Most fans' fondest memory of him was of a grown man shedding tears after being yellow carded, while playing against West Germany (at the time) in the semi-finals. The card automatically disqualified him from playing in the final, if England progressed. In retrospect, his tears were in vain as England lost 4-3 on penalties.
Even after speaking to several Tottenham, Everton, Lazio and Newcastle fans, not many had glowing reports about the man - the enigma. At least, not as flourished as the likes of Cristiano Ronaldo, Zinedine Zidane or even Gary Lineker! Yet, when you look up his name in any search engine, there are plenty of articles revering him in the media. Fellow footballers can't wax lyrical enough about Gazza. He is their icon, idol and benchmark. Heck, Sir Alex Ferguson described him as "the only world class player England have produced since 1966."
Seriously?
I can understand the skill comparisons with several current players. But to put Gazza so high up on a pedestal, I feel, is almost an insult to the English national side. True, they have not won anything since '66. But it's almost akin to how Malaysians compare the current national football team against the squad from the hey days when "we used to beat South Korea, and Japan feared playing us..." Nostalgia confusing practicality.
Surely 47 years on, when you take a good look at the quality of English players available, you'd be able to at least pick out a few that have surpassed Gazza's achievements, or lack thereof. And he did not win much silverware, just a lot of hearts charmed by his infectiously addictive personality. Even David Beckham has a much more astounding looking trophy cabinet in comparison. And speaking of Goldenballs, how is it that he did not end up on the same forlorn path as Gazza, considering that his level of fame is out of this world?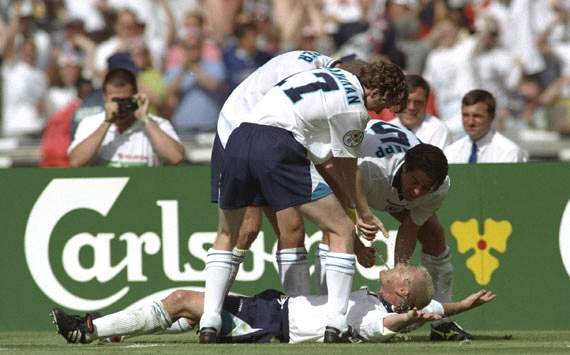 Gazza celebrating with his teammates
It's admittedly sad to read about a football icon and role model to many young aspiring footballers, going through addiction issues. Gazza is not the first, and unfortunately won't be the last. And it is very easy to put the blame on the players' association or union for not taking care of their own, once their career is over. But at times, it's just down to tackling your own demons when you find yourself with so much time on your hands.
Based on the many interviews I've conducted with ex-footballers for the TV network I work for, I know for a fact that many of them take up golf in retirement just to pass their time. What else can you do once you're no longer stipulated to the rigors of daily training and intense physical conditioning? Some take up media work but how much time does that eat up in a day? Management and coaching is perhaps the best substitute for players, following their retirement. But not everyone is naturally blessed with the talent to read and analyse the game ala Pep Guardiola, Carlo Ancelotti or Franz Beckenbauer.
It's all about discipline, perhaps. Some have it in abundance while others don't. And if it was cultivated in advance, it will come in handy when you no longer have a Fergie or Venables breathing down your neck and constantly making sure you toe the line. Either that or you end up in an Arizona health farm, attempting to straighten up your life and what's left of your tattered reputation - having to rely on other professionals to publicly finance your rehabilitation. Honestly, the photo of him having a pint just before he checked into rehab really annoyed me. He might be at a difficult place but I don't think anyone is that far gone!
Choices... Gazza... Choices!
The world was literally his oyster when he stopped playing. He has had many fair warnings and an equal share of help along the way. Mental illness or not, there's still an ounce of strength and will power in every person to want to make a conscious change for themselves. And football fans all across the world who have followed his career and beyond - including myself - will only be hoping Gazza finally accepts the help he is given with as much vigour as when he scored that goal against Scotland in '96.