By Dez Corkhill

Two-time defending Malaysian Super League (MSL) champions, Kelantan, will be hoping that the Lunar New Year and international break has given them enough time to work on a solution to a goal-scoring problem that has put a huge question-mark against their ability to make it three titles in a row.
On Friday when the Red Warriors travel to Shah Alam to take on Selangor, they will do so having scored just a single goal in their last four MSL matches. Three in five games is the return for the season from an attack that are used to scoring goals in abundance. In each of their last two championship-winning seasons, they averaged two-per game.
Wholesale changes in attacking personnel dominated the pre-season preparations of Kelantan Coach, Bojan Hodak. Changes in personnel forced changes in tactics, but Kelantan still, on paper, had a formidable looking line-up to defend those hard-won titles. But, early results have not been good. Scoring has been hugely difficult and so, for the first time in six seasons of almost uninterrupted progress and success, Kelantan have taken a step backwards.
There's no doubt that the Red Warriors popular Coach Hodak has the team well organised. Defensively, Kelantan have coped despite losing defensive mainstay S. Subramanium to injury for most of the season. Three goals conceded in 5 games is testament to how well organised Kelantan are, and in Nik Shahrul, Hodak has groomed a gem of a defender. But it's how to solve problems at the other end of the pitch that will determine just how close the Kota Bharu-based squad come to defending their hard-won league titles.
A penalty shoot-out loss to ATM in the season-opening Charity Shield started the year off on a negative note. And just one win in five in the league (with just three goals scored in that run) means that pressure has rapidly been piled on the shoulders of the 41-year-old Croatian Coach Hodak, but more particularly on the Guinean striker, Keita Mandjou - the 33-year-old was chosen to score the bulk of Kelantan's goals.
The reasons for the poor return in the opening five rounds of this season aren't hard to find. Any side that loses two strikers capable of scoring twenty goals a year - as the Red Warriors did over the close season with Norshahrul Idlan Talaha's move to the Johor Darul Takzim "extravaganza", and Mohammed Ghaddar's to a Felda United willing to agree to his wage demands - are bound to struggle to replace them. And with much of last years supporting cast also moving on to new teams, the lack of firepower has proven to be a massive hurdle.
In 2012, Kelantan boasted a surfeit of attacking talent. Lebanese international Ghaddar and Malaysia's MSL MVP Norshahrul, added to Indra Putra, Badri Radzi and Norfarhan Mohammed, and aided and abetted by S. Chanturu (now at Perak), Nurul Azwan Roya (also at Johor Darul Takzim), or even on-loan Afiq Azmi (now scoring goals with Selangor) could share the goals around. 53 goals in 26 games was good.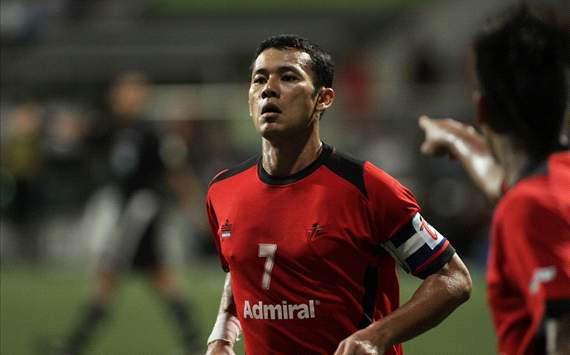 Is Zairo Annuar the man to solve Kelantan's goal scoring woes?
To compensate for those five lost talents, Zagreb-born Hodak made what, on paper, look to be strong replacement signings. Mandjou - a scoring machine at Perak earlier in his career; Zairo Annuar Zalani, a maverick free-scoring attacking midfielder who made Terengganu and T-Team click in recent seasons; Faiz Subri who notched double figures for T-Team last year; Haris Safwan - a former 2009 Malaysia Premier League Golden Boot winner, and experienced international centre-forward.
Add Indra Putra, Badri Radzi and Farhan to the mix, and sprinkle in the promising youthful presence of Khairul Izuan, and Kelantan might not be expected to score as freely as in previous years - but a drought was hardly anticipated.
In Malaysia - as throughout Asia - when things go wrong, attention mainly falls on "the foreign players". Keita Mandjou - so productive throughout his career at Perak in Malaysia, then in Brunei, the USA and India - has struggled with fitness. And with the central pillar of the revamped attacking line-up yet to open his account for his new employers, the supporting cast haven't been able to fill the gap.
Kelantan's Charity Shield defeat, though close on paper, was a fair result. The treble winners were second best to ATM - though it might have been different if Mandjou had accepted an easy chance just before half time.
In the league, after a season opening 2-1 win over PKNS (courtesy a last-minute winner), T-Team held Kelantan to a blank in Terengganu, Norfarhan scored a wonder-goal in the 1-1 draw in Johor, and tame goalless draws followed at Felda United, and - most concerning - at home to a short-handed Negeri Sembilan.
The Red Warrior fans and Senior Management aren't renowned for their patience when things go even a little bit awry. Hodak knows that his team have to start scoring goals. And soon. Selangor, away, isn't the easiest place to kick-start a late title defence, particularly as Irfan Bakti's red and yellow giants look to have coped rather better with their inter-season personnel changes than Friday's opponents.
One fifth of the way into the new season, and goals are the key-word for Kelantan. The immediate goal is to start scoring some. The long-term one is to retain the title. February fixtures at Selangor and Pahang, plus a home match with Terengganu, will go a long way to telling us if they're capable of the three-peat.
Dez Corkhill is the managing Editor of Astro Arena - the Malay-language sports Channel that broadcasts Malaysian Domestic football. He is also a commentator on the Malaysian Super League for Astro, and has commentated on Asian Football Leagues from Singapore to India via Indonesia and Malaysia for the past nine years.