The recent failure of all Southeast Asian teams to grab a single point out of their opening Asian Cup qualifying campaign simply proves that, after all the AFF Cup euphoria just over three months ago, we are still far away from matching the dominance of the East and West in the Asian football map.
Between Southeast Asia and East Asia alone, only three countries won matches on Wednesday - Japan (3-0 over Latvia), North Korea (1-0 over Laos), and the Philippines (1-0 over Myanmar). All three matches were friendlies.
Meanwhile, none of the five Southeast Asian teams won in their group match on the road to Australia 2015. It started off when AFF Cup runners-up Thailand were humiliated in front of their home crowd 3-1 at the hands of Kuwait, followed by Indonesia's 1-0 loss to Iraq in Dubai. Things went from bad to worse when Malaysia suffered a 2-0 defeat to Qatar, Vietnam lost 2-1 at home to UAE, and AFF champions Singapore were thrashed 4-0 in Jordan.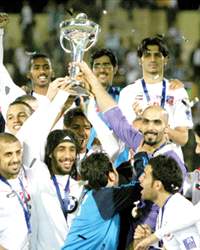 Al-Kuwait won their 2nd
AFC Cup title last year

At the club level, not one Southeast Asian club has reached the final of the AFC Cup, an annual competition since 2004 between domestic clubs from 14 of the AFC's 'developing nations'
But we didn't have to wait until Wednesday to realise that Southeast Asian football has fallen behind all the other nations in Asia. Or did we? Let's rewind a bit. Malaysia, Thailand, Indonesia, and Vietnam all had automatic spots when they hosted the Asian Cup back in 2007. Four years later in Qatar, not a single team from the ten ASEAN members qualified. Then, only Singapore, Thailand, and Indonesia made it as far as the penultimate round of the Asian qualification for the 2014 World Cup, with all three failing to reach the final stage.
At the club level, not one Southeast Asian club has reached the final of the AFC Cup, an annual competition since 2004 between domestic clubs from 14 of the AFC's 'developing nations'. Only Geylang United and Home United FC of Singapore (both in 2004), Vietnam's Binh Duong (2009), Thailand's Muangthong United (2010) and Chonburi (2011) have reached the semifinals. The few Southeast Asian clubs who have reached the Asian Champions League have, rightfully, been dismissed as whipping boys in the group stage.
So where do we go from here? First let's take a quick look at how each Goal.com edition in Southeast Asia reviewed how things went on Wednesday.

A total collapse in the second half, lack of match fitness and belief. That is how Goal.com Singapore's Teo Teng Kiat describes Singapore's failure in the match against Jordan.

"Once the second goal went in, it was all downhill from there and it could have been more if not for some poor finishing from the home side. Singapore are kings of ASEAN, but we still have a long way to go to dine at the same table as the Asian giants," Teng Kiat said.

"Some players didn't look like they believed they could pull off a result, with the confidence that was on display during the AFF Cup conspicuously absent here."



A defenseless defensive line, being too relaxed in their home game, sloppy plays, low quality crossing and a bad decision were some of the causes that lead to Thailand's 3-1 loss to Kuwait, according to Goal.com Thailand's Teerapatra Rundhasevi.

"The friendly match against UAE was cancelled due to a late visa application. In the end, the national team only played against a low-ranking local club," Teerapatra added.

Thailand played their last friendly match on the road back in 2010 against South Africa as the World Cup host wanted to test their brand-new stadium. Their next away friendly fixture remains unknown.



Despite a brave, well-disciplined display, the Malayan Tigers came up short in the concentration and innovation department, claims Goal.com Malaysia chief editor Falah Abdullah.

"Our passing left a lot to be desired," Falah said. "Whilst coach Rajagopal seemed to have done his homework on the defensive side of the game, our attacking and passing play were dismal to say the least. The midfield was lacking any real creativity and the strikers were left chasing shadows all night."

Falah also blamed Rajagopal's poor decision not to start the in-form Malaysia Super League players.

"On a night where we were deprived of the services of Safee Sali and Norshahrul Idlan, the question as to why the current MSL top scorer, Fauzi Roslan was left on the bench throughout the night could only be answered by Rajagopal. Kelantan's playmaker Norfarhan Muhammad was also only sparingly used."



Goal.com Vietnam chief editor Erick Bui saw a more positive approach from his national team.

"After their embarrassing elimination at the AFF Cup, the Vietnam Football Federation carried out a revolution for the national team. Several veteran players, including the underperforming top star Le Cong Vinh, were excluded to make room for youngsters. A majority of the side is now composed of U-23 players who had never been capped before," Erick explained.

But despite a good performance, Vietnam still found no answer for their two main weakness after so many years.

"Lack of a good finisher has haunted Vietnam for more than 10 years," Erick continued. "I also can't stress enough how weakness in aerial defense has cost Vietnam so far. UAE are a team that rarely use aerial attacks as their weapon but the first time they used it, Vietnam conceded what would eventually be the winning goal for the visitors.



Where do we even begin with my own national team? Goal.com Indonesia's deputy editor Agung Harsya wonders: "Is there another country with a situation worse than Indonesia?"

Before the match, Indonesia's scheduled friendly against Jordan remained uncertain. Just two days before the match they finally flew to Amman, where a jack of fitness and cold weather contributed to a 5-0 loss.

"The result made fans pessimistic. In Dubai, Indonesia played with solid defending and 'only' lost 1-0 to a young Iraqi team. But a loss is a loss," exclaimed Agung.

It didn't end there. The day after, the Indonesian FA (PSSI) appointed Luis Manuel Blanco as new head coach to replace Nil Maizar. This came without the approval of the PSSI executive committee, but instead as a recommendation from Indonesia's President Susilo Bambang Yudhoyono. With the feud between the PSSI and 'breakaway' association KPSI still unresolved, the Indonesian government has gotten involved in a move that could hasten a FIFA suspension.



A more united Southeast Asia
With our weaknesses acknowledged, the next step forward is to improve the quality of football in SEA and address each nation's issues whether it's a lack of quality domestic competition, poor infrastructure and organization, or simply a gap in physical talent.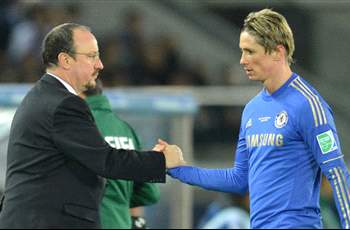 Chelsea on Friday announced their 2013 summer tour
to Indonesia, Malaysia and Thailand.
It's hardly a surprise that English Premier League teams and other top European clubs come to Bangkok, Kuala Lumpur, Singapore and Jakarta for their pre-season friendlies.
But there is still hope in a region that is arguably the most passionate about football, with many of its 600 million people in love with the game. It's hardly a surprise that English Premier League teams and other top European clubs come to Bangkok, Kuala Lumpur, Singapore and Jakarta for their pre-season friendlies.
But passion is not enough when our own football needs to improve, and it's clear that Southeast Asia's football can only be improved collectively, not individually. In order to match the quality of East and West Asia, we need to help each other first. The AFF, as the top organisation in our region, plays an important role in this. Imagine if a competition could improve the quality of our football in the long run, allowing federations to collaborate and collectively raise the standard of the game in our region.
And this brings us to our next topic of discussion: could an ASEAN Super League be capable of doing just that?
To be continued...