Deadly Pahang duo, Amirulhadi Zainal and Fauzi Roslan both star in our Team of the Week after spearheading Tok Gajah's assault towards the top of the Malaysia Super League table.
Diminutive striker Fauzi continued his blistering start to the season, with his four goals helping his team to the top of the table, and receiving a first time call up to K. Rajagobal's Malaysia squad. A visibly rejuvenated Amirulhadi meanwhile has successfully re-invented himself as a deep lying playmaker who is an integral cog of Pahang's midfield engine.
No fewer than three Selangor players feature after two impressive consecutive wins over Terengganu and league leaders, Pahang. Both Mahali and Kunanlan were immense down the flanks against Terengganu to say the least, with the latter notching up a goal and an assist.
Veteran forward, Amri Yahyah had one of his better weeks in his 12 years at Selangor, scoring three goals in two victories. He got the Red Giants' eventual winner in the midweek match at Terengganu, hitting a stunning rising 20 yard effort. In the victory over the previously unbeaten Pahang, he struck two classic poacher's goals.
Badri Radzi's inclusion is not a surprise to many as he consistently bossed Kelantan's midfield with high work rate and dynamic displays, helping out both the defence and the attack. In a battle against Darul Takzim, Piya outclassed the seemingly lethargic Safiq Rahim. Only Rajagobal knows as to why he is persistently left out of the national team squad.
Spanish superstar, Guiza meanwhile has answered all the questions as to whether he could live up to the hype that surrounded his arrival to Malaysia with two tremendous goals within a week. He rescued a point for Darul Takzim at Kelantan, coming off the bench to hit a 30 yard free kick into the top corner, giving national keeper Khairul Fahmi no chance whatsoever. Three days later his goal against ATM may have been even better as he took Fadzli Idrus's skied clearance and outrageously volleyed first time into the top corner of the net. This quality, mixed with a high work-ethic, has certainly bought prestige to the Super League so far.
FARIZAL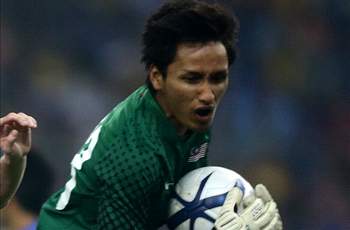 PERAK

vs Felda Utd (H), vs Negeri Sembilan (A)

Rating:




TOTW Apps:

1

MAHALI

NOVAIS
AMIRIDZWAN
NIK SHAHRUL

SELANGOR

PERAK
ATM

KELANTAN
vs Terengganu (A), vs Pahang (H)

vs Felda Utd (H), vs Negeri Sembilan (A)

vs T-Team (H), vs Darul Takzim (A)



vs Darul Takzim (H), vs Felda United (A)

Rating:
Rating:
Rating:
Rating:

TOTW Apps:

1

TOTW Apps:

1

TOTW Apps:

1

TOTW Apps:

1
AMIRULHADI
BADRI
KUNANLAN
PAHANG

KELANTAN
SELANGOR

vs Negeri Sembilan (H), vs Selangor (A)

vs Darul Takzim (H), vs Felda United (A)

vs Terengganu (A)

Rating:
Rating:

Rating:


TOTW Apps:

1

TOTW Apps:

1

TOTW Apps:

1
AMRI
GUIZA
FAUZI
SELANGOR

DARUL TAKZIM

PAHANG


vs Terengganu (A)

, vs Pahang (H)

vs Kelantan (A), vs ATM (H)

vs Negeri Sembilan (H), vs Selangor (A)

Rating:
Rating:

Rating:


TOTW Apps:

1

TOTW Apps:

1

TOTW Apps:

1