With pace and precision dictating modern football, adidas has taken a majestic step towards the revolution of speed by unleashing the new adizero F50 football boots.
This piece of footballing footwear is set to provide players with an extreme edge in terms of maximizing their speed potential. With every aspect of the boots specially designed and altered to make a football player fast, adidas has officially taken precision engineering to a whole new level.
Lionel Messi debuted the boots against Celtic in the UEFA Champions League last month, before completing the historic milestone of scoring the most amount of goals in a single year using the new adizero F50 boots.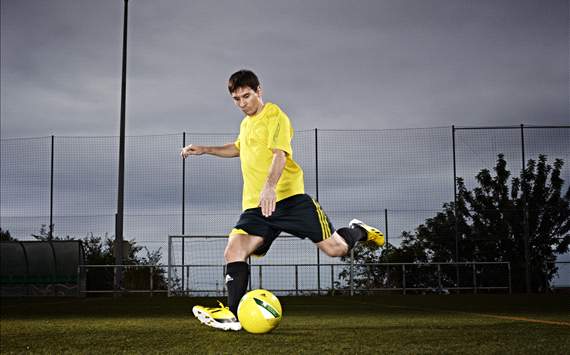 Over the years, adidas has been comitted towards creating speedy football boots, with the highly successful adidas adizero series being a testament to it. But this brand new version of it has the three latest features.
It contains the Sprintskin technology, which is basically 1.5mm thick synthetic layer that allows the boot to be lightweight while also maintaining a natural feeling between the boot and ball. This means that players will be able to feel lighter on the pitch and increase their acceleration, without disrupting the natural feel of contact point with the ball.
When the speed increases, there has to be an orthodox system to ensure astute ball control, which is what adidas has equipped the latest adizero F50 boots with. Called the Sprintweb technology, the boot has a 3D printed texture on the surface, allowing exceptional ball control at high speed and also providing a supple but stable construction.
Just like we have seen with the previous editions of the adizero football boots, adidas has incorporated a meticulously structured frame to complement its need for speed. There is now a strong but lightweight, lower section, known as the Sprintframe, that offers players a perfectly balanced boots.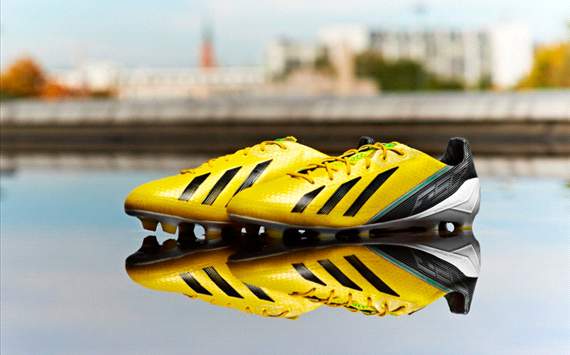 But besides these 'holy trinity' of new aspects, there is another groundbreaking 'Find Fast' technological feature to catch the eye of everyone. A specially constructed cavity within the new adizero F50 houses the adidas miCoach Speedcell, which allows players to track their performance metrics and compare it with the best players around the world.
This new feature records top speed, distance covered and active zones, making it the only performance tracking device that captures 360 movement. Players can now capture their data and sync it wirelessly into their iPhone/iPod/PC/Mac before analysing their stats to go that extra mile in improving themselves.
With all these spectacular new virtues, adidas has certainly undergone a paradign shift in terms of producing football boots capable of hitting top speed and Lionel Messi currently leads a long list of players sporting it.
In 2013, there will be fast, faster and the adizero F50 football boots.